I want to visit this topic briefly because, while the subject never seems to leave the news, the fundamentals of the subject come up rarely. In keeping with the confusion that reigns regarding many subjects, transgenderism ultimately is not a question of science. Rather, the question lies in philosophy.1 I would sum up the question this way: What is the really real which defines a person's identity? More specifically, in a mismatch between the body and the mind, is the body or the mind in error?
For this reason, the scientific facts of transgenderism only make sense in the light of choosing an answer to the above philosophical question. The possession of a penis or a vagina only proves definitive if you have answered the above question with "The physical aspects of our body define our identity." Conversely, the fact that transgender people often possess a brain structure somewhere in between men and women definitively rules in this case only if you have first answered "The mental defines our identity."
In other observations, the debate over transgenderism has seemingly brought gender essentialism back to circles from which it was long ago banished, because you cannot be something unless that something has fixed traits. One clever professor and journalist caught onto this trend during Caitlyn Jenner's transition: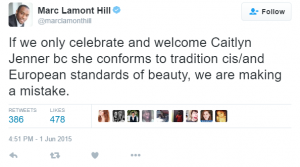 Now, what is my opinion? I identify the real with the physical body. The topic of transgenderism is, so far as I can tell, the only subject where we identify the real with the mind. When a person experiences a phantom limb, we all identify the really real with the fact that they lack a limb, not with their mind which believes the body still has that limb. On the flip side, when people profess a desire to amputate a healthy limb based on their mental image of themselves as an amputee, we do not amputate the limb because, once more, we identify the body as real and the mind as in error. We also show an abhorrence to amputating a healthy limb based on desires. I believe, in all cases except transgenderism, we unanimously identify the real with the body for good reason. Namely, a common human experience is the individual (and sometimes even the collective) mind in error compared what is real.2 Making the individual mind into the sole arbiter of the real cannot help but lead to conclusions both absurd and damaging.
As a final thought, I do not want to leave this subject without acknowledging that an immense amount of human suffering is bound up in this topic. We're not just discussing abstract theories of the really real. We're discussing people's lives. I try to be sensitive to that fact. I doubt my opinion will change on this subject, but I am always open to people sharing their experiences because, even if no one changes their opinion, I find it helpful to know what people are experiencing.