My siblings and I often joke (probably a bit morbidly) that we are going to play The Animals' "House of the Rising Sun" at Dad's funeral. Not sure why–especially when you consider that it is about a brothel–other than the fact that he really likes that song and it has been ingrained in our memories since childhood. I shared some thoughts about a playlist a friend of mine had made for his grandfather's funeral last year at The Slow Hunch. The choice of songs had meaning and personality and thus made the music and moments more special.
I was reminded of all this while reading about Jack Robinson, a 4-year-old of Hampshire, England who recently lost his battle with an inoperable brain tumor. "He was a huge Doctor Who fan, so when news got to Matt Smith, the 11th Doctor, the actor decided- in an act of great decency- to send his sick follower a touching video message. Jack also loved Gary Barlow's single "Let Me Go" so the Take That front man decided to pay him a visit in hospital too." But Jack's parents sent him off with a loving, personalized goodbye: "an incredible Star Wars themed funeral complete with Stormtroopers; a Jedi wreath and a brass band playing John William's Binary Sunset."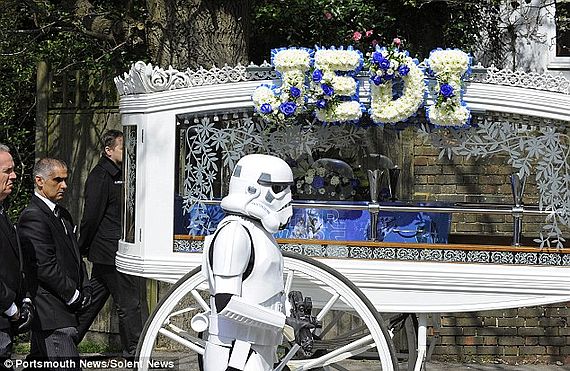 Read this story, listen to Binary Sunsets, and try to keep from crying.