Over at alternet, a liberal/progessive news source, there is an article about the demise of higher education. This author immediately set off my loony-toons indicator with her "big business is secretly subverting higher education" conspiracy, but even beyond that I think most of her points can be directly argued against.  The problems she brings up (if they are problems at all) cannot simply be fixed by 1. remembering that higher education is about expanding our minds and 2. getting more funding for our schools (but no funding from corporations!)  However, she does make a few reasonable observations.
1. Defunding education:
"For example, in the University of Washington school system, state funding for schools decreased as a percentage of total public education budgets from 82% in 1989 to 51% in 2011." That's a loss of more than a third of its public funding." (Lone quotation was original to text). Just because the percentage of the budget is decreased, does not mean the amount of money going to schools has decreased. For instance, if the funding for public education doubled from 1989 to 2011 (this is hypothetical), then that means funding to schools actually increased over that time period by 25%. (Statistics!!) But we should also seriously question where public education funds are going, if not to schools. I don't believe Washington state, a known liberal state, is defunding its schools for "corporatism" if it is defunding its schools at all, it's probably just wasting that extra money, which is on to the next point.
"Newfield explains that much of the motive behind conservative advocacy for defunding of public education is racial, pro-corporate and anti-protest in nature." This is a huge jump to conclusions. How many elite and liberal schools have to force racial diversity on their campuses? Higher education is, in general, an elite white man's game (or with current statistics, white woman's) and to claim that it's different in that regard to corporate America, or that it's the fault of conservative forces outside the institution, is ridiculous. To immediately claim a conservative racist reason may be easy, but it has no justification.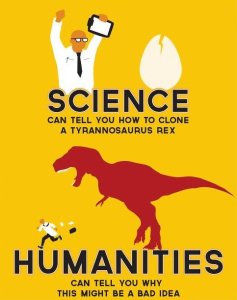 Also, it's offensive that this author tries to claim that only humanities "train[s] and expand[s] the mind". Nothing teaches you to think like mathematics and logic, which are also practical in the job market. As nice as it is to think about art, philosophy, and gender studies, those aren't actually useful skills to most jobs. Trumpeting liberal arts education over any practical education is basically saying "higher education isn't for getting a job, it's for learning about culture." That's all well and good unless you're in a suffering job market at graduation time. And to deny the important ways science and mathematics teaches you to think is hurting our students, her acclaimed era of liberal arts education in the 50s and 60s would have required much more in science and math than universities require today.
2. Deprofessionalize and impoverish the professors (and continue to create a surplus of underemployed and unemployed Ph.D.s).
Oh, this gets me. Why are there a surplus of PhDs? Because people get PhDs in things like philosophy, art, and gender studies. Good luck finding a job in gender studies outside of lobbying. You know why there are PhDs, even in STEM, that will work for adjunct pay (and please note, adjuncts get paid less than graduate students because they have no unions)? Because people get PhDs and then refuse to work outside of academia  (or have degrees in subjects where they can't possibly get a job outside of academia).There is a limit to the number of professors we can have at our universities. And at most universities with graduate programs, the professors only have to teach 1 class a semester! We could solve the problem of adjunct pay, by getting rid of adjuncts all together and making professors teach at least 2 classes a semester. But then there would be even fewer jobs in academia for all those PhDs who refuse to get other jobs. It's not a pretty picture, but corporatism/universities aren't doing this on their own.
3. Move in a managerial/administrative class that takes over governance of the university.
"The money wasn't saved [by hiring adjuncts], because it was simply re-allocated to administrative salaries, coach salaries and outrageous university president salaries." OK, I'm totally with this lady here, and may I also add outrageous housing, athletic, and dining facilities. This point is spot on. This is a huge problem not just in higher education, but also in K-12. The problem is more complex though, it seems the more we pour into schools, the more bloated our administrations get. Consider, again a hypothetical, the example of doubling our school budgets. If we have 50% to administration and the rest to teaching, and then we double our budgets, but give our administration 62.5%, we have increased our teaching budgets by 50% (even though their share now is only 37.5% of the total), but those administrators are still making out even better. I don't know if this is exactly how it happens, but more funding can easily lead to this. Frugality whenever it comes to non-teaching school projects and administration is the solution. Conservatives believe bloated administration is a reason to cut funding, but unfortunately the administration decides where those cuts actually take place None of the funding "problems" can begin to be fixed without first substantially fixing administration internally.
4. Move in corporate culture and corporate money.
"When corporate money floods the universities, corporate values replace academic values. As we said before, humanities get defunded and the business school gets tons of money." I do find business school to be particularly insidious, but that's probably because I'm an introvert in computer science who doesn't understand the need to go to school for schmoozing. I digress. I'm not really sure the problem with businesses funding business schools? Business schools cost a lot (due to supply and demand in the market) and if corporate America takes up part of the tab, doesn't that help with funding our schools – less to take away from the Arts and Sciences? But then the author moves directly into her point that anything that is non-Humanities is not mind-expanding and not important to higher education, so businesses should only be funding humanities?
"Serious issues of ethics begin to develop when corporate money begins to make donations and form partnerships with science departments – where that money buys influence regarding not only the kinds of research being done but the outcomes of that research." Sure, this is a problem, if you view it in the most sinister way possible. But guess what, if corporate money isn't funding our science research, the government is. Let's not pretend that government has no self- or political-interests.  I'm sure I could find a large swath of college-educated people across the country who would shudder at the idea of George W. Bush once upon a time being in charge of our university science research. And again,this corporate money helps the funding problem. And all the research coming out of America's universities (in the sciences) is highly peer-reviewed, even by people who are funded by other corporate or government interests.
5. Destroy the students.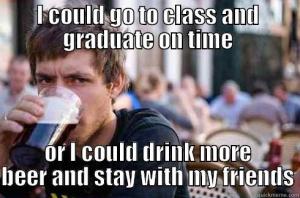 "Instead, more and more universities have core curriculum which dictates a large portion of the course of study, in which the majority of classes are administrative-designed "common syllabi" courses, taught by an army of underpaid, part-time faculty in a model that more closely resembles a factory or the industrial kitchen of a fast-food restaurant than an institution of higher learning." My liberal arts university had a lot of core curriculum. In fact, as a math major, it was because of this core curriculum that I got a "mind-expanding" experience in philosophy, literature, poetry, sociology, history, theatre, and dance. But even if we only consider big state schools, I'm really not going to cry over here about all the sociology majors who also have to take a science and calculus, or, heaven forbid, statistics. Yes, engineering departments may churn out a bunch of over-processed engineer-bots, but those kids are all getting jobs (I know, according to the author, getting a job is not the point. Unfortunately I did not, and I believe most other students did not (by the author's next point, even), grow up in a family rich enough to allow me the freedom to not consider my job opportunities upon graduation).
"You make college so insanely unaffordable that only the wealthiest students from the wealthiest of families can afford to go to the school debt-free." Government subsidized loans are a form of government funding. It may put most of the burden on the student, but as someone who has unsubsidized loans, those interest rates can be substantial. I read a comment on an article somewhere that "if the government was giving out $500 loans for a loaf a bread, bread would start to cost $500." And this all hearkens back to administrations building huge housing, athletic, dining, and lounge facilities. If college was just about class and a place to study, sleep, and keep our stuff, college could be a lot cheaper. With the loans and student expectations feeding off each other, it becomes a downward cycle of unaffordability.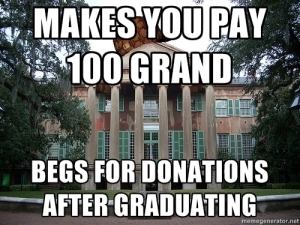 So, yes, there are problems in bloated administration and student costs at universities. But this isn't some kind of corporate take down of navel-gazing education. Administration is a problem with colleges, as organizations themselves, not because of conservative or corporate America. And the burden of cost is partially on all Americans – for raising kids who want the best and prettiest dorm rooms (private bathrooms, please), exercise facilities, dining experiences, and football teams to go along with expanding their minds.  However, more funding will not directly fix these problems, and may only make the problems worse. With good peer review, outside funding is not going to warp our research institutions. And telling kids that they should consider job prospects (and that PhDs in some subjects are nothing more than mind-expanding hobbies) will not pervert a good liberal arts institution.