As reported by The Washington Post,
When economists at the University of Chicago and the Federal Reserve studied the 2018 duty on washing machines, they found the expected rise in retail prices from foreign manufacturers such as Samsung and LG. Surprisingly, though, these brands also increased dryer prices. Then domestic manufacturers followed suit, simply because they could.

All told, the research shows, U.S. consumers are spending an additional $1.5 billion a year on washers and dryers as a result of the tariffs. That's an extra $86 for each washing machine and $92 for each dryer, the authors estimate. And less than 10 percent of that goes to the U.S. treasury — about $82.2 million — the study showed…Foreign manufacturers are passing some costs on to consumers, while domestic ones are simply pocketing extra profits, according to the study.

…Manufacturers also capitalized on buyer habits when they bumped up the price of dryers, which were not subject to the tariffs. "Many consumers buy these goods in a bundle," Tintelnot said. "Part of the price increase for washers was hidden by increasing the price of dryers."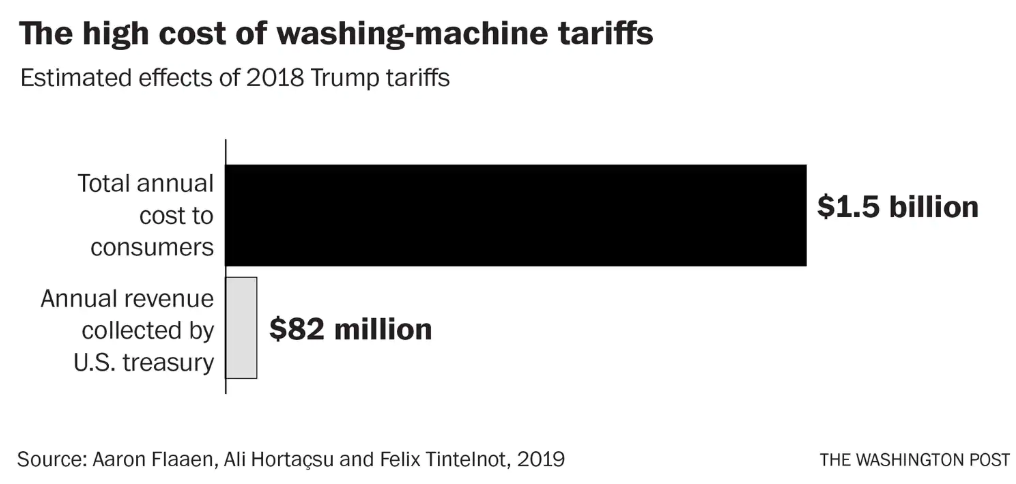 In sum, "U.S. consumers shouldered 125 to 225 percent of the costs of the washing-machine tariffs. And the duty was mostly a dud on the job-creation front," costing consumers about $815,000 for every one of the 1,800 jobs created.
That's exciting. Looks like tariffs are exactly what they are cracked up to be.