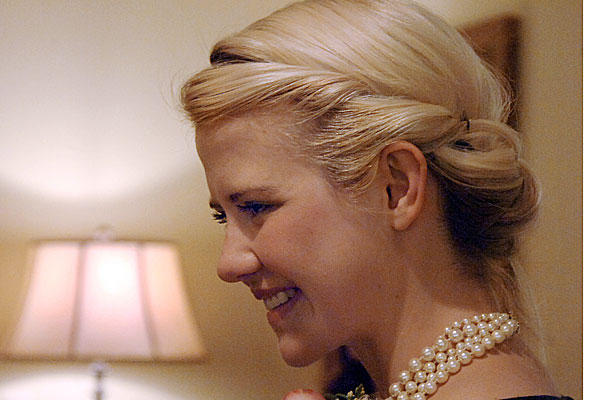 In the short few minutes it took me to re-find the original Christian Science Monitor piece on Elizabeth Smart's comments at a Johns Hopkins University forum on human trafficking, my take on the article shifted dramatically.
The first few references I saw were all from fellow Mormons on Facebook who were highlighting and agreeing with Smart's message which is, to put it simply, that a lot of the conventional ways of teaching young people and especially  young girls about chastity are irredeemably terrible. From the CSM:
Smart spoke at a Johns Hopkins human trafficking forum, saying she was raised in a religious household and recalled a school teacher who spoke once about abstinence and compared sex to chewing gum.

"I thought, 'Oh, my gosh, I'm that chewed up piece of gum, nobody re-chews a piece of gum, you throw it away.' And that's how easy it is to feel like you know longer have worth, you know longer have value," Smart said. "Why would it even be worth screaming out? Why would it even make a difference if you are rescued? Your life still has no value."
So originally I intended to just link to that piece and basically say that I thought it was great that such a strong and compelling spokesperson was drawing attention to this issue. I have tremendous respect for Smart and the way that she has risen above her ordeal and refused to be a victim. Her criticism is absolutely right, and religious people (including Smart's fellow Mormons) need to learn to separate the ideal of chastity (which ought to apply to both genders equally) from out-dated, sexist cultural notions that mix chastity with the horrific notion that women and girls are products or goods that have most value when in "like-new" condition. It's a simple but vital distinction: chastity ought to be about the choices that women and men  make, not something that applies only to women and includes events that happen with or without their consent.
But while I was hunting around for that article, I was surprised and disappointed to see headlines like these in secondary coverage:
Elizabeth Smart: Abstinence-only education can make rape survivors feel 'dirty,' 'filthy' (MSNBC)
Traditional Mormon Sexual Purity Lesson Contributed to Captivity, Elizabeth Smart Tells University Audience (Joanna Brooks)
Smart's comments are being exploited for political gain, and that is neither respectful to Smart nor illuminating for the discussion. An open-ended discussion of the real issues without political prejudice might, for example, talk about the connection between American consumerism and sexual exploitation. The fetish of unwrapping expensive technological gadgets has twisted and eerie parallels with the way women's bodies are treated as products to be consumed. I believe the problem is deep and pervasive, but MSNBC and ThinkProgress see just left vs. right. The entire discussion, and not just Smart's views, are being shortchanged.
It's particularly frustrating because a short perusal of Smart's Wikipedia page indicates that she continues to thrive within her faith community as an observant Mormon, including serving a mission and marrying the traditional Mormon temple ceremony. Both of these facts indicate–in the absence of any statement from Smart to the contrary–that she remains dedicated to traditional conceptions of virtue. This is why her criticism of Mormonism is so important and insightful (and why I was excited by them in the first place): it genuinely comes from within.
I also think it's important to realize that Smart seems to have found not only problems, but also solutions within her faith. A traditional Mormon children's song is titled simply "I am a Child of God", and Mormons heavily emphasize our divine heritage as children of heavenly parents. As Smart concluded (citing the CSM article again), children need to be taught that "you will always have value and nothing can change that."
And that, too, is a part of Smart's Mormon upbringing.