I've enjoyed reading Mahonri's pieces on Orson Scott Card, Ender's Game, and homosexuality. I've actually been hard at work for the past few months working on an article about Ender's Game to coincide with the release of the movie. Although my article doesn't address the topic of homosexuality itself (it's a more general look at how Mormon themes are exhibited in Ender's Game), I've recently re-read several of of Card's works. I've also observed for years that he, like Robert Heinlein, has gradually been adding more and more overt politics to his works as he gets older. On the one hand it's easy to mock the tendency of older, successful men rambling on about their pet politics, but on the other hand I think the world generally needs more straight talk and not less. And, as I pointed out with Heinlein, this is sort of a tradition for the sci fi genre.
In any case, the first comment on Mahonri's most recent post finally provoked a response from me on the topic of Card and homosexuality. I started to write it out in the comment section, but when I realized I was closing in on 500 words and still not finished, I decided to just write an independent post. Here's the part about Danny's comment that I'm responding to:
Glenn Beck, Sean Hannity, Bill O'rielly etc., all started off as main stream conservatives, as soon as they allowed their hate/prejudism to take control of their programs their Rhetoric has become a hateful propaganda that only hurts political dialogue in the US! Sadly, OSC has allowed his prejudism of "gays" to effect his beliefs on racism and sexism. OSC has put himself on the same path as the previously mentioned conservative talk show hosts.
This analysis is deeply flawed in OSC's case in particular, and I suspect that it's deeply flawed in relation to Beck, Hannity, and O'Reilly as well. But let's start with OSC. Although he was a friend of my grandfather's, I've only exchanged a single email with him and we didn't talk about any of these issues. Instead, I'm relying on the testimony of American songwriter, singer, musician, columnist and science fiction author Janis Ian who A – does know OSC personally and B – is openly a lesbian and has been since 1993. Here is what she has to say about OSC in her own words and on her own website. Here's a selection: 
Let me say first that I consider Scott a close friend; the time we don't have together physically, we make up through the heart. If I had to lean on someone, or needed an ear, I would think of him. And if you've read my autobiography, you'll know that in a time of great trouble, he was very, very, good to me… And speaking of my partner… Scott has never treated my relationship, or my partner, with anything but the utmost respect. We've been welcomed into his home, invited to his childrens' weddings, sent announcements of births and deaths – all to both of us, as a family unit. His children regard us as a family unit, and I've never heard or felt the slightest breath of censure from any one of them.
Obviously this depiction of Card's relationship with Ian (and she also mentions he has other gay friends) is hard to square with the picture of a man motivated by anti-gay prejudice. There's one additional comment Ian makes that needs to be highlighted, and it's this:"I can't personally recall seeing anything nasty that he's written about being gay per se." I added the emphasis there, because it illustrates that Janis is doing what so many are either unwilling or incapable of doing: treating a controversial topic with some nuance.
Ian's depiction of OSC fits perfectly with my own estimation of his beliefs and motivations based purely on reading his works which, as I mentioned, tend to reflect his personal views in ways that not all fictional works do for all authors. I'm not naively assuming that we can guess what a writer thinks based on their books. I'm stating that Card, like Heinlein, is one of those exceptional cases where we actually can, however.
Off the top of my head, the first major statement about marriage from Orson Scott Card came from "Speaker for the Dead" in 1986. The most illuminating passage comes from page 152:
Marriage is not a covenant between a man and a woman; even the beasts cleave together and produce their young. Marriage is a covenant between a man and woman on the one side and their community on the other. To marry according to the law of the community is to become a full citizen; to refuse marriage is to be a stranger, a child, an outlaw, a slave, or a traitor. The one constant in every society of humankind is that only those who obey the laws, tabus, and customs of marriage are truly adults.
This is a direct repudiation of the primary rationale for gay marriage, which is invariably expressed as an issue of individual civil liberties. In stark contrast to that libertarian/libertine paradigm, Card explicitly embraces the idea that individual liberties must be balanced against the needs of society. Interestingly, Card also embraces the idea that such customs may be important for no other reason than the function they offer the community. A few pages early, Ender makes this observation:
He did not care much about the priestly proscription of fornication, but he did understand how vital it was in a fragile community like Milagre for marriage customs to be strictly adhered to.
What is this function? Well in the introduction, Card writes:
And yet to me, at least, the most important stories are the ones that teach us how to be civilized: the stories about children and adults, about responsibility and dependency.
Everything you need to understand Orson Scott Card's passionate opposition to gay marriage can be gleaned from these three paragraphs. Please note that not a single word has been mentioned about homosexuality or homosexuals. Instead, Card has a model in which biological families are absolutely crucial to the health of a community and where cultural proscriptions against activities that may not be intrinsically immoral (e.g. fornication) are nonetheless vital to the extent that they serve to reinforce the social structure at which marriage between men and women for the purpose of procreating is tantamount.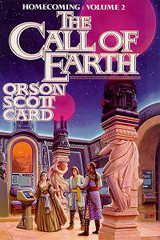 I'm not asking anyone to accept this argument, but merely to recognize that it is probably OSC's actual opinion and has been for at least three decades. As far as homosexuality itself, goes, Card handled that issue explicitly in his 1992 novel The Call of Earth, which featured a prominent gay character. Unlike traditional depictions of gays in old sci fi, Zdorab was no deviant villain but a sympathetic protagonist.
Zdorab is not necessarily a GLADD-approved depiction of homosexuality. He ultimately decides to marry a woman, and the book contains Card's explicit idea that homosexuality is best seen not as an immoral evil but a heavy burden. On the other hand, it's critical to note that Card, well before these kinds of issues were prominent, made Zdorab's homosexuality something that he was born with and could not change and also depicted the plight of a gay man who had to hide his identity to protect himself in a bigoted world.
I'm sure there are probably gay characters and themes in other works Card has written, but those are the two that stick out to me the most. And, to start with, who else in the mainstream of science fiction (or popular fiction at all) was choosing to include sympathetic gay characters in the early 1990s? This isn't just some long, glorified version of "Some of my best friends are gay." This is a sincere look at what Card actually thinks about this issue, and I think it's impossible to dismiss his attitude as just "prejudice".
That's not an excuse of some of his more extreme rhetoric, of course. It's not even a defense of his views. You don't have to agree with someone to respect them, just as Janis Ian doesn't agree with Orson Scott Card, nor he with her. And yet, by all accounts, they have a close, intimate, healthy friendship nonetheless.
Maybe there's something we could all learn from that.