The Washington Post has video of a speech by US Ambassador to the UN Samantha Power which, I presume, represents that Obama Administration's official position on Syria.
What I like about the argument:
In arguing for limited military action .. we are reaffirming what the world has already made plain in laying down its collective judgment on chemical weapons. There is something different about chemical warfare that raises the stakes for the United States and raises the stakes for the world.
I support that rationale and limited, symbolic strikes based on it. Strikes that do not have the intent of changing the balance of the conflict or of disarming Assad, because such goals beyond what is required to sustain the convention against use of chemical weapons, and would incur an open-ended use of American power leading, potentially, into another quagmire.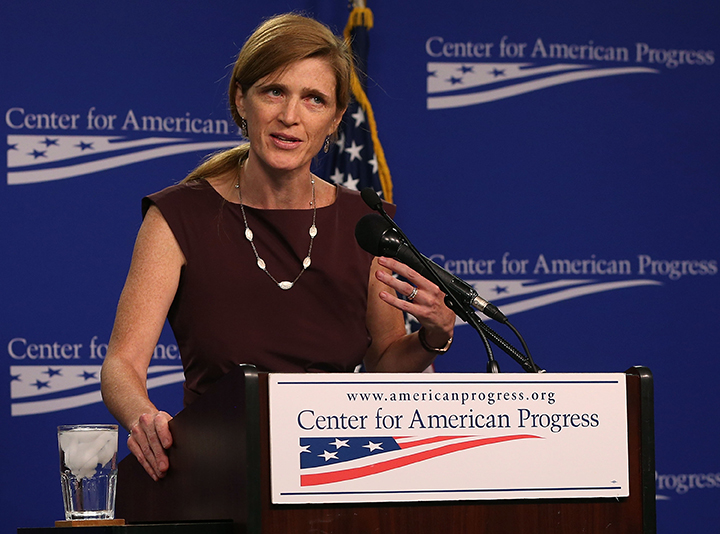 What I do not like about her argument, however, is the fact that it is irrationally manipulative and basically an extension of the Bush Doctrine. First, she describes a father's grief at the loss of this two little girls. Personal tragedy is no basis for foreign policy, and the inclusion of this rationale is not merely spurious. It's an affront to common sense and an insult to the intelligence of her audience. 
Second, she cites the fear of a new generation of radical extremists in an argument that is so long-ranged and tentative that–if taken seriously–would officially signal the moment at which virtually ever policy action imaginable could be justified as a response to terrorism. Her argument is:
Half of Syria's refugees are children, and we know what can happen to children who grow to adulthood without hope or opportunity in refugee camps. The camps become fertile recruiting grounds for violent extremists.
Again, this argument is so excessively bad that including it in a rationale isn't merely superfluous, but deeply troubling. Experts believe that a significant mismatch in the male:female ratio of a rising generation leads to political extremism, meaning that China's One Child Policy and India's increasingly prevalent use of sex-selective abortions could each lead to "fertile recruiting grounds of violent extremists." Are we preparing military strikes there as well?
Of course not. It's an absurd suggestion, and it's also an absurd suggestion when it comes to Syria. There are good reasons for a narrow, limited, symbolic use of military power to reinforce longstanding international norms rejecting the use of chemical weapons. Relying on sob stories of fathers weeping over the corpses of their daughters or fear-mongering about shadowy future attacks undermine the actual rationale for the strike, eviscerate the credibility of the Obama administration, and represent a grave threat of turning military strikes on Syria into a dangerous new precedent that–as in almost every other case the Obama Administration has taken–will further solidify the mistakes of the Bush Administration and draw us deeper into a never-ending, self-justifying, and ultimately self-destructive cycle of violence.
It's not just what we do in Syria that matters, but why we do it. I understand that the Obama Administration may need to employ some less-than-ideal arguments in order to rally the necessary support at home and abroad, but the risk there is that by the time you've got the support you need you are no longer engaging in an action that deserves that support.
In theory, I support limited strikes on Syria. In reality, a speech like this makes me deeply suspicious that our present administration has the integrity to do what is needed. The Assad regime should face military repercussions for their actions (and, for the purpose of this argument, I'm assuming that the charges against them are true), but unfortunately I don't know if there exists a world power with sufficient military power and moral courage to carry a strike out within ethical and rational constraints.