A couple of weeks ago I came across an extremely articulate explanation of perhaps the dominant perspective of racism from the American political left. The explanation comes in the form of an online Powerpoint at the Tumblr of Women of Color, In Solidarity.
It's a fairly short and straight-forward presentation, and I'm deeply appreciative of how starkly it lays out the case against white privilege, starting with this definition of the key terms:
So here we have a very precise definition of racism: it is the institutionalization of discrimination (which is itself the acting out of prejudice). This definition has one very important and straightforward consequence: reverse-racism (i.e. anti-white racism) cannot exist.
In simple terms: individuals may have anti-white prejudice and may even act on that prejudice (which is anti-white discrimination), but because this discrimination is not built into the structure of our society it's not institutionalized and therefore doesn't qualify as racism by definition. The author slammed this point home with one more emphatic slide: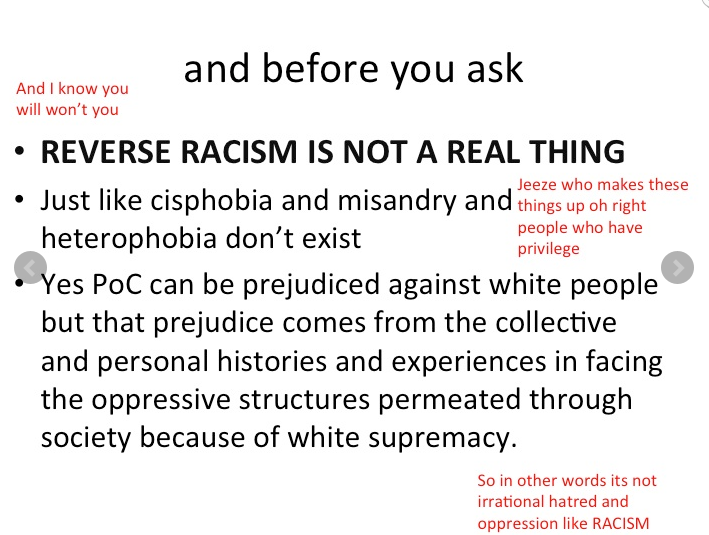 Once again: this is a clear and unambiguous perspective on race and–within its assumptions and definitions–it is consistent and logical.
But it is still deeply, deeply flawed. The flaw will seem subtle at first, but as it ripples through the larger argument it will have profound implications. And the flaw is this: the assumption that the cause of discrimination is animosity. 
Going back to that first slide, the explanation of institutionalized discrimination (racism) starts with "feelings of dislike for a racial/ethnic group." This leads to willful prejudice (i.e. people harm the people they dislike because they dislike them), and this willful prejudice is then incorporated into the structure of society and thus becomes institutionalized.
Is that really how discrimination works?
I'm sure that it is some of the time, but all of the time? There's very good reason to think that it much of the time discrimination is disconnected from anything that we would recognize as "feelings of dislike." Consider, for example, studies that show how women and men are treated disparately when looking for jobs in traditionally male-dominated fields (such as hard sciences). As has been widely reported,
Female professors were just as biased against women students as their male colleagues, and biology professors just as biased as physics professors — even though more than half of biology majors are women, whereas men far outnumber women in physics.
Now, according to the slide, racism (and I realize I'm generalizing to sexism, but there's a reason people usually talk about "white male privilege" and not just "white privilege") is the result of dislike towards the people who are made to suffer. Therefore, we must assume that the female scientists dislike women. I don't think we can rule self-loathing out entirely, but it doesn't seem like the most likely explanation. Rather than a conscious application of antipathy, it seems more reasonable to suggest (as the study authors did) that "the bias… probably reflected subconscious cultural influences rather than overt or deliberate discrimination."
In other words: we've got discrimination without conscious prejudice.
This isn't just some random exception to the rule. In 21st century America, this kind of discrimination is the rule. If you look at the literature on racism across cultures, one thing you quickly learn is that rather than starting with an axiom like "white people are superior", the fundamental biological trait seems to be that people prefer others who are similar to themselves. White supremacy didn't come first: all cultures unconsciously assume their supremacy at first. White supremacy came because the global interconnection of world cultures starting in the 15th century coincided with a period of European military and economic dominance. If it had been, for example, the Chinese cultures that had explored and colonized the world we'd be talking about Asian-supremacy instead.
In any case, the result is that there are two distinct causes of racism (institutionalized discrimination). The first is overt racism that is based on the belief that the oppressed minority is in some sense inferior. This was the case with both slavery and Jim Crowe in the United States, and also the abhorrent treatment of Native Americans. It was also used as the argument against women's suffrage. In each case, there was a definitive and conscious theory that the oppressed minority was inferior, and that rationalization was used to motivate or at least defend the discrimination.
The second cause is the unconscious preference all humans have for the familiar. It doesn't involve any kind of conscious dislike and can actually exist in parallel with over attempts to be fair and non-discriminatory. The difference between the two matters.
Why does it matter? Well, I included the third slide above to give one demonstration. The third slide doesn't actually develop the "black people cannot be racist" argument any further than the second slide. It adds no new logic. But it conveys a deep sense of pain and victimization.
Consider the statement that: "PoC [people of color] can be prejudiced against white people, but that prejudice comes from the collective and personal histories and experiences in facing the oppressive structures permeated through society because of white supremacy." Remember that, according to this definition, prejudice means dislike. It means hatred. So what we're saying here is that "Yeah, PoC hate white people, but that's a justifiable response to all the suffering white people have inflicted on PoC".
This statement shows what is dangerously wrong with the assumption that discrimination is an expression of hatred:
1. It conveys the message to people of color: you are hated. White people do not like you. What's more: they will try to hurt you.
2. It condones hatred as a response. White people have no excuse for their inexplicable hatred, but people of color are justified in their own hatred because of the struggles they have faced.
Both of these beliefs are obviously deeply damaging and divisive for society. The reality is that white people in the United States, by and large, do not dislike black people. They do not bear any personal animus towards people of color. The reality of white privilege (which I do not deny), means that most of the time white people just don't think about race at all. As Walter Williams has pointed out: most of the time people just don't care. When white people do think about race, their thoughts may be ignorant or out-of-touch, but they are generally sympathetic and well-intentioned.
I am not blaming people of color who feel hated for their feelings or attempting to delegitimize them. My argument doesn't say "discrimination isn't real". It says "discrimination isn't usually caused by dislike." Just keep the study I quoted earlier in mind: women really did have a lower chance of getting hired for those positions and also got lower salaries when they were hired. I'm not contesting the facts of discrimination. But if a woman got rejected from a job opening–no matter how frustrating and unfair–it would be incorrect to assume that behind the mistreatment there was somebody who personally didn't like her. That feeling of being personally disliked is not trivial. It's incredibly psychologically painful. We are social animals, and we do not react well to rejection. The problem is that this view of racism drastically overstates the degree of rejection. It converts every careless and inconsiderate act into a malevolent and premeditated assault.
Given that siege mentality, I don't think it's any wonder that there's a deep and painful fountain of resentment that, in this case, is used to justify and rationalize anti-white prejudice. This is a truly tragic failure of understanding that leads to levels of perceived antipathy that are not necessary.
There's a third problem with this view of racism that is even more subtle and, in the long run, even more harmful than the first two. It's also an assumption that prejudice is a directly targeted attack on people because of their identity, but it works by omission. The best way to explain it is with an example.
Consider this article about chronotypes. The word "chronotype" just refers to whether people are night owls or early-risers, but note the similarity between the description of the obstacles night-owls face in an early-riser-dominated society and the language used to describe institutionalized racism:
Well, mornings tend to be tough for folks with the night owl chronotype. That's to be expected, since going to bed later than society expects while having to wake up earlier than your biology "wants" means inadequate, lower quality sleep. We all know how a night of poor sleep feels. Imagine a lifetime!
The article then lists several serious illnesses that are exacerbated by the night-owl chronotype, including type 2 diabetes, fibromyalgia, and depression. The article then asserts that each of these health consequences comes back to systemic discrimination:
Because it's only in a society with a standard universal workday that begins at around 8 AM that the night owl is an unhealthy, lazy malcontent worthy of our disdain. For every one of the "negative health effects of being a night owl chronotype," I can link it directly to a lack of sleep.
The word "discrimination" never appears in the text, but that's clearly what is being described. And this isn't the only example of a scientifically-based form of discrimination that doesn't fit into the usual race, gender, or sexuality categories. What about bias against short people? Bias against fat people? Bias against ugly people?
The main reason this is a problem is that it is a denial of the importance of the individual. If you restrict the discussion of discrimination to just a small number of outwardly observable traits (gender and race, for example, and to a lesser extent sexuality), then it is easy to treat people as just categories. Inevitable, in fact. But if you start to throw in all the real, relevant factors for discrimination, this gets harder and harder to do. There isn't really an easy way for short, white, male, gay, late-chronotype, overweight folks to identify each other and form a group, for example. The more traits you include–and the harder they are to observe–the more your attention is drawn away from easily targeted market segments towards what starts to look a lot more like real human beings.
The old discussion of race is harshly divisive and invariably creates an adversarial context in which true dialogue is almost impossible. The paradigm in this presentation says that people of color and white people are fundamentally from different worlds. They have no common ground on which to build. But a more open-ended discussion of discrimination shows that all of us have, at least in some small measure, faced discrimination in our lives. It generalizes the problem and makes it universal. Instead of a struggle of whites against blacks, it becomes a struggle in which all of us are wrestling with our own predilection to prefer the similar. Instead of categories, we see people. Instead of division, we see commonality. Instead of adversaries, we see companions.
I already know what some of the harshest critics of this approach will say. They will say first: that I'm denying the extent to which historical racism (the truly malicious kind) is perpetuated in racist institutions and second: that I'm trying to draw a false equivalence between the discrimination African Americans have faced and that faced by night owls. I understand why they might think that, so I want to address those concerns in a spirit of empathy.
First of all: I'm not denying that institutionalized racism and discrimination exist. I am not trying to explain why white privilege isn't real. I am acknowledging that it is real. But I'm also saying that it isn't perpetuated today by malign intent and that it's also part of a larger, more complex problem. I am not arguing that we do not need major changes in our society in the name of greater equality. I'm arguing that those changes will be easier to accomplish if we recontextualize the discussion in a way that emphasizes commonality rather than divisiveness.
This could mean trying to pretend that all discrimination is equal, but it doesn't have to. Speaking of the second point: I know that putting weight discrimination or height discrimination in the same list as racial discrimination is going to make people angry, but I'm not equating them. I think it's obvious that there's a range of discrimination, but the fact that institutionalized slavery is much worse than gays not being allowed to marry hasn't stopped folks from advocating for equality on the basis of both race and sexual orientation. We should be able to acknowledge that these other forms of discrimination are real without feeling like there's some kind of competition. Look: when you're in a world where 40% of medical doctors discriminate unconsciously against fat people (which is true, see the link above) that's not a joke.
In summary: discrimination is real. It tends to be worst when its based on gender, race, or sexual orientation, but it also exists on a much wider spectrum including height, weight, attractiveness, and chronotype (just to name a few). The current theory on race has several major problems.
It assumes discrimination is a matter of willful maliciousness instead of carelessness.
As a result, it creates unnecessary pain for victims of discrimination and also justifies retributive prejudice.
It also emphasizes groups rather than individuals.
Finally, it creates a toxic environment where only adversarial conflict rather than true reconcilliation are possible.
Rather than deny white privilege, I would like to see it incorporated into a larger debate that fully acknowledges the historical reality (and their ongoing effects), but in a universal context where common ground and therefore dialogue and reconciliation are possible.