Ender's Game is, more than any thing else, a book about empathy. From the very first line of the book ("I've watched through his eyes, I've listened through his ears…") and on to the end the theme of empathy dominates everything the characters do and think about. It is the key to all of young Ender's victories and the source of his greatest strength. It is the source of his deepest pain.
Why, then, is the author of Ender's Game an unrepentant homophobe and conspiracy theorist best described alternatively as either "intolerant" or "kooky"? That is the question Rany Jazayerli asks in his moving and thoughtful piece for Grantland. Jazayerli is clearly a sympathetic reader (sympathetic of Card, I mean). As a devout Muslim he shares Card's Mormon view that homosexual sex is a sin. He is not only a fan of science fiction in general and Card's works in particular, he writes movingly of how Card's sympathetic depiction of a Muslim character in Ender's Game (written in the 1980s) profoundly touched Jazayerli. He says:
Others may hate him, but I'm still struggling to understand him. That's the least I owe him for gifting me with an ethical compass when I needed one.
I'd like to help Jazayerli understand Card.
Card's View on Marriage
Jazayerli correctly pinpoints Speaker for the Dead as the spiritual center of Ender's story. In Speaker for the Dead, Card explains his views on marriage. Written in the early 1980s, these views don't address the gay marriage debate in any way. But if you're going to critique Card's views on gay marriage you have to start with an understanding of his views on marriage in general.
There are basically two beliefs to keep in mind. First, Card things that marriage is important. Really, really, really important. Second: Card believes that the institution of marriage is defined not by the relationship between the spouses (with each other), but rather by the relationship between the spouses (as one unit) and the larger community (as the other unit).
In the introduction to the definitive edition of Speaker for the Dead he addresses the book's obsessive theme (just as important to it as empathy was to Ender's Game) by writing that "few science fiction heroes seemed to marry and have kids. In short, the heroes of most science fiction novels were perpetual adolescents." Card wants to talk about the transition from the freedom of adolescence to the burdens of adulthood, and this is how he describes the problem: 
Only when the loneliness becomes unbearable do adolescents root themselves, or try to root themselves… And, in fact, many fail at adulthood and constantly reach backward for the freedom and passion of adolescence. But those who achieve it are the ones who create civilization… The most important stories are the ones that teach us how to be civilized: the stories about children and adults, about responsibility and dependency.
In Card's view we all have a naturalistic inclination towards hedonistic selfishness. Those who follow this inclination, no matter their age, are adolescents. The alternative is to accept the shackles of responsibility and dependency and become adults, and it is those who successfully yoke themselves to the serious business of community who become the basis for civilization itself. The kernel and exemplar of this system is traditional, monogamous marriage. In that institution, the spouses give up their freedom and accept mutual obligation and fidelity to each other and thus create the stable foundation for creating and nurturing new life.
It might seem like cheating to quote so extensively from the introduction (not everyone reads introductions), but the themes are presented just as starkly in the text itself. For example:
Marriage is not a covenant between a man and a woman; even the beasts cleave together and produce their young. Marriage is a covenant between a man and woman on the one side and their community on the other. To marry according to the law of the community is to become a full citizen; to refuse marriage is to be a stranger, a child, an outlaw, a slave, or a traitor. The one constant in every society of humankind is that only those who obey the laws, tabus, and customs of marriage are truly adults.
That passage isn't from the introduction. It's from page 152 of the text itself. It highlights both points: heterosexual marriage is the foundation of society and marriage "is a covenant between a man and a woman on the one side and their community on the other."
Marriage is so vitally important to Card that he creates a new Catholic order named "Children of the Mind of Christ" which includes married but celibate priests and nuns. In a world that increasingly believes marriage is an extraneous obstacle to pleasurable sex, Card creates an example of an institution that is totally vital, but to which sex itself is not essential. This doesn't mean Card is anti-sex, but it illustrates how passionately devoted he was at least as far back as the 1980's (well before gay marriage was a national debate) to the vital role of marriage as a binding social contract rather than as a comfortable and convenient living arrangement.
The Conflict with Gay Marriage
It is obvious from the identification of marriage and procreation that when Card talks about marriage he means heterosexual marriage, but the question becomes: why not include gay marriage? Is the institution of marriage as Card defines it in any way threatened by the existence of gay marriage? The answer to that is "no," and I think even Card might agree with me on it given this caveat. Gay marriage itself does not threaten the institution of marriage, but the particular arguments being used to advance gay marriage right now do.
This might seem like splitting hairs. It is not. Nate Oman has explained this case clearly:
Much of the public discussion around gay marriage strikes me as deeply troubling. Gay marriage has emerged as a civil rights issue, for many as the central civil rights issue of this generation. Framing the issue in this way, however, strikes me as mistaken and potentially destructive. The language of civil rights focuses our attention on the ideas of equality, liberty, and legal rights. None of these strike me as very productive or complete ways of thinking about marriage. Marriage is about a hierarchy of family statuses, in which a certain form — marriage — is enshrined as preferable to others. Likewise, marriage is in an important sense about limiting freedom, both by raising the costs of exit and by providing a locus for creating and enforcing social norms that try to constrain behavior. My worry is that entrenching ideas of equality, liberty, and legal rights in our public understanding of marriage will tend to erode it's social and cultural potency at the margins.
I don't want anyone to come away thinking that I'm arguing that Nate Oman supports Orson Scott Card's views. Obviously he does not. But he does demonstrate that a policy rationale can be as important as the policy itself. Therefore someone could support gay marriage and still criticize the gay marriage movement.
If the gay marriage movement was about replicating the institution of traditional marriage for homosexuals that would be one thing. That's the hypothetical world where I could see Card plausibly supporting gay marriage, or at least fearing it a lot less. In the real world, however, that's not what the movement does. Whereas traditional heterosexual marriage asks not what marriage can do for spouses, but what spouses must do for marriage (it is about "limiting freedom" as Oman says), modern heterosexual marriage increasingly shifts the emphasis from duty and responsibility to convenience and commodity. The biggest step in that direction was the ill-fated move towards no-fault divorce. It was supposed to make it easier for abused women to exit marriages (a noble goal). The assumption was that if divorces were easy to obtain, all unhappy marriages would dissolve and only happy marriages would remain. Despite skyrocketing divorce rates, this goal has failed miserably, and the institution of marriage was substantially weakened in our society. (The same logic was supposed to mean that elective abortion would mean the end of child abuse. If only wanted children were allowed to live, then all children would be wanted, and no one would abuse them. That hasn't worked out either.)
The gay marriage movement will compound this erosion, but not primarily because of gay sex. Rather, it's the doubling-down on the idea of marriage as a means to an end–as something that people do because of the benefits it provides–that will further warp the institution of marriage in our society.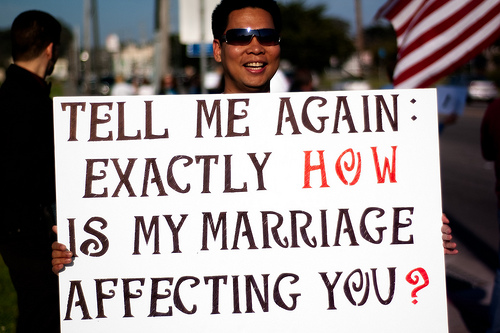 The movement towards gay marriage doesn't necessarily have to take this course. In theory, at least, gay marriage advocates could also be doubling down on the importance of monogamy and working to roll back no-fault divorce. In practice, that's not happening. In practice, gay marriage is predicated on driving the stake deeper towards the heart of marriage. It treats the institution as instrumental rather than fundamental and questions whether monogamy even makes sense as part of the definition at all.
Gay marriage didn't have to be the enemy of Card's view of marriage in theory. In practice, it is. His two fundamental points where that 1) marriage is vitally important to society and 2) marriage is about what you give rather than what you get. He is opposed to gay marriage for the second reason, and he is passionate in his opposition for the first reason.
It's all there in the text for anyone who cares to look.
Card's Homophobia
I was floored when I came across Janis Ian's passionate 2009 defense of her friend Orson Scott Card. Ian, an out lesbian, writes:
Let me say first that I consider Scott a close friend; the time we don't have together physically, we make up through the heart. If I had to lean on someone, or needed an ear, I would think of him. And if you've read my autobiography, you'll know that in a time of great trouble, he was very, very, good to me. By the way, the gay community was nowhere to be seen when I was at my lowest.
She goes on:
And speaking of my partner… Scott has never treated my relationship, or my partner, with anything but the utmost respect. We've been welcomed into his home, invited to his childrens' weddings, sent announcements of births and deaths – all to both of us, as a family unit. His children regard us as a family unit, and I've never heard or felt the slightest breath of censure from any one of them.
This is a direct contradiction of the idea that opposition to gay marriage is identical to personal hatred of homosexuals. It further strengthens the idea that Card's opposition to gay marriage might be about something other than intolerant bigotry. But it does raise a perplexing question at first glance. If (according to the text of Speaker for the Dead) the only real marriage is heterosexual marriage those who don't get married must be " a stranger, a child, an outlaw, a slave, or a traitor", then what's going on? Which one does Card think that Ian is: stranger, child, outlaw, slave, or traitor?
There's no question that, in Card's view, homosexuals are outsiders. But he's not alone in that belief. Dissident feminist Camille Paglia (also an out lesbian) recently participated in a debate at American University with the topic: "Gender Roles: Nature or Nurture." Paglia took the position the gender essentialist position, that gender roles are largely biologically determined. In her opening statement she said that "Gender questioning has always been and will remain the prerogative of artists and shamans, gifted but alienated beings." (Emphasis added.)
Paglia and Card seem to agree on this essential characteristic of the LGBT community: they are outsiders. Paglia says that as one of the outsiders. Card, for his part, says that as someone who has spent his entire career writing with compassion about outsiders. Whether it's the alien Formics, sympathetic Muslim or Jewish characters, or courageous homosexuals (see The Ships of Earth series), Card has always believed that outsiders can be loved and appreciated if we take the time to understand them. And that we should take the time to understand them. Combining that trait with Ian's personal testimony, I believe it is reasonable to see that Card's opposition to gay marriage does not stem from bigotry.
It is also worth noting that, in Ender's Game, Card depicted the struggle between the humans and the outsider Formics as being essentially a misunderstanding. But he also seemed to at least partially justify the harsh tactics used by the humans (and also by Ender on a smaller scale) as a matter of self-preservation. The juxtaposition of empathy and conflict shouldn't be surprising to anyone who has paid attention while reading Ender's Game. It's not that hard to see Card as simultaneously embracing the gay community as outsitders to be loved, and also engaging in what he sees as a battle for social survival against the gay rights movement. It is, after all, eerily similar to his depiction of Ender's simultaneous love for and opposition against his own enemies.
This is Not What Tolerance Looks Like
The assumption that the only possible explanation for opposition to gay marriage must be bigotry is, itself, deeply troubling. The world has forgotten what tolerance really looks like. Tolerance doesn't mean congeniality in the absence of genuine disagreement. Tolerance presupposes genuine and irreconcilable differences. Otherwise: what's the point?
Jazayerli is unwilling to come out and state that he believe gay sex is sinful, but he comes fairly close when he writes that:
Most of the world's major religions consider gay sex a sin, and anyone who thinks a religious person should get over that belief, or the belief in sin generally, fundamentally misunderstands what it means to be religious.
You just have to connect the dots (Jazayerli states the he's a devout Muslim who abstains from alcohol) to conclude that he probably believes gay sex is a sin. He defuses this tension, however, by arguing for a dichotomy between sin and crime.
Superficially this makes sense. No one likes a theocracy. We all understand that an attempt to criminalize every immoral act would itself be immoral. But that's the catch: the question of where to draw the line between public concern and private vice is itself a moral consideration. That is why Jazayerli's superficial reference to the First Amendment doesn't actually make any sense. He seems to be saying that law and religion are two totally separate and distinct spheres with no overlap. This is impossible: they are both inextricably interwoven with moral consideration and there's no use pretending otherwise.
Jazayerli's position is vapid. It's not a principled argument that explains why Jazayerli believes some immoral acts (like theft) should be criminalized and other immoral acts (like drinking alcohol) should not be and still other immoral acts (like lying) should be criminalized some of the time but not other times. It is, in fact, just acquiescence to the popularity of the gay rights movement. Jazayerli is applying the basic tactic: if you can't beat 'em, join 'em. And so he downplays the disagreement and pretends that this is tolerance. It's not.
A fundamental tactic of the gay rights movement is to accuse anyone who disagrees with their policies of being bigoted. Which is exactly what Jazayerli seems to do with Card. Jazayerli is collaborating. He is demonstrating to the ascendant, socially liberal culture that he is willing to get with the program. It's a foolish and short-sighted tactic. The time is quickly coming when even Jazeyerli's subtle admission that he views gay sex as sinful will itself become sufficient grounds for the accusation of bigotry. (For plenty of people: it already is.) It's only a matter of time until Jazayerli's piece castigating Card for his bigotry could come to be used as evidence of the same claim against him.
Tolerance is not pretending that you don't have a disagreement because you don't want to get picked on or mocked. Tolerance is admitting that you do have a disagreement, but treating people with respect anyway. Card succeeds at tolerance in his fiction writing, but fails in his columns. So does Jazayerli, although at the other end of the spectrum. Card is overly adversarial and Jazayerli is disingenuously compliant.
A Limited Defense
I stand somewhere between Nate Oman (who favors gay marriage, but questions the gay rights rhetoric) and Orson Scott Card (who criticizes both). My defense of Card must therefore be a limited one. I think it's plain from his writings and his relationship with his gay friends that Card is not a bigot.
But he does say some crazy things. Oh boy, are they crazy.
I really can't deny that, and I can't defend it either. I'm not really sure why I'd want to, however. He's hardly the first famous and talented writer to have kooky beliefs. It's practically part of the job description, as far as I can tell. The problem is that his artistic kookiness lines up with his politics at a time when those views are the subject of a heated national debate. Lots of authors seem to subscribe to weird politics (Robert Heinlein's libertarian-fascist-free-love fusion, anybody?), but when they aren't part of a larger public discourse no one pays them any mind.
Card's comments on gay marriage–and position on the board of NOM–have put the rest of his political musings in the spotlight, however. And they don't bear up well under scrutiny. His political theory about President Obama nominating Michelle Obama to run in 2016 and then using that as a stepping-stone to totalitarian domination or whatever is what Jazayerli says it is: a conspiracy theory. His language about gay marriage has also been incendiary and irresponsible.
I think to some extent Card has been acting out of frustration. Being accused of bigotry instead of having your arguments addressed can be infuriating. Add to that the insularity of long-held fame and a fear that your civilization is being cut to the bone and it's not hard to see how fear and anger could lead to his outbursts.
This may be an explanation, at least in part, but it is not an excuse. The fatal flaw in the opposition to gay marriage has been from the very start an absence of love. I'm happy that many in the movement have learned this lesson and are working to build bridges, speak peacefully, and show love to their gay brothers and sisters, but it's probably too late for a movement which was complicit for too long in allowing itself to be defined by hatred and fear. Card seems to be a one-man object lesson, and his language has been insensitive to an inexcusable degree.
In his political writings, anyway. In his fiction–which I prefer to read–he has laid his arguments out far more carefully and with much greater compassion and sensitivity. And that's the last thing I have to say to Jazayerli, I suppose:
If you want to understand the man, read the works he has put his heart and soul into. I hope and believe that works like Ender's Game and Speaker for the Dead will far outlast the memory of his rants and conspiracy theories. And I think they should, because I'd like to believe they are a clearer reflection of the man behind them.
But hey, even if they're not, at least they are good enough on their own merits.