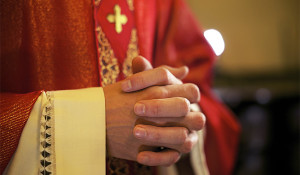 Kevin Williamson has an article over at National Review that expresses many of the feelings I've had regarding some of the more hostile, self-righteous religious critics of capitalism. The article discusses the recent "panel of Catholic intellectuals and clergy, led by His Eminence Oscar Andrés Maradiaga," that was "convened to denounce a political philosophy under the headline "Erroneous Autonomy: The Catholic Case against Libertarianism." The conference was mainly about free-market economics rather than libertarianism per se…" But as Williamson notes, "There is something about the intellectually cloistered lives of religious professionals that prevents them from engaging in anything but the most superficial way with the 21st-century economy." But then he just lays it out:
The implicit economic hypothesis [of the panel] is that producing a certain amount of goods more efficiently — in this case, with less labor — makes the world worse off. ("Why not use spoons?") The reality is the opposite, and that is not a matter of opinion, perspective, or ideology — it is a material reality, the denial of which is the intellectual equivalent of insisting on a geocentric or turtles-all-the-way-down model of the universe.

The increasingly global and specialized division of labor and the resulting chains of production — i.e., modern capitalism, the unprecedented worldwide project of voluntary human cooperation that is the unique defining feature of our time — is what cut the global poverty rate in half in 20 years. It was not Buddhist mindfulness or Catholic homilies that did that. In the 200,000-year history of Homo sapiens, neither of those great religious traditions, nor anything else that human beings ever came up with, made a dent in the poverty rate. Capitalism did.
Production and resources are important. "If the Good Samaritan had been the Poor Samaritan," explains Williamson, "with no resources to dedicate to the stranger's care, then the poor waylaid traveler would have been out of luck. All the good intentions that we may muster are not half so useful to a hungry person as a loaf of bread." The fact that "men of the cloth, of all people, should be blind to what is really happening right now on the global economic scale is remarkable, ironic, and sad. Cure one or two people of blindness and you're a saint; prevent blindness in millions and you're Monsanto." What is really happening is this: "there is no poverty in the capitalist world comparable to poverty in the early 18th century, much less to the poverty that was nearly universal in Jesus' time. Our people are clothed, fed, and housed, and the few shocking exceptions, as with the case of the neglected mentally ill, are shocking because they are exceptions."
It boils down to "how you intend to fulfill the Lord's command to feed His sheep — with rhetoric or with bread…"