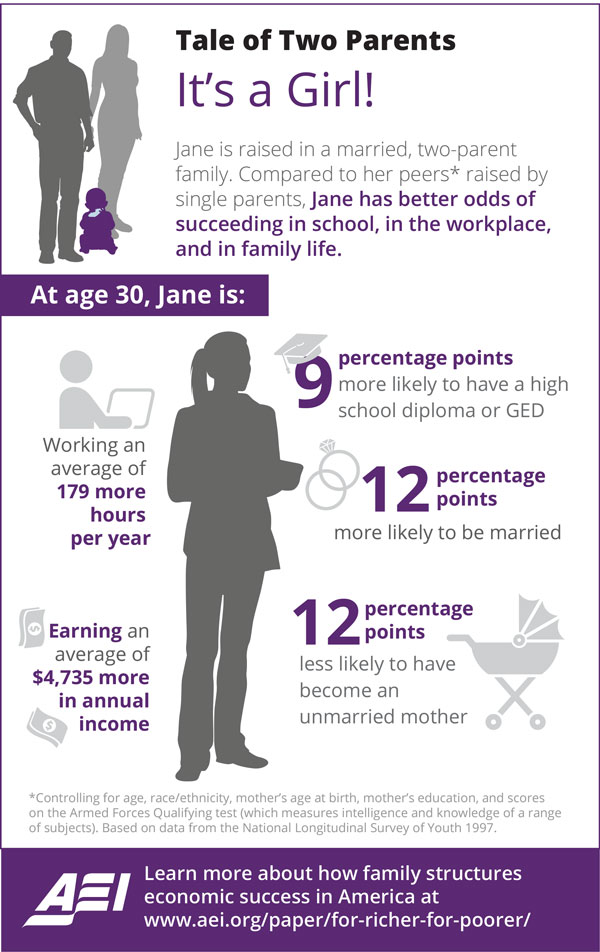 A brand new study from the American Enterprise Institute (authored by sociologist W. Bradford Wilcox and economist Robert Lerman) looks at the impact of family structure. Its key findings:
The retreat from marriage—a retreat that has been concentrated among lower-income Americans—plays a key role in the changing economic fortunes of American family life. We estimate that the growth in median income of families with children would be 44 percent higher if the United States enjoyed 1980 levels of married parenthood today. Further, at least 32 percent of the growth in family-income inequality since 1979 among families with children and 37 percent of the decline in men's employment rates during that time can be linked to the decreasing number of Americans who form and maintain stable, married families.
Growing up with both parents (in an intact family) is strongly associated with more education, work, and income among today's young men and women. Young men and women from intact families enjoy an annual "intact-family premium" that amounts to $6,500 and $4,700, respectively, over the incomes of their peers from single-parent families.
Men obtain a substantial "marriage premium" and women bear no marriage penalty in their individual incomes, and both men and women enjoy substantially higher family incomes, compared to peers with otherwise similar characteristics. For instance, men enjoy a marriage premium of at least $15,900 per year in their individual income compared to their single peers.
These two trends reinforce each other. Growing up with both parents increases your odds of becoming highly educated, which in turn leads to higher odds of being married as an adult. Both the added education and marriage result in higher income levels. Indeed, men and women who were raised with both parents present and then go on to marry enjoy an especially high income as adults. Men and women who are currently married and were raised in an intact family enjoy an annual "family premium" in their household income that exceeds that of their unmarried peers who were raised in nonintact families by at least $42,000.
The advantages of growing up in an intact family and being married extend across the population. They apply about as much to blacks and Hispanics as they do to whites. For instance, black men enjoy a marriage premium of at least $12,500 in their individual income compared to their single peers. The advantages also apply, for the most part, to men and women who are less educated. For instance, men with a high-school degree or less enjoy a marriage premium of at least $17,000 compared to their single peers.
These findings (among others) led Larry Kudlow to write elsewhere, "While restoring economic growth may be the great challenge of our time, this goal will never be realized until we restore marriage. In short, marriage is pro-growth. We can't do without it."
Check it out.