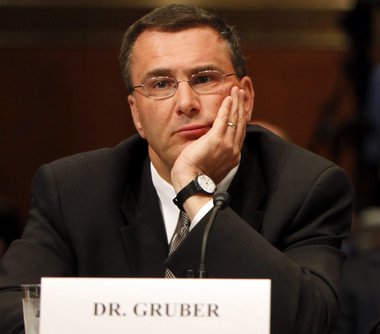 Bloomberg has a long piece on Rich Weinstein, whom you probably have not heard of. He's the guy who unearthed the footage of Jonathan Gruber (one of the architects of the Affordable Care Act1 bragging about how the American people had to be misled in order to pass the bill because they are too stupid to k now what is good for them. You can find lots of videos on YouTube now, but I'll give you just one as an example of the category:
Weinstein, for his part, is not a journalist, blogger, or political activist of any kind. From Bloomberg:
"When Obama said 'If you like your plan, you can keep your plan, period'—frankly, I believed him," says Weinstein. "He very often speaks with qualifiers. When he said 'period,' there were no qualifiers. You can understand that when I lost my own plan, and the replacement cost twice as much, I wasn't happy. So I'm watching the news, and at that time I was thinking: Hey, the administration was not telling people the truth, and the media was doing nothing!"
He did his own research, found a bunch of guys who called themselves architects of the law (Jonathan Gruber was one of them), and then started fanatically looking for everything that any of them had ever said about the law. Eventually, he found the clip above. The University of Pennsylvania yanked the video once it started making the rounds, leading to a classic case of the Streisand Effect, and the rest was history. Three thoughts.
1. I agree with Weinstein that it's disturbing no one else found these videos. As he put it: "It's terrifying that the guy in his mom's basement is finding his stuff, and nobody else is."
2. To be totally honest, I have a lot of sympathy for Jonathan Gruber. As much as the Fox News crowd might jump all over him for calling the American people stupid, he's got a point. It might be unkind, but it is–when you're talking about economic concepts–completely accurate. I'm just as exasperated as he is with American ignorance of basic economics, which leads to such wonderfully silly policies as the minimum wage and corporate taxation continuing to be wildly popular. I empathize with both his frustration and with his glee in successfully pulling an end-run around the electorate and accomplishing something that (in his view) is beneficial for everyone. He's not a mustache-twirling villain. He's a guy who was trying to do the right thing, and was willing to be sneaky to get results.
3. As a lawyer friend of mine pointed out, if you get someone's consent through deceit, you don't actually have their consent. And for us Americans, the principle of consent of the governed is one of the bedrocks of our entire system of government. If the people are willfully misled–and Jonathan Gruber makes clear the law was intentionally written to do just that–than this is an attack on American democracy.
Sometimes the partisan angle is actually accurate, and this is one of those cases. Conservatives have long warned of the arrogance of liberalism, centralized planning, and a do-gooder technocracy that knows better than you do what's good for you. Trying to provide healthcare for more Americans is one of the most noble imaginable motivations, but if the process is fundamentally anti-democratic that's just not good enough.