This opinion piece from the New York Times popped up in my feed a couple of weeks ago: Why Our Children Don't Think There Are Moral Facts by Justin P. McBrayer. It's a pretty common sub-topic within the "kids these days" genre and it goes something like this. First, kids these days are taught that morality is subjective (often as a side-effect of misguided tolerance or non-judgmentalism efforts):
What would you say if you found out that our public schools were teaching children that it is not true that it's wrong to kill people for fun or cheat on tests? Would you be surprised?
Second, this moral relativism leads to high rates of immoral behavior among students (e.g. cheating):
It should not be a surprise that there is rampant cheating on college campuses: If we've taught our students for 12 years that there is no fact of the matter as to whether cheating is wrong, we can't very well blame them for doing so later on.
I don't know that there's any direct evidence of this. For example, I don't know of any survey that specifically asks about cheating behavior and asks about moral relativism, which would be interesting. But the link seems plausible.
McBrayer then points out that, among philosophers, moral relativism is rare:
There are historical examples of philosophers who endorse a kind of moral relativism, dating back at least to Protagoras who declared that "man is the measure of all things," and several who deny that there are any moral facts whatsoever. But such creatures are rare.
I was interested, so I dug around and found a survey that asked philosophers about that explicitly. Here are the results:
Accept or lean toward: moral realism 525 / 931 (56.4%)
Accept or lean toward: moral anti-realism 258 / 931 (27.7%)
Other 148 / 931 (15.9%)
I'm not sure that almost a quarter of philosophers accepting moral relativism makes it "rare," but it is certainly the case that they are outnumbered more than 2:1 by philosophers who accept moral realism. That's really interesting  me for a couple of reasons. First, conservatives often blame liberal trends among college kids on the overwhelmingly liberal atmosphere of  college campuses, but at least in this regard the students are clearly way out in front of the professors (and heading in the opposite direction). Second, in popular discussion I usually see moral objectivism / moral realism associated with simplistic religious beliefs and therefore looked down on by the cool kids of the Internet who are all convinced that evolution explains morality and therefore morality is socially constructed and relative. Newsflash: moral realism is not just for Young Earth Creationists.
McBrayer also points out that indoctrinating our kids to believe moral relativism starts early:
When I went to visit my son's second grade open house, I found a troubling pair of signs hanging over the bulletin board. They read:

Fact: Something that is true about a subject and can be tested or proven.

Opinion: What someone thinks, feels, or believes.
As McBrayer points out, this is a total train wreck that conflates three distinct concepts: true vs. false, objective vs. subjective, and knowable vs. unknowable. Ontology, epistemology, and relativism are all mashed together. What about things that a person thinks that are factual and can be proven? What about statements that are objectively false but also unprovable?
Coincidentally, within day or two of reading this, my son came home with the following homework: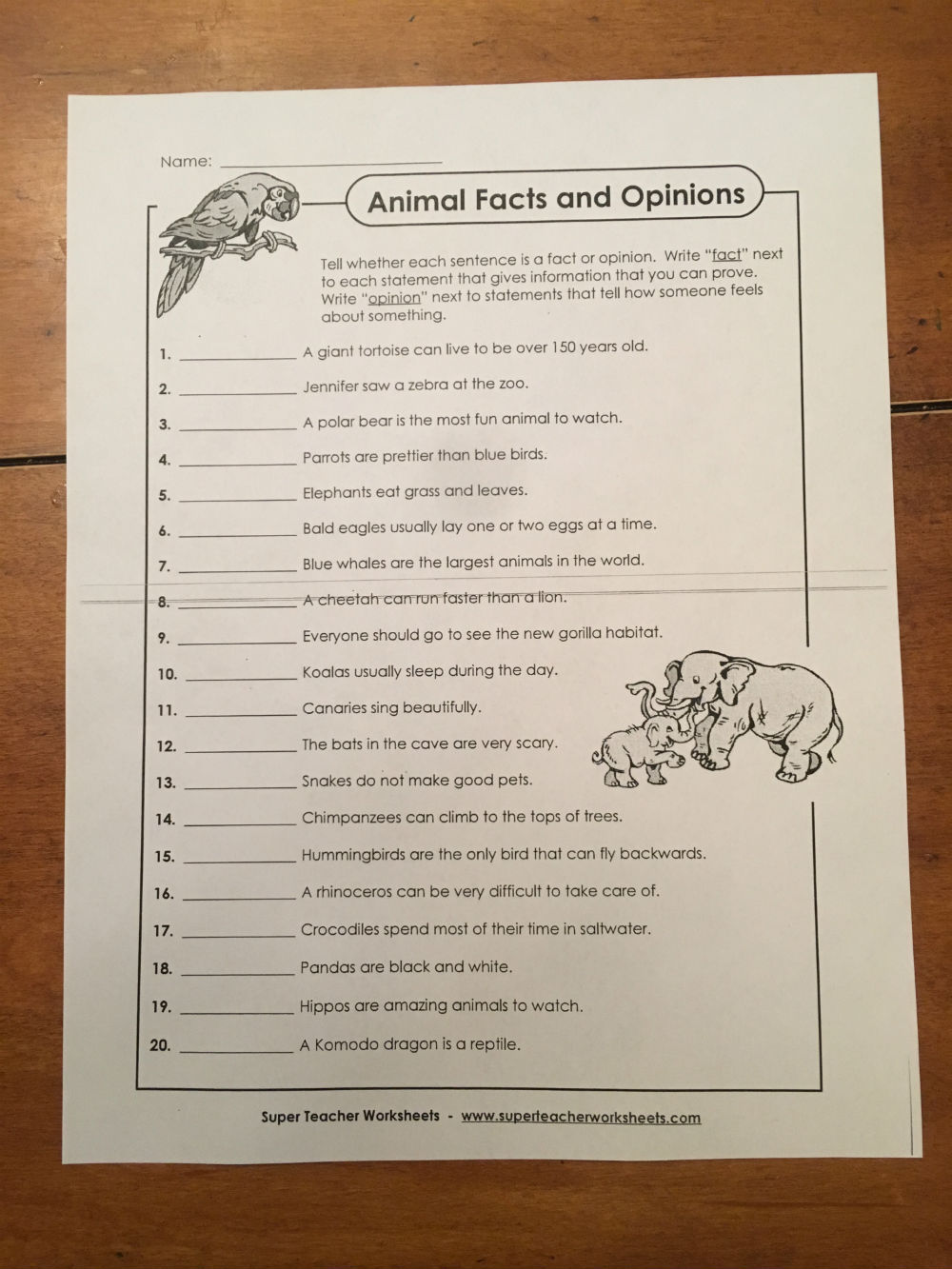 It's not quite as bad as McBrayer's example, but it's not good either.
I'm not really sure who to blame on this one, but it's just another reason I try to keep a fairly close eye on what my kids get taught at school. Teaching is hard, and my kids have great teachers this year, but it's important to let 'em know from time to time that the stuff they are taught in school has to be taken with a grain of salt.