This is part of the DR Book Collection.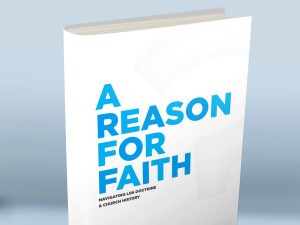 A few weeks ago, I received an unexpected but most welcome Facebook message from Laura Harris Hales asking if I still blogged at Times & Seasons. After a brief exchange, a copy of her newly published A Reason For Faith: Navigating LDS Doctrine and Church History was on its way to my house for reviewing. You can read my entire review (which was quoted in The Salt Lake Tribune) at Times & Seasons, but my view of the book overall is that
it must be recognized how huge all of this truly is: a book published through a Church imprint is talking about Freemasonry, Deutero-Isaiah, etc. It should be considered a welcome addition to the growing list of Mormon pastoral works. Heavy readers of Mormon Studies may not find anything new or surprising in its pages, but they are not the book's intended audience. It is meant as a primer; a springboard for those unacquainted with this type of information. It's meant for the 18 or 19-year-old who just put in his/her papers. It's meant as a tool for Family Home Evening. As Hales explains in the introduction, the purpose of the book is

to create a safe environment for exploration within a faithful framework. Even so, these discussions may generate thoughts and questions that might be surprising or even bothersome as existing beliefs are stretched. In fact, readers may grieve at the loss of perceptions held dear. Yet they can be consoled by the realization that their expanded understanding is based upon accurate teachings. The information in these essays can begin an exciting process of discovery for readers…When gospel questions arise, the antidote for uncertainty is more knowledge and more contemplation, which takes time–"even by study and also by faith." It is the continual search for truth, both secular and spiritual, that will give us a reason for faith (pgs. xiii-xiv).

Given this mission, I think the book is a success.
You can see Laura joined by several of the book's contributors below in their presentation at Benchmark Books: