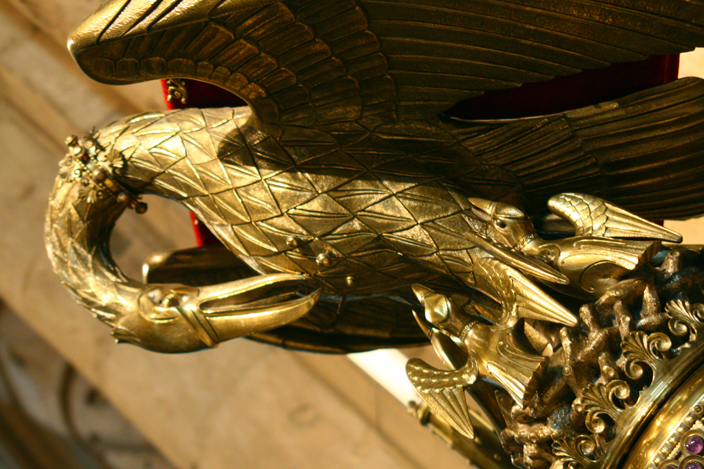 This post is part of the General Conference Odyssey.
This story comes from Elder Russell Ballard, Jr's talk, The Making of a Missionary:
Shortly after we arrived in Toronto we were preparing the children to enroll in their schools. My five-year-old son was to start kindergarten, but on the first day he was afraid to go. My wife and I were concerned, and I was impressed to invite my son to come into my office and sit in what the missionaries call the "hot seat," and we would have an interview.

He climbed up into the big black chair, and I asked, "Son, how can I help you?"

I shall never forget as long as I live the look of real concern on his face. With his little chin quivering, he said, "Daddy, I am afraid."

I understood, for I knew he had left behind several friends of his same age, and so far he had found no one his age near the mission home. I said, "Craig, you have a friend that will always be with you. Let's kneel down together and ask Him to help you." We did, and Craig assigned me to say the prayer.

The Lord helped Craig find his courage in this experience. Every morning thereafter we held our interview, and every morning I was assigned to pray.

Then one morning, about two weeks later, there came no knock at my office door—no special father-and-son prayer. He had found his confidence and made some friends, and I was the one that missed that very special experience each morning with my little boy. I hope that this choice learning experience while on this mission will remain with Craig and become a source of strength to him when he is called to serve the Lord on a mission of his own.
There is another story that I would also like to share. It is the story of how the pelican became a symbol of the Christian faith.
The belief probably came about because of the pelican's red-tipped beak and very white feathers, and because long-beaked birds such as the pelican are often to be found standing with their beaks resting on their breasts.
Because of the red-tipped beak, people believed that pelicans pierced their own chests and fed their own blood to their young. A gruesome belief? Perhaps, but not as gruesome as Christ's teaching that "Except ye eat the flesh of the Son of man, and drink his blood, ye have no life in you."
The story about pelicans feeding their blood to their offspring is mistaken, but the lesson is not. What Elder Ballard could have said ta the end of his story is this: the highest and deepest act of parenthood is to break our hearts and feed the pieces to our children. When we are doing our best, we are giving our lives—one tiny piece at a time—so that they can live, and we do not count the cost. Our greatest sacrifice is our joy.
We cannot understand what is to be God. But, as parents who strive to protect and nurture our children until they don't need us anymore, we see the shadow cast by Godhood.
—
Check out the other posts from the General Conference Odyssey this week and join our Facebook group to follow along!