I've said it before: management matters. I even published a paper on it. Harvard's Raffaella Sadun lays out the case once more:
What we found was quite consistent across sectors and countries, namely a large and significant correlation between management and organizational performance. Figure 1 (Source), for example, shows the relationship between management and a variety of metrics for firm performance—including productivity, profitability, growth, and survival—among US manufacturing plants.

The correlation between management and performance appears to be similar across countries and (to our surprise) even in "public" sectors such as health care and education. For example, well-run hospitals appear to have lower mortality rates from Acute Myocardial Infarction (AMI, i.e heart attacks), and well-run schools enjoy better test scores among their pupils.

In subsequent research, my colleague Nick Bloom and colleagues set up a management "experiment," in which a random set of Indian manufacturing firms were provided with a "dose" of management consultancy and compared to a control group. Their experiment showed that the relationship between management and firm performance appears to be causal.

Other researches have argued that the role of management may extend well beyond the performance of individual firms, and extend to whole economies. For example, Pellegrino and Zingales argue that people management gaps among Italian firms may be responsible for the weak productivity performance experience by the country since the early 90s by delaying the adoption of complementary and productivity enhancing technologies. In a recent paper, Schivardi and Schmitz extend this argument to Southern Europe more generally.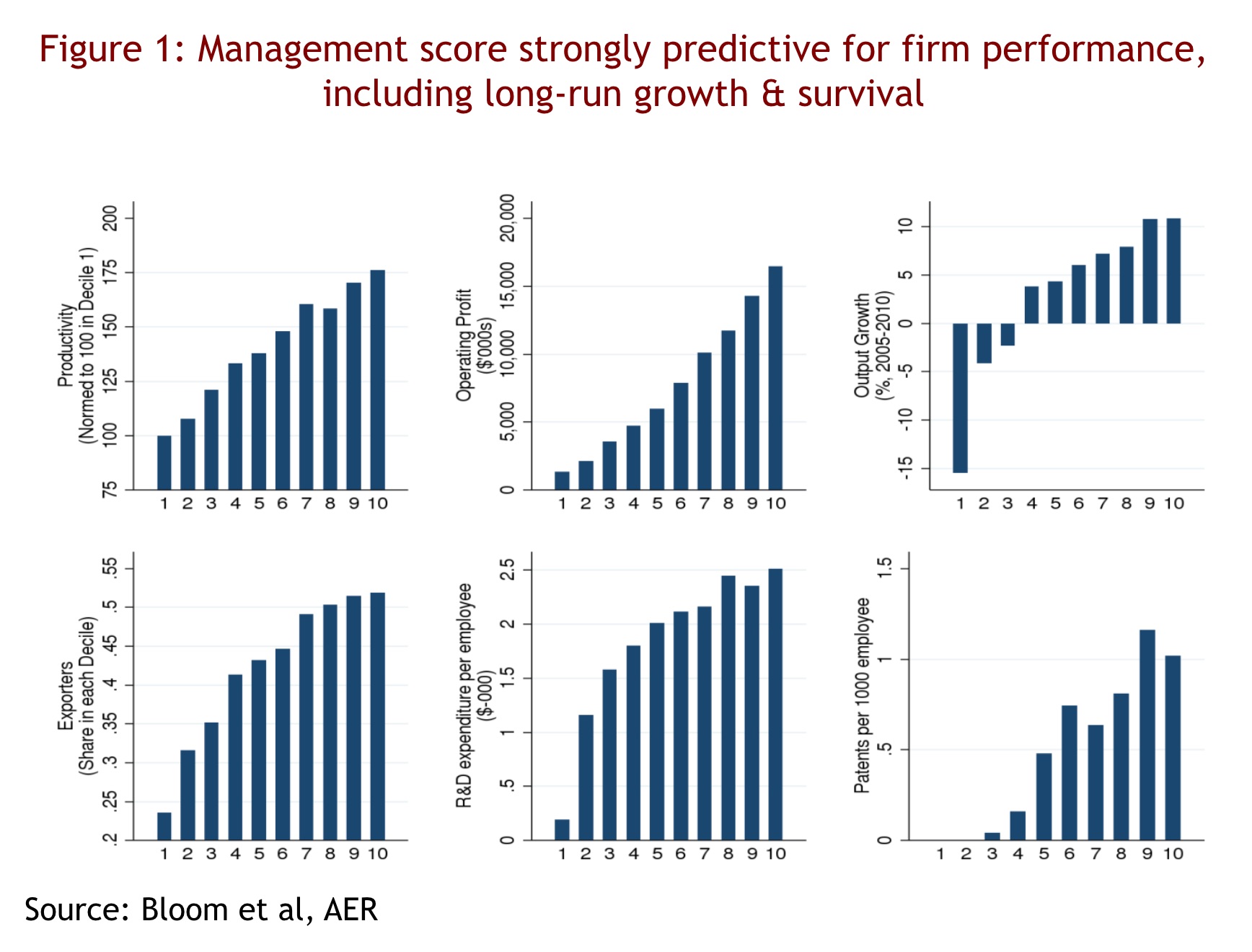 She identifies four major mechanisms for why management practices are so diverse across different countries:
1. There seem to be large informational barriers. Those prevent managers from having a clear understanding of the quality of their own practices, as well as the potential benefit that modern management practices could accrue to their organization. For example, when we asked managers to self-evaluate the quality of their own practices on a scale between 1 and 10, most managers rated themselves an 8. Their own scores were typically uncorrelated with our arguably more objective management score. 


2. Management adoption is strongly related to the education of the workforce, which, in turn, is shaped by differences in skill supply. This is not surprising, given the fact that many "best-practices" require significant numeracy and literacy skills.

3. Even when well-informed and with plenty skills available, managers may not be motivated to invest in new management practices, as the adjustment may be costly to the firm or to them personally (for example, relying on management practices may require less of their direct and personalized control, references). Research has shown the presence of a correlation between competitive pressure and management quality, which is in line with the classic idea in economics that competition reduces organizational slack.

4. Introducing new management practices in a firm requires a substantial buy-in from the employees, as its adoption rests on significant co-investments (i.e. learning new behavioral routines) that are hard to monitor and incentivize through standard contracting solutions. However, organizational frictions may prevent such co-investments from happening. For example, Susan Helper and Rebecca Henderson attribute GM's decline and inability to fully implement productivity-enhancing managerial practices such as lean management to a fundamental lack of trust between managers and employees (employees suspected that the productivity improvements generated by lean would result in layoffs rather than generalized gains). This latter category points to the importance of softer aspects of organizations, such as corporate culture and leadership behavior, which may be able to overcome this type of resistance to change.
She concludes,
While much remains to be done, the evidence so far suggest that variations in this key factor of production may have large implications for performance, at both the firm and country level. Understanding why management quality varies across organizations will help us advance the field and develop better policies for improving management and productivity.