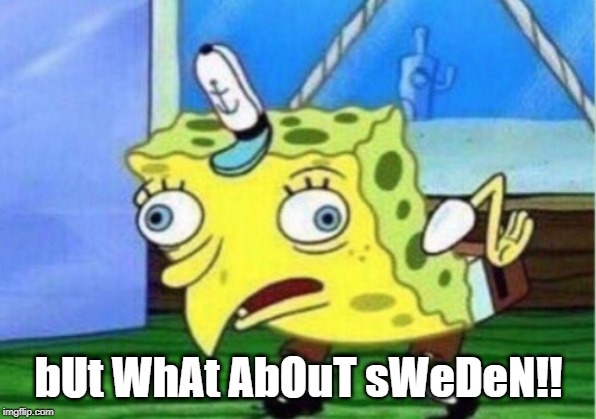 So here's something I've been saying for the last few years. From The Washington Post:
Undoubtedly, the Nordic nations, with their high incomes, low inequality, free politics and strong rule of law, represent success stories. What this has to do with socialism, though, is another question.

And the answer, according to a highly clarifying new report from analysts at JPMorgan Chase, is "not much."

Drawing on data from the World Bank, the Organization of Economic Cooperation and Development and other reputable sources, the report shows that five nations — Sweden, Denmark, Finland, Norway and the Netherlands — protect property rights somewhat more aggressively than the United States, on average; exercise less control over private enterprise; permit greater concentration in the banking sector; and distribute a smaller share of their total income to workers.

"Copy the Nordic model if you like, but understand that it entails a lot of capitalism and pro-business policies, a lot of taxation on middle class spending and wages, minimal reliance on corporate taxation and plenty of co-pays and deductibles in its healthcare system," the report notes.
It goes on to point out that the majority of Nordic countries
have zero estate tax. They fund generous programs with the help of value-added taxes that heavily affect middle-class consumers.

In Sweden, for example, consumption, social security and payroll taxes total 27 percent of gross domestic product, as compared with 10.6 percent in the United States, according to the JPMorgan Chase report. The Nordic countries tried direct wealth taxes such as the one that figures prominently in the plans of Sen. Elizabeth Warren (D-Mass.); all but Norway abandoned them because of widespread implementation problems.

The Nordic countries' use of co-pays and deductibles in health care may be especially eye-opening to anyone considering Sanders's Medicare-for-all plan, which the presidential candidate pitches as an effort to bring the United States into line with European standards.
The Post concludes,
These countries are generous; but they are not stupid. They understand there is no such thing as "free" health care, and that requiring patients to have at least some skin in the game, in the form of cost-sharing, helps contain costs…If they have established anything, it's not socialism, or even the dominance of a benevolent state, but responsible governance. They have achieved a clear division of labor, between government (which arguably has a comparative advantage in health insurance and education) and the private sector (which is better at producing and distributing most other goods and services).

What the Nordic countries don't do is pretend that society can have a strong and efficient social safety net without a big, mandatory financial contribution from the middle class. Nor do they deal punitively with the private sector, upon whose productivity the entire system ultimately depends.

American socialists' enthusiasm for the northern European systems may be sincere. We shall see whether it can withstand full and accurate information about how those systems actually work.