In June, the Council of Economic Advisers released a report on the economic effects of the Trump administration's deregulation. They estimate "that after 5 to 10 years, this new approach to Federal regulation will have raised real incomes by $3,100 per household per year. Twenty notable Federal deregulatory actions alone will be saving American consumers and businesses about $220 billion per year after they go into full effect. They will increase real (after-inflation) incomes by about 1.3 percent" (pg. 1).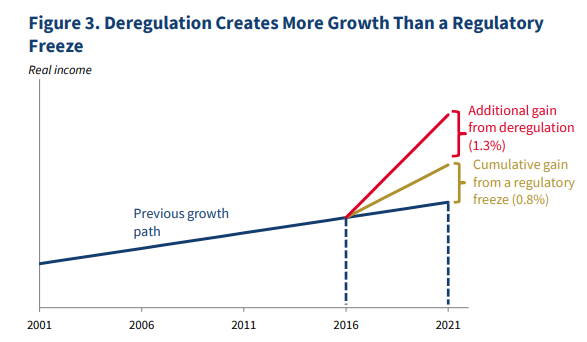 David Henderson (former senior economist in Reagan's Council of Economic Advisers) writes, "Do the authors make a good case for their estimate? Yes…I wonder, though, what the numbers would look like if they included the negative effects on real income of increased restrictions on immigration and increased restrictions on trade with Iran. (I'm putting aside increased tariffs, which also hurt real U.S. income, because tariffs are generally categorized as taxes, not regulation.)"
But what if we did include the tariffs? A recent policy brief suggests that the current savings from deregulation will actually be cancelled out by the new tariffs. As the table shows below, the savings due to deregulation stack up to $46.5 billion as of June. However, the tariffs imposed between January 2017 and June 2019 rack up to a dead loss of $13.6 billion. By the end of 2019, however, the dead loss will rack up another $32.1 billion. If the currently planned tariffs are put into effect on top of the already existing ones, then we're looking at a dead loss of up to $121.1 billion.
Maybe if economists start putting clap emojis in their work, people will finally get that tariffs aren't good for the economy.