Anyone that knows  me know that I love Thrice. From 1998 until they declared a hiatus just last year, they brewed a special blend of hardcore punk and authentic Christian yearning. Dustin Kensrue was the lead singer and the songwriter for Thrice, and the force behind their faith-fueled rock. In 2006 he released a solo album with a very different sound but a very similar message.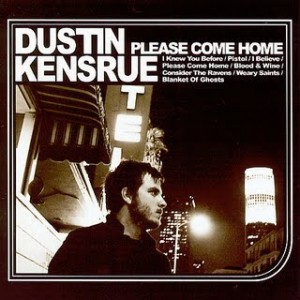 There are a lot of great songs on that album, and I think two of the most appealing to listen to are I Knew You Before and Pistol. But I'm going to bypass those to talk about the songs that are the most special to me.
The first of those is the album's title track: Please Come Home. It's a simple, unadorned retelling of the Prodigal Son. I love that this particular video is a live performance from the US Open of Surfing. Not exactly the venue you'd expect for a song that is an unabashed Bible story, but that's part of what I love about Dustin. It's obvious from his songs, his attitude, and his choices that his Christianity is not an addition to his life. It's the core of his life.
I'll be honest, I have a hard time singing along to that song in my car 'cause I tend to get choked up near the end. The Prodigal Son's father is the God I recognize. 
When I listen to Thrice the general feeling I get is one of rejuvenation. The music provokes me to work harder, try harder, and pick myself up when I've fallen. Thrice songs are like anthems to me. But the music on Please Come Home is more meditative. It's more like empathy than emboldenment. (I think I invented that word just now, but "encouragement" was not doing it for me.) In that vein, I love the 7th track from the album: Weary Saints.
The Biblical imagery is thick, but it's not as directly lifted from the text as Please Come Home.  The last verse is the one that speaks to me the most:
For years you've met our thirst,
Still deserts we have roamed
But we'll be done with dust and dirt
When the ocean calls us home
We'll fall into the arms
Of a cool and sweet embrace
Under stars and waving palms
We'll shed our sin like snakes
And time will cease to stalk us and death will be undone
And we'll shine with the light of a thousand blazing suns
Then there's the last track from the album, Blanket of Ghosts.
The whole song speaks to me, but it's the last verse that really hits home again:
Wake me when it's spring time in heaven
When the tears are all wiped from my face
Wake me when it's spring time in heaven
When I'm strong enough to walk in that place
Faith is an intimate and personal thing. People don't just  believe in God or not. They don't just accept a religion or not. It's not binary. The contours of our belief are as unique and intimate as our faces, and different elements resonate with different people. For me: a longing for a home that isn't on Earth has been the oldest and deepest-rooted part of my faith experience. For as long as I can remember I've felt the call to come home. Once, when I was a teenager still living with my family, I lay in my bed and listened as the wind rustled the dry leaves and almost-bare branches outside my window, and felt a peaceful, wistful longing that has never left me since. In moments where I have been bewildered by anguish I could not seem to bear, I felt the need to go home again, but almost a frantic desperation.
This isn't some kind of subverted suicidal ideation. It's not about wanting to send myself home. (I got stuff to do!) It's about waiting for the day when the ocean calls me home. On one level, I have as well-developed and visceral a fear of death as the next evolved organism, but on another level, I know exactly how it feels when Dustin says, "Please take me home before its too late."
I'll just sign off with one more song to make Dustin proud. He draws from all across the Bible (and I mean all across the Bible, The Arsonist  ponders the destruction of Sodom and Gomorrah) , but his focus is on the mystery of Christ's atonement. As it should be. And so, from his 2009 album This Good Night Is Still Everywhere, here's the track This Is War.