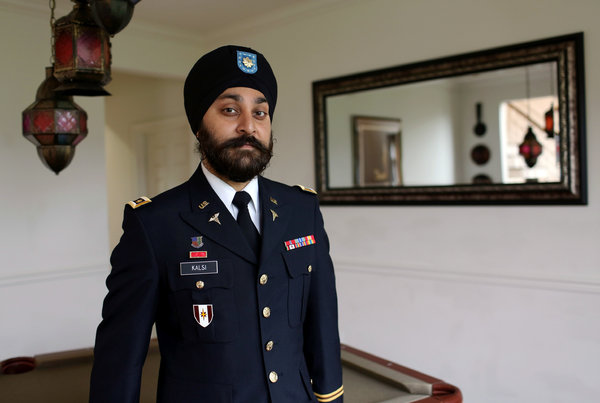 That's Maj. Kamaljeet Singh Kalsi, who had to convince the US military to create an individual exception to be allowed to serve while maintaining his Sikh religious practices, which include never cutting or shaving his hair or beard. Something I didn't realize is the US military's rules that ban observant Sikhs are only a few decades old.
I'm biased, I suppose, because I find Sikhism absolutely fascinating. I love their proud heritage, egalitarian views, and military history. I think the US would be a better place if Sikhs were allowed to serve openly in our armed forces, and I also agree with Kalsi's observation in the New York Times:
The more Sikhs wear military, police or firefighter uniforms, Major Kalsi reasoned, the less often Americans will see them as threatening outsiders. "When you see a Sikh firefighter save your daughter, you'll think, 'That's a member of my community,' " said Major Kalsi, a 36-year-old father of two.
So it's good for everyone. I hope the military creates a blanket exception for all observant Sikhs, so that they don't have to fight the lonely, uphill battle for individual exceptions–exceptions that are often not granted.