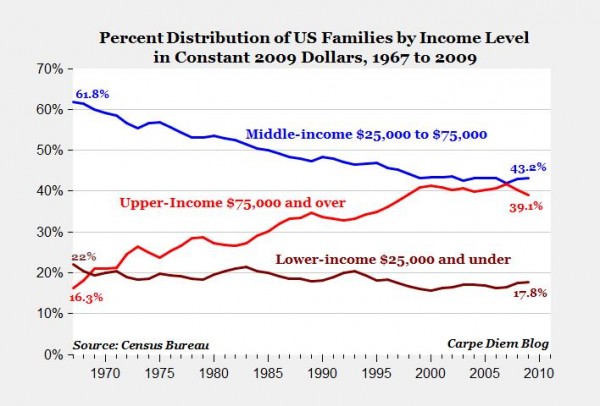 There's been a lot of talk about the growing income inequality in the United States, and I've become convinced by the research that (all else being equal) more income inequality is usually a bad thing. Along with this narrative, however, there's an assumption that as the rich get richer and richer the rest of us get poorer and poorer. But that assumes a zero-sum game, and the economy is not a zero-sum game. It also spends too much time focusing on dollars instead of on people. As the chart above shows–lifted from this piece at the conservative American Enterprise Institute–if we just pick a fixed dollar amount (like $75,000) and then ask how many households are above or below it, the result is that more and more families are moving upwards, not downwards. (And keep in mind, inflation has nothing to do with this because the chart is using inflation-adjusted dollars.) 
And, yes, it's a conservative think tank. But the data actually comes straight from the Census Bureau. I'm looking at a way to misinterpret this, and it seems pretty straightforward. In fact, it's not necessarily even new news. A quick trip to the Internets reveals a similar piece from CNBC over a year ago: Did the 'Lost' Middle Class Become Upper Class? The article starts out with the typical, grim statistics about wealth being concentrated at the top (and I do believe this is a problem), but then makes the switch to asking about where people are going instead of dollars and finds lots of really good news such as:
The study shows that as the number of middle-class Americans fell (from 61 percent of the population to 51 percent of the population), the percentage of Americans who are upper income surged from 14 percent of the population to 20 percent of the population.
And then:
A majority of middle-class adults in the survey say they have a better standard of living now than their parents had at the same stage of life. A majority also say they expect their own children's standard of living to eventually surpass their own. And many more of the middle class say they grew up in the lower-middle or lower class (40 percent) than say they grew up in the upper-middle or upper class (16 percent); 44 percent say they grew up in the middle class.
This doesn't necessarily mean that all is right with the world. The first stat suggested that 60% of the missing middle class had moved up. The other 40% had, presumably, moved down. That's not good, and a lot of the results are going to hinge on details like the definition of "middle class". But that's one more reason I like the first chart: it picks an objective standard to measure against. What's more, it's a particularly good standard. Why? Because research into money and happiness shows that $75,000 is about the magic number where money stops buying happiness. Below $75,000, and most people really need more to be able to reach what we consider a comfortable standard of living in our society, so money and happiness are closely linked. But once you get to $75,000 the influence of money on happiness starts to disappear because you've reached the amount of money required (in general, obviously not in all cases) to meet your day-to-day needs. After that, happiness is less of a hostage to money-related stress and becomes dependent on other things. (Time has just one of many, many articles about this research.)
So, when you keep that in mind, that chart is pretty good news, don't you think?