One of the perennial conflicts between left and right in the United States is over minimum wage. The left insists that it's a crime (at least morally) for companies to pay their employees less than a living wage and lauds companies that have business models based on paying workers well (or "fairly", as those on the left might insist). The right, for its part, has the general attitude that if you're expecting a living wage for a minimum wage job, there's something wrong with you, not with the wage. Minimum wage jobs are for teenagers or retired folks looking for a little spending money or are a way for anyone who wants to work to have easy access to the bottom rung of the job ladder. 

Although I always think it's nice when a company like Costco carves out a niche paying their employees well, I tend to sympathize with the right for simple economics. If you make it expensive for companies to hire employees, they will hire less employees. Thus the impact of minimum wage laws might be to boost salaries in the shot run, but in the long run it has the opposite effect. It reduces the salaries of large swathes of the populace to 0 by taking away their jobs completely.
This whole issue came to mind again when I heard a story about fast food workers striking for better pay. Really, guys? It seems like so much of what the left is about these days is trying to recapture the glory days of 20th century progressivism. And don't get me wrong: there are some glory days to be proud of, but no matter how you slice it or dice it, striking to earn $15/hour for flipping burgers is not a civil rights issue. It's just not.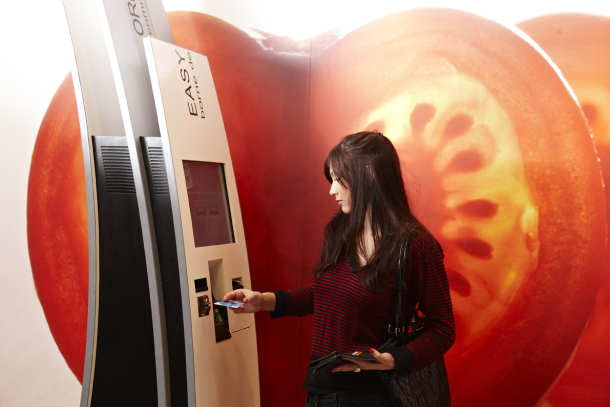 Do you want to know why it's silly? Exhibit A comes to us from a 2011 CNET article that talked about McDonald's hiring 62,000 workers in the United States… and buy 7,000 kiosks in Europe (which has legendarily expensive labor regulations). That's your future, fast food strikers, watching a kiosk get installed to take over your job. Now let's be real here, automation is not a new trend, it's not caused by strikes, and it's not going away. There are benefits from this technology (such as being able to accurately and costlessly track consumer purchase patterns) that have nothing to do with  minimum wage laws. (See also: Luddite.) But the story illustrates two points:
Making labor expensive isn't going to change the overall trend towards automation, but it's sure going to get us there faster. You're not fighting for better pay. You're literally chasing your own jobs away.

The real civil rights issue is absolutely not minimum wage. It's education. At this point in human technological development, if a machine can do your job then your education has failed you because it hasn't trained you with high-value skills.
That's really the heart of the matter, but I'd like to introduce Exhibit B as well. Some genius over at The Nation decided that it was just a crime how little Walmart employees got paid and decided to do something about it. As Reason reports:
Jobs at Walmart don't pay a lot. Someone atThe Nation recently noticed this, and decided to make up a new hourly wage for workers at the mega-uber-superstore chain—$12/hour—and declare their desire to see this wage implemented in an open letter to the CEO.
How did Walmart respond? Well, allow me to quote from the open response:
In an ironic twist, ProPublica recently reported that starting this fall, "interns at the Nation Institute will be paid minimum wage for the first time in the history of the 30-year-old program." As ProPublica noted, The Nation has been paying its full-time interns a weekly stipend of $150 per week—less than the current federal minimum wage rate of $7.25 per hour.
Oops.
Now hold on, you might say, a Walmart job and an internship at The Nation are not the same thing. There's some legitimacy there, but let's end with this final irony. The Nation, due to having to start paying their interns more have realized they need to hire 10 interns instead of 12. I think we should all just stop for a minute to let the full realization of that statement sink in. When The Nation has to pay employees more, then there are fewer jobs. Or, as Reason put it, "No shit." Keep in mind, by the way, that this is without giving the interns any healthcare benefits. If you added those, you'd probably go from 10 workers to 6 (or something).
If you take a step back and look at the big picture, calls for minimum wage are basically calls for a kind of specialized income inequality. Without minimum wage, everyone has a crap job. With minimum wage, some people have a slightly less-crap job and some people have no job. Which just gets us back to my original statement: the real problem is education. Trying to legislate your way to utopia with a dense web of expensive regulations is something that only people who fundamentally don't understand where jobs come from would actually advance as a serious policy solution.
And now, in closing, here's Reason's contrarian take on "The War on Walmart".