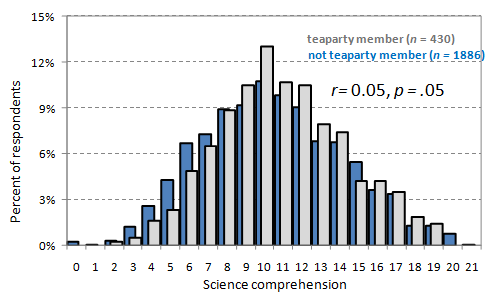 That's the conclusion, according to a Yale professor. It's really not big news, honestly. The Tea Party is already known to be slightly wealthier and more college educated than the average public, so it's no surprise to find that they are also slightly more scientifically literate.
But it's still a sharp contrast with the way they are portrayed in the media. As Professor Kahan put it:
I've got to confess, though, I found this result surprising. As I pushed the button to run the analysis on my computer, I fully expected I'd be shown a modest negative correlation between identifying with the Tea Party and science comprehension.

But then again, I don't know a single person who identifies with the Tea Party. All my impressions come from watching cable tv — & I don't watch Fox News very often — and reading the "paper" (New York Times daily, plus a variety of politics-focused internet sites like Huffington Post & Politico).
The large difference between the image universally presented by the media and the reality is much more interesting than the small difference between scientific literacy for the Tea Party and the public at large.