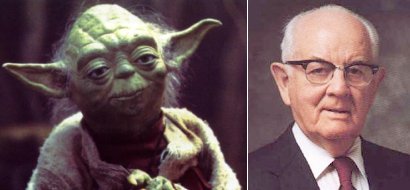 When I was in the LDS Missionary Training Center (MTC) in Utah preparing for my two year, I struggled with answering specific questions about Church history and past practices. One question in particular revolved around blacks and the priesthood ban. For most of the LDS Church's life, black Africans were not allowed to hold priesthood or participate in temple endowments/marriage. The ban was lifted by President Spencer W. Kimball in 1978. One of my MTC teachers attempted to skirt around the issue until I point blank asked him what answer he would give as to the reason for the ban. He simply said, "I don't know why."
While about halfway through my mission, I wrote home, asking my former bishop (who is African-American with a booming James Earl Jonish voice) what his personal response was to those who ask him about the ban. His email was inspiring: no justification, no criticism. Just a moving testimony encouraging his "brothers and sisters" to put their faith in God and move forward. The past is the past.
However, the priesthood ban still bothered me and continued to for years. I devoted time to studying the issue, my introduction being an interview with Darius Gray and Margaret Young at Mormon Stories Podcast based on a BYU presentation given by Gray. The website Blacklds.org was also helpful, including its mini-bios, timeline and article recommendations. I eventually read Lester Bush's groundbreaking Dialogue article "Mormonism's Negro Doctrine: An Historical Overview" (which was influential on President Kimball) and Signature Books' Neither White Nor Black. Then, Edward Kimball (son and biographer of President Kimball) published his BYU Studies article "Spencer W. Kimball and the Revelation on Priesthood," which has become required reading on the subject (I emailed it to a few friends and family).
But it still bothered me. It bothered me even more that the Church did not provide any worthwhile resources regarding the ban. This became especially acute one day when my manager came to me and asked, "Walker, you're Mormon, right?" Living in Texas, this always sets off an alarm inside my head. I had never told him I was Mormon, so he had obviously heard it elsewhere. "Yes…," I replied. Then, the sledgehammer: "Do Mormons have a problem with black people?" It's important to note that my manager is African-American. He explained that we had gotten along so well and that he was surprised to hear some of the things said about Mormons and blacks and to learn that I was a Mormon. He couldn't square the supposed racist ideology of Mormonism with his personal interactions with me. I took a deep breath, started going through the files in my mind, and answered, "The short answer: No. While individual Mormons may have racist attitudes–like any denomination–Mormonism is not racist. However, what you've likely heard is related to the priesthood ban." I explained what priesthood was in the Mormon Church and translated it in terms for a non-member layperson. I explained that blacks were always welcomed in the Church through baptism. I noted W.W. Phelps' editorial "Free People of Color" and the expulsion of Mormons from Missouri based in part on their perceived anti-slavery stance. I talked about Joseph Smith's presidential campaign and his anti-slavery platform as well as his views on blacks (e.g. "Blacks have souls"). I discussed Elijah Abel's ordination to the priesthood, his mission, and appointment to Church leadership. I mentioned that other blacks had also been ordained. I talked about the racism of the day, the biblical citations used to justify slavery (i.e. "Curse of Ham"), and how this Protestant folklore infected Mormonism early on. I talked about how historical evidence places the ban's beginning at Brigham Young's feet. I discussed how Church leaders over the years unfortunately felt the need to justify the practice via multiple "scriptural" theories. I mentioned that lifting the priesthood ban was considered even earlier than 1978 by Church leaders (e.g. David O. McKay), leading to the softening of other policies. All this eventually bore fruit in 1978, when the ban was officially lifted.
It was a good 15-20 minute discussion. I ended with my personal view: "The priesthood ban was a mistake, the result of racist folklore, which was allowed to continue for an excruciatingly long time. Thankfully, that policy no longer exists today." My manager enjoyed the conversation and seemed to understand the complexities surrounding the issue. I provided him with a few resources, but apologized that I was unable to direct him to any official Church publication addressing the matter in depth.
That has changed.
The Church recently published an article on its official website titled "Race and the Priesthood." It quite bluntly states,
Despite…modern reality, for much of its history—from the mid-1800s until 1978—the Church did not ordain men of black African descent to its priesthood or allow black men or women to participate in temple endowment or sealing ordinances.
It goes on:
From the beginnings of the Church, people of every race and ethnicity could be baptized and received as members. Toward the end of his life, Church founder Joseph Smith openly opposed slavery. There has never been a Churchwide policy of segregated congregations.

During the first two decades of the Church's existence, a few black men were ordained to the priesthood. One of these men, Elijah Abel, also participated in temple ceremonies in Kirtland, Ohio, and was later baptized as proxy for deceased relatives in Nauvoo, Illinois. There is no evidence that any black men were denied the priesthood during Joseph Smith's lifetime.

In 1852, President Brigham Young publicly announced that men of black African descent could no longer be ordained to the priesthood, though thereafter blacks continued to join the Church through baptism and receiving the gift of the Holy Ghost. Following the death of Brigham Young, subsequent Church presidents restricted blacks from receiving the temple endowment or being married in the temple. Over time, Church leaders and members advanced many theories to explain the priesthood and temple restrictions. None of these explanations is accepted today as the official doctrine of the Church.
The article continues to layout the Church's policy in the midst of "an American racial culture," eventually leading up to the policy softening under David O. McKay and the ban's lifting in 1978 under President Kimball. Given the fact that I've heard old racial theories mentioned in Gospel Doctrine class in recent years, the following is especially important:
Today, the Church disavows the theories advanced in the past that black skin is a sign of divine disfavor or curse, or that it reflects actions in a premortal life; that mixed-race marriages are a sin; or that blacks or people of any other race or ethnicity are inferior in any way to anyone else. Church leaders today unequivocally condemn all racism, past and present, in any form.
It ends beautifully with a quote from 2 Nephi 26:33: "[The Lord] denieth none that cometh unto him, black and white, bond and free, male and female; . . . all are alike unto God, both Jew and Gentile."
I am ecstatic that I can now provide an official resource to those with questions. I am thrilled that the Church has officially disavowed the many hurtful, atrocious theories put forth by past leaders and members. I am hopeful that this information and view will eventually seep into Mormon culture and curriculum (sooner than later).
Some may just shrug their shoulders. To me, this is kind of a big deal.