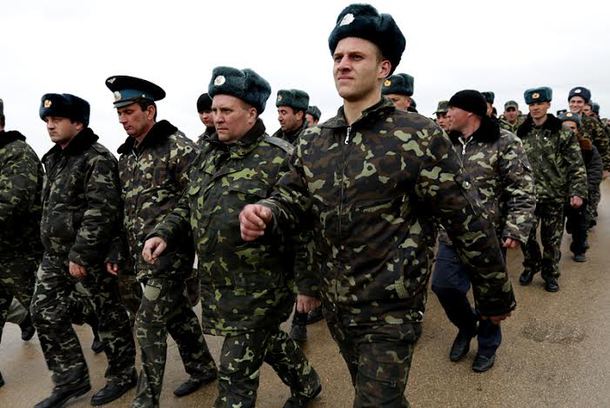 This photo is of Ukrainian soldiers who had just confronted Russian invaders for several hours outside their base. Note that the Ukrainians are unarmed. Lots of camo, but no guns.
It never occurred to me for a moment that an armed force might consider using *non-violent* resistance, but apparently that's what the Ukrainian forces in Crimea are doing. Based on alleged communication intercepts, Putin has no idea what to do about it. He sent in thousands of troops with the idea that they would trigger a fight-or-flight response in the Ukrainian army. He wants them to start shooting (and provide justification for a massacre) or surrender. Instead, every single unit so far has refused to do either, and their wives have also demonstrated stunning bravery, standing as human shields between Russian forces and their outnumbered, outgunned, and undersupplied husbands.
If I'm getting this story right, it's an incredible strategy of courage, nobility, and also genius. But I don't know how long it can continue.
(Note: I first posted this story to my Facebook wall.)