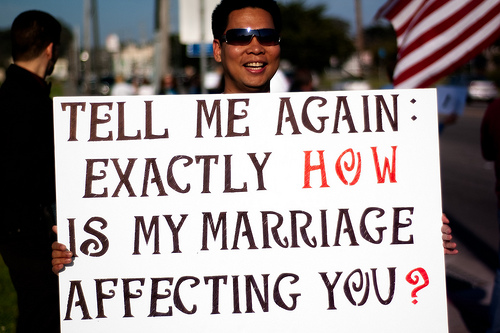 Doublethink is a term from  Orwell's classic novel 1984.  It is "the act of ordinary people simultaneously accepting two mutually contradictory beliefs as correct, often in distinct social contexts." I've heard people try to come up with real-world examples of the term, but so far none have really lived up to the original meaning. But I think we're really standing on the threshold  now, and it's the issue of gay rights that threatens to push us over the edge.
Up until recently, one of the key components of the push for gay rights has been that it would take a "live and let live" philosophy. If you don't like gay marriage: don't have one. But obviously gay marriage wouldn't somehow force religious institutions to change their doctrine or allow their buildings to be used, nor would it require religious people to participate in or condone gay marriages. Right? Well, no. Not really.
This became obvious when Arizona tried to pass a bill that would have enacted the principle that "we should not punish people for practicing their religion unless we have a very good reason." If that doesn't sound like what the Arizona bill did, that's no surprise. According to Professor Doug Laycock, who is one of the foremost experts on law and religion, "Arizona's Religious Freedom Restoration Act, was been egregiously misrepresented both before and after the veto." You should really read his explanation of what the law really did, but the gist of it is simple: Rather than legalize anti-gay discrimination, the law would have simply clarified the context in which these types of cases would be viewed by the courts, who would still be open to determining who won or lost in any given case.
Instead, however, the country was fed the impression that Arizona wanted to legalize anti-gay discrimination. Which would be wrong, right? If a gay couple walks into your bakery and orders a wedding cake, you bake them the cake. Or else.
But what happens when a lesbian wants a haircut from a  Muslim barber who refuses to touch any unrelated woman other than his wife? Or, for that matter, what happens when a gay stylist refuses to give a haircut to someone who doesn't support gay marriage? In that last case, the stylist gave the following rationale for refusing to cut the governor's hair:
I think it's just equality, dignity for everyone. I think everybody should be allowed the right to be together.
In other words, he had a sincere moral conviction and it would violate that moral conviction to force him to use his business, his talents, and literally his body to support someone who was opposed to that moral conviction. Sound familiar?
Ross Douthat pointed out that the no-holds-barred takedown of the Arizona bill was unprecedented, and he understands what that signifies:
What makes this response particularly instructive is that such bills have been seen, in the past, as a way for religious conservatives to negotiate surrender — to accept same-sex marriage's inevitability while carving out protections for dissent. But now, apparently, the official line is that you bigots don't get to negotiate anymore.
So this is where we stand today. Either the American people realize that treating religious objections to participation in gay marriage is a legitimate concern (perhaps with the help of examples like those above) and adopt a more nuanced pose. Or, on the other hand, they ignore the examples and press forward. In that brave new world, I fully expect that the right of gay people to refuse service to religious bigots will be enshrined legally, but the right of religious people to refuse to participate in gay weddings will be scorned and derided. And then, ladies and gentlemen, we will have arrived at a real-life example of doublethink in the wild.