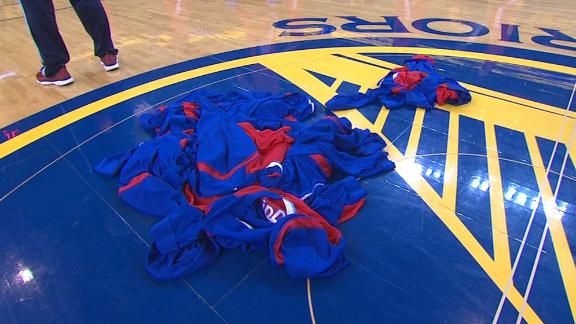 I wrote a post about the Brendan Eich situation and was going to post it this morning but a recent controversy has prompted me to address something else first.
Last week the owner of the Los Angeles Clippers was (allegedly) recorded making racist comments to his girlfriend, telling her he prefers she not associate herself or the team with black people in public. The recording, made by his girlfriend (who, by the way, is apparently black and latina), was released to the public (likely by her) and has set off a storm of criticism and outrage. The Clippers team itself engaged in a protest by hiding the Clippers logo on their warmup jerseys and then dumping them midcourt (see photo) before their first round playoff game on Sunday.
This is not the first time Donald Sterling has been known to utter an unpopular sentiment. In the past he has allegedly made comments far worse than what he was caught saying to his girlfriend, comments which I will not duplicate here. Simply put, he's not a very nice person, and not many in the Clippers organization have nice things to say about him. Now, however, his behavior may cost him his team. The NBA is under pressure to force Sterling to sell the Clippers as his very presence will now surely drive advertisers away and will fuel the refusal of popular figures in and out of the league to support the team. Already current and former players have publicly voiced their displeasure with Sterling. This isn't something that will just go away.
I read an article over the weekend written in response to this controversy that criticizes those who came to Brendan Eich's defense when he was basically forced to resign as CEO from Mozilla when his support of Prop 8 several years ago was made public. The article states that anyone defending Eich's support of Prop 8 but unwilling to defend Sterling's racism is a hypocrite.
I take exception to this for a couple reasons:
Brendan Eich did not oppose gay people for being gay. He opposed the action of their getting married. This is very different than Sterling, who appears to simply not like black people in general. Conflating the two is misleading and dishonest. There is a difference between someone's behavior and who they are. There is no evidence that Brendan Eich dislikes gay people. It is unfortunately a common refrain from gay marriage activists that anyone opposed to gay marriage, gay sex or anything else labeled "homosexual" behavior must also necessarily hate gay people as well, which is obviously ridiculous.
Many of those who came to Eich's defense did not defend or justify his support of Prop 8. They simply defended his right to support Prop 8 so and urged those in disagreement not to harass, threaten or professionally destroy him for it. Surely Donald Sterling is allowed to have his private feelings about black people, even if most people find those feelings abhorrent? Should someone who does not want to associate with people of a particular race in public be barred from owning a business in which the majority of the workforce is made up of that race? Or, in this day and age, are we justified in telling people "you can't think a certain way and still work here"? Does punishing people for expressing unpopular sentiments solve anything or does it simply sweep the issue under the rug? Certainly Sterling's ouster will not change his opinion of black people. Is that good enough? He can think whatever he wants as long as we don't have to know about it and as long as he's not in charge? Something about that just doesn't feel right to me.
If I worked for someone who I knew disliked people of my race, I would feel very uncomfortable working for him. At the same time, demanding he resign and shuffling him off for someone else to deal with feels wrong. I want to believe people can change. Ostracizing and punishing them for their personal feelings will only entrench their negative perceptions. Doesn't it seem like the better approach to show them love and kindness despite their hurtful words? There is a time for protest, for boycott, but we must also recognize that we live in a time of equality and progress and if we want continue along that path the goal should be to uplift those caught behind, not push them further away.
I will have more to say about this within the next few days.