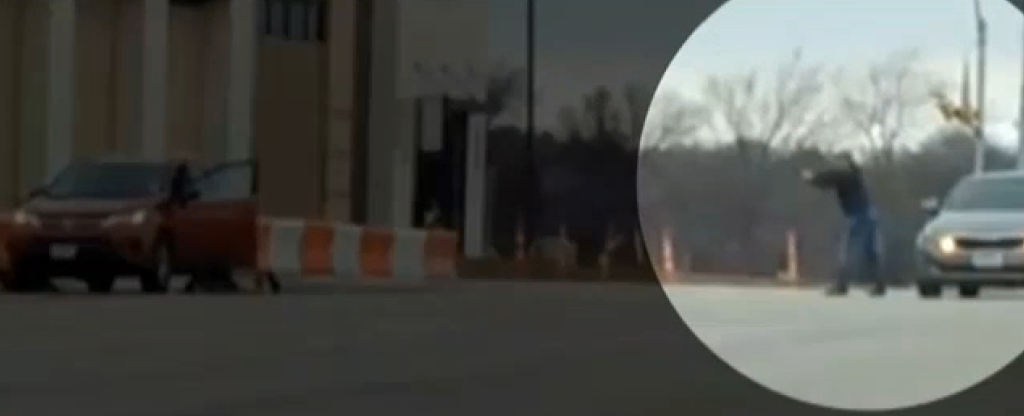 That's a still from cell phone video of a Aaron Kreag (with the pistol on the right) stopping Macmichael Nwaiwu (in the red car) from beating a woman who wasn't named in the story. Kreag told reporters "This large gentleman just pounding on this lady, closed fist you know multiple times and heavy heavy elbows to the face and neck." So Kreag, who had been out on a date with his wife, pulled out his concealed carry, pointed it at Nwaiwu, and ordered him to stop assaulting the woman in the car with him.
The story is an interesting counterpoint to concerns that civilians with concealed carry permits would turn the United States into the Wild West. As it turns out, the kinds of folks who go through the process of getting a concealed carry permit are not the kind of folks who tend to be trigger-happy, for the most part. It's just also an interesting case-study in real-life, civilian gun usage. The tensest part of the video, in my mind, is when the cops show up. When you're the one holding a drawn handgun and the cops roll up, expect to have one pointed at you in return, which is exactly what happened to Kreag. He put down his gun, surrendered, and got cuffed while the cops sorted out what was going on with bystanders.
Within a few minutes, however, he was released and Nwaiwu was in handcuffs. Still, I imagine those initial seconds when the cops drew on Kreag had to be nerve-wracking. It's what Kreag was expecting, however, and it's what all concealed carry holders expect to go through if they ever do need to draw their weapon (let alone fire) in the defensive of themselves or others.