One common atheist argument is that you should disbelieve in God because there is no evidence of God. The argument is commonly made by analogy to other mythical creatures like the tooth fairy or the flying spaghetti monster or a celestial teapot. There's no evidence of the tooth fairy, but that doesn't mean that we're neutral about the existence of tooth fairies. We're pretty sure, based on the lack of evidence, that they do not actually exist. Here's Richard Dawkins making this case:
It is often said, mainly by the 'no-contests', that although there is no positive evidence for the existence of God, nor is there evidence against his existence. So it is best to keep an open mind and be agnostic. At first sight that seems an unassailable position, at least in the weak sense of Pascal's wager. But on second thoughts it seems a cop-out, because the same could be said of Father Christmas and tooth fairies. There may be fairies at the bottom of the garden. There is no evidence for it, but you can't prove that there aren't any, so shouldn't we be agnostic with respect to fairies?
The problem with this argument is that it seems to contradict basic logic: lack of evidence is not evidence of lack. And yet the intuition seems solid. We don't merely not believe in the tooth fairy, we actually disbelieve in its existence.1
Most people either write off the "lack of evidence isn't evidence of lack" line as a kind of irrelevant technicality or try to treat disbelief as something other than a form of belief. These approaches are sloppy and incorrect, and they create a warped skepticism in which negative beliefs are given an irrational and unearned privilege over positive beliefs. That's not real skepticism, it's just inverse credulity combined with dodgy semantics. It makes a mockery of the proud tradition of philosophical skepticism by creating a mirror image of blind faith. In the old days, the existence of God was accepted without proof. These days, a kind of hostile disbelief in God is accepted without proof instead. Meet the new orthodoxy, same in process and approach as the old orthodoxy.
Luckily, however, there actually is a way to reconcile our intuition that we should be skeptical of the tooth fairy (not merely neutral) with the rules of logic. The term that comes to the rescue is compossibility. This is a term I learned from reading an incredibly great sci-fi book2, but the term originates with Leibniz. From Wikipedia:
According to Leibniz a complete individual thing (for example a person) is characterized by all its properties, and these determine its relations with other individuals. The existence of one individual may contradict the existence of another. A possible world is made up of individuals that are compossible — that is, individuals that can exist together.
Let's take a look at how the concept of compossibility can be used to provide a solid rational backing for the intuition that the tooth fairy doesn't exist without requiring us to contradict the principle that lack of evidence is not evidence of lack. Except, instead of a tooth fairy, I'm going to go with the proposition that there's an invisible unicorn in your backyard.3 Now, should you have:
Belief | You think that there is a unicorn.
Non-Belief | You do not think that there is a unicorn.
Disbelief | You do not think that there is a unicorn and you think that there is not a unicorn.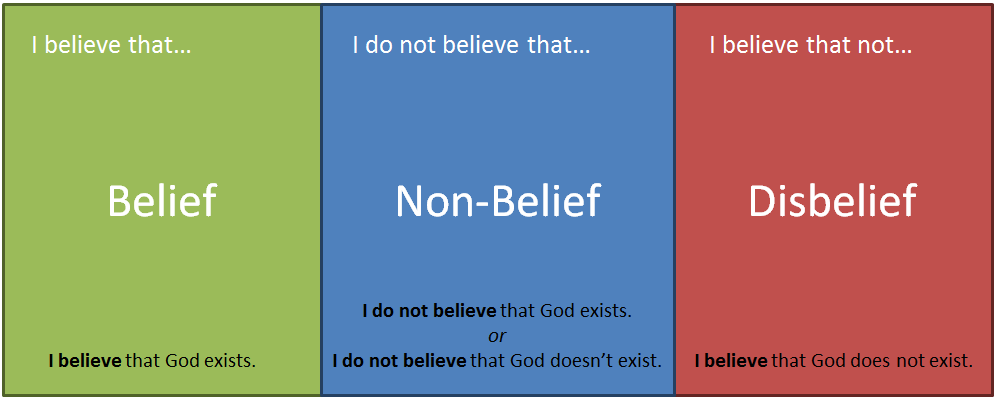 Here's how compossibility comes to the rescue. A unicorn is basically a horse with a horn on its head. Horses are large mammals. If you had a large mammal in your back yard then, even if we concede it's invisible, it would still leave hoofprints and unicorn poo behind, and it would probably also be rather noisy. Do you see any hoofprints? Smell unicorn poo? Do you hear a large 4-legged beast walking around and breathing heavily? Nope? Then you don't just have a lack of evidence. You really do in fact, based on compossibility, have evidence of a lack. These things should be there, and they are not. Therefore, the invisible unicorn is not compossible with the state of your backyard (e.g. free of unicorn poo).
Now, I might tell you that the reason there are no hoofprints and that there is no unicorn poo is that the unicorn is actually not just a horse with a horn on its head. It's a magical creature that only looks like a horse. In fact, however, it is light as a feather (no hoofprints) and subsists on love (no material food, ergo no unicorn poo). This new definition of an invisible unicorn is more compossible with the state of your backyard (hoofprint and unicorn poo free!), but it's actually not more believable because now it's asking you to believe other things that are not compossible with your experience of the world. Where, if invisible unicorns are common, do the dead ones go? Why aren't people stumbling and falling over invisible unicorn corpses? Or hitting them with their cars? And if they are rare, how do they keep up a viable breeding density? And if they don't breed, where do they come from? Etc.
These questions are, of course, all a bit absurd. The point is that our human intuition is, generally speaking, pretty good at doing this kind of analysis unconsciously and quickly. You don't really need to go through all the specific questions. You can just take the basic concept of a unicorn and see that such an animal remaining undetected is highly improbable. So you've got a good reason to suspect that if there's no evidence then it actually is not present. The more the definition gets altered to make the lack of evidence seem credible, the more the definition itself becomes incredible. You start asking where the unicorn poo goes and you end up asking questions about the thermodynamics of a creature that converts love to kinetic energy to move its body.
So our disbelief in things like the tooth fairy doesn't come from what we don't know. It comes from what we do know. It comes from everyday knowledge about biology and human nature and physics. Skepticism of things like invisible unicorns or flying spaghetti monsters or celestial teapots is not properly rationalized by knee-jerk preference for disbelief, but by deliberation about compossibility.
So how does this apply to the real argument at hand: the existence of God? I'm not going to try to convince anyone that God is real using compossibility. I'm just going to differentiate between good arguments for the non-existence of God and bad arguments for the non-existence of God. Bad arguments might take the form of, "Well, there's no evidence so we should disbelieve." That's not a logically sound position to take. It's just prejudice wrapped up in rational terminology. The argument is bad both because it's a poor argument but also because it just doesn't lead to any productive thought or discussion. It's a waste of everybody's time.
But a very good argument for the non-existence of God is to rely on something like the Problem of Evil. This turns out to be a compossibility argument again: how are (1) an all-powerful God and (2) a benevolent God and (3) the crappy state of affairs here on Earth all compossible? Just like skepticism of the invisible unicorn in your backyard, skepticism of a benevolent and all-powerful God based on the injustice and miserable suffering on Earth is a skepticism with reason behind it. Such skepticism is good both because it's logically stronger, and also because it can lead to useful discussion.