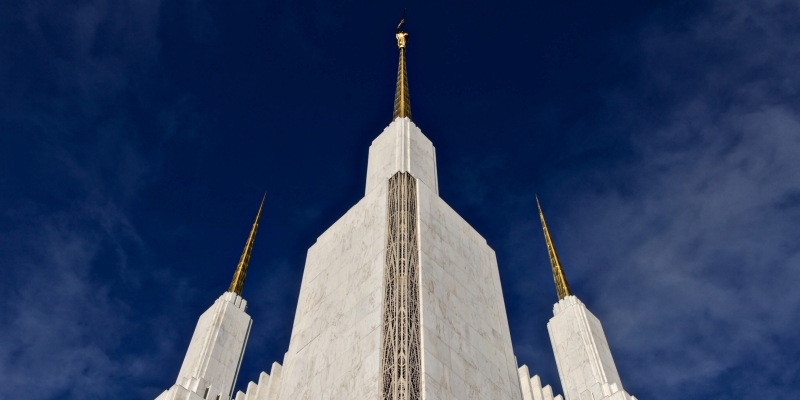 I am religiously multilingual. I grew up in a devout Mormon family, I learned all the Mormon songs, heard all the Mormon stories, and read all the Mormon scriptures. I identified as a Mormon, and I still do. When I was in elementary school my best friends were all Mormon. But during that traumatic shake-up that happens to kids as they transfer from elementary school to middle school I missed my footing and fell out of favor with the other Mormon kids. For about the next decade, I didn't have a single close Mormon friend I saw on regular basis, and the Mormons I did get along with most were those on the margins. Throughout the formative years of middle school, high school, and college the people I trusted, depended on, and interacted with outside of regular church meetings were almost exclusively with non-Mormons. And during regular church meetings? I was very lonely.1
The upside of the loneliness was that I learned a religious version of code-switching. I've always had a keen interest in religion and politics and all the controversial topics you're not supposed to discuss in polite company, and I spent all my time talking about those issues with non-Mormons. So I picked up some of the vocabulary, paradigms, values, and cultural touchstones of the Catholics, evangelicals, Jews, agnostics, and atheists around me.
One of the biggest impacts of religious multilingualism is that it changes how you view your own faith. The first realization is the most basic: you start to see how many of the unspoken assumptions about what you think and how you behave are not universal, but are particular to your own religious and cultural background. You start to realize just how much variety there is to the way different people view the world.
Along the way, you may also catch glimpses of your own religion reflected back to you in the eyes of others. This is a strange experience. It's like vertigo or an out-of-body experience to see what is most familiar and close to your identity appear suddenly strange and distant. It's a kind of radical dissociation, like what happens when you repeat an ordinary word until meaning and sound of the word separate. Try it, if you're curious. The word "tub" is fun to use. Just start repeating it to yourself, out loud, at normal speed. Give it a couple of minutes at most, and suddenly you'll feel like you're making sounds instead of words.
Every now and then when I'm sitting in Elder's Quorum and we're saying a prayer I can't help but look around at all the other guys in the room and think: "This is weird." We've all got regular jobs with regular people and we know how to get along just fine in the regular world. But every Sunday we keep coming back to this brutally ugly meetinghouse, sitting in these weird pseudo-rooms made by moving giant curtains to subdivide a carpeted basketball court attached to a chapel, and we pray in front of each other like it's the most mundane thing in the world. It is, by the experience of most of the American people, not a normal way to behave. For the non-religious the whole project is bizarre, and even for religious Americans the particular habits of Mormons—like our lack of formality or professional leadership—are definitively abnormal.
None of this is to say that I love my weird religion less. On the contrary, there are some things I appreciate about Mormonism that I wouldn't have noticed without the experience of being religiously multilingual. High on that list is the fact that, as a general rule, Mormons proselyte with a positive message. That might seem obvious, but a Mormon living in the Bible Belt will soon be disabused of that notion. I've been told that I'm going to Hell simply for being Mormon on more than one occasion, and when I tried to join a Bible group on campus (because Institute seemed far away and, frankly, non-Mormons often know the Bible much better than we do), the leader staged what I can only describe as an intervention to try and rescue me from "Joe" Smith's nefarious clutches. So, as it turns out, there are actually other ways to go about it. Of course individual Mormons fall short from time to time, but as a people we have nothing like the countercult movement, and I'm proud of that.
Being religiously multilingual has helped me be a better Mormon in other ways as well. As I've learned more about other faith traditions, I've grown to view them with respect and admiration. Treating other religions this way is an intrinsic aspect of the Mormon view on truth.  Joseph Smith said that "One of the grand fundamental principles of Mormonism is to receive truth, let it come from whence it may,"2 and his successor Brigham Young reinforced that sentiment as well: "I want to say to my friends that we believe in all good. If you can find a truth in heaven, earth or hell, it belongs to our doctrine. We believe it; it is ours; we claim it."3 Mormon scholar Terryl Givens4 described Joseph Smith's belief in his calling as "an oracle of God, subject to moments of heavenly encounter and the pure flow of inspiration," but also wrote that Smith was "insatiably eclectic in his borrowings and adaptations."5
This puts a very different light on the Mormon teaching that our church is "the only true and living church upon the face of the whole earth."6 I do believe that the Church of Jesus Christ of Latter-day Saints is the one true Church, but to me that means something fairly narrow and limited. It means we're the one authorized, formal institution. But it doesn't mean we're perfect, doesn't mean we're better, doesn't mean we know it all, and doesn't even mean we know the most. Mormons have no monopoly on truth. That is plainly evident from our leaders and in our scriptures. For example, Doctrine and Covenants section 49:8—a revelation given to Joseph Smith—talks about "holy men ye know not of," cementing in scripture the principle that God is quite busy interacting with a lot of people other than Mormons to accomplish His purposes. Apostle Orson F. Whitney said the same thing in 1928 when he said that: "God is using more than one people for the accomplishment of His great and marvelous work. The Latter-day Saints cannot do it all. It is too vast, too arduous for any one people."7
I've become a huge fan of Krister Stendahl's Three Rules of Religious Understanding and in particular rule number three: "Leave room for holy envy." This isn't a rule that I think Mormons have always fully grasped, but—as the quotes in the previous two paragraphs illustrate—it has always been a part of who we try to be.
I'd like to think that I've also been able to use my multilingual perspective in ways that have been constructive for other folks as well. Many years ago when Facebook groups had discussion boards, I was part of a particularly large group where the longest running-thread was titled "Protestants vs. Catholics" (or something similar). I often enjoyed participating in that discussion as the third leg of a tripod: Christian, but neither Protestant nor Catholic. No one ever really wins a debate of that nature, of course, but I think that changing the dynamic from simplistic one-on-one to a more fluid and stable three-way conversation sometimes improved the tenor and expanded the breadth of the discussion.
These, then, are the three primary benefits of religious multilingualism: an increased capacity for introspection, an increased capacity to learn from others, and an opportunity to engage more effectively in ecumenical discussions. Each of them, I believe, can be applied at the macro level to Mormonism as a whole just as I have seen them work in my own life.
One of the big surprises for the world travelers who came to Salt Lake during the 2002 Winter Olympics was that there were all of these conventional-looking white men and women who, at the drop of a hat, could hold forth in Spanish, Portuguese, Italian, Dutch, German, Tagalog, Mandarin, Cantonese, Japanese, and dozens of other languages."Mormons Project Image As Diverse as Olympics," wrote the New York Times. This is a natural consequence of the Church's ambitious missionary program. There are about 50 languages taught at the Missionary Training Center (MTC) in Provo8 and the Church also runs MTCs in Argentina, Brazil, Chile, Colombia, the Dominican Republic, Ghana, Guatemala, Mexico, New Zealand, Peru, the Philippines, South Africa, Spain, and the United Kingdom.9
It's obvious when you think about it: lots of Mormons serve missions, and so lots of Mormons speak foreign languages. Mormons don't just learn the language when they live in foreign countries. They learn and come to love the culture. Talk to any Mormon missionary—even those who served stateside and didn't learn a new language—and they will almost invariably be able to tell you about the best local cousine and speak with adopted pride about local traditions and history from wherever they served, be it Alabama or Albania.10
All of this international exposure and cultural multilingualism means that Mormons—and especially American Mormons—have an opportunity and an obligation to try and separate our cultural heritage from the essence of Mormonism. If instead of a young American farmer named Joseph Smith, God had restored His church to a young Indian or a young Japanese farmer, what would the institution look like today? What part of what Mormon missionaries export is essential Mormonism and what part is Wassatch Front culture? These are murky and sensitive questions, but important ones.
The process of attempting to distill religion from culture is uncomfortable and can never yield truly definitive results, but it is important in understanding ourselves and reaching out and engage with a global audience. In years to come, it may very well be that one of the most important consequences of our global missionary effort is not what we teach to others but what, by seeing our faith refracted back in different languages and cultures, we learn about our own religion.
Of course it's not just our own religion we should learn about, but the religions, traditions, and cultural insights of the people of the world. This is a matter of scriptural injunction for Mormons: "study and learn, and become acquainted with all good books, and with languages, tongues, and people."11 I also find it very interesting that the topic of faith crises is so prominent in our discussion these days, and is linked in our scripture to the command to learn: "And as all have not faith, seek ye diligently and teach one another words of wisdom; yea, seek ye out of the best books words of wisdom; seek learning, even by study and also by faith."12 We may come to learn that when it comes to faith crisis in our secular age, the best way out is through. The solution is not insularity, but greater exposure and the inoculation that comes with the habit of being exposed to many, many new ideas and developing the skill of synthesizing what we learn that is new into our traditions and beliefs.
Now that I've covered briefly how Mormons can use our cultural multilingualism to achieve greater introspection and learn from others, let's consider the third benefit of multilingualism, engaging beneficially in ecumenical discussions.
The relationship between Mormonism and the broader Christian community has always been fraught. Mainstream Christian denominations have reacted to Mormonism's stark claims to being the only truth Church by refusing to recognize Mormon baptisms. Mormons are occasionally miffed about that without realizing that Mormons don't recognize anyone else's baptisms either! The biggest sticking point in this relationship, of course, is that many other Christians denominations assert that Mormonism is not Christian at all.
Mormons, who unambiguously view themselves as Christians, are torn by conflicting desires to enter a broader ecumenical community and to maintain their distinctiveness. Mormon scholar Armand Mauss writes about this as the tension between assimilation and differentiation in, for example, The Angel and the Beehive . Early Mormons like the Pratt brothers emphasized Mormon distinctiveness, but more recently President Hinckley (who led the Church until 2008) oversaw a period of engagement that downplayed the more revolutionary teachings of Joseph Smith and emphasized common Christian doctrines.
Although clearly important, this emphasis on the relationship between Mormons and mainstream Christianity has distracted attention from a different set of bridges that Mormons could be building. In an age in which it often seems as though traditional religious voices are declining in prominence and importance, Mormonism may be uniquely positioned to enter into dialogue with rising secular voices, shifting the emphasis from intra-Christian discussions to inter-faith discussions where "secularism" is considered a faith group in its own right. That's a controversial classification, of course, but other than that nomenclature there isn't really that much to debate: secularism is clearly more than the mere absence of religion. In our society, secularism entails a suite of philosophical commitments (such as to materialism/physicalism and analytic reductionism) and cultural attitudes that function in ways that are broadly equivalent to a religion, and it is a religion with which Mormonism is uniquely positioned to interact with.
Mormonism has long held, for example, that there is no conflict between science and religion. Brigham Young taught that "Our religion will not clash with or contradict the facts of science in any particular," and he even viewed that as a distinctive element of Mormonism that set it aside from other Christian denominations.13 Mormons have also long taught a kind of metaphysical monism that, while not necessarily identical to physicalism, is certainly more akin to it than to traditional Cartesian dualism. "All spirit is matter," reads a canonized revelation to Joseph Smith.14
Mormons also reject the conventional Christian idea that God created the world ex nihilo, which means "from nothing." Instead of God creating by conjuring something out of nothing, Mormons believe that the world was created by organizing materials that were already present. More importantly, Mormon scripture contains hints that some kernel of the human soul itself is fundamentally uncreated: "Man was also in the beginning with God. Intelligence, or the light of truth, was not created or made, neither indeed can be."15
The precise philosophical implications of these beliefs are unclear, especially since Mormonism has no official theology and no authoritative theologians. But some general trends are clear. The first is that, in a sense, Mormons reject supernaturalism. Instead, we embrace a variant of Clarke's Third Law: Sufficiently advanced technology is indistinguishable from miracles. How far Mormons run with this notion is a matter for individual deliberation, but the extreme position that posits God as a kind of super-evolved person is not inconceivable. And that is a definition of God that even Richard Dawkins could learn to live with.
And, even without precisely working out the theology, the Mormon perspective does have relevance to important topics like the Problem of Evil. How does one reconcile why bad things happen to good people? The most prominent response involves citing free will, but if you believe that God created human beings out of nothing then that explanation doesn't work very well. Sure, we're free to act out according to our sinful natures, but if God made us then He made our natures. Why didn't He make them better? Discarding the doctrine of creation ex nihilo doesn't solve the Problem of Evil in one fell swoop, but it does have a significant and meaningful impact on the conversation.
It is, however, not an ecumenical conversation. The Problem of Evil is an example of a theological problem that is of interest to anyone who  believes in a creator God and also serves as a linchpin in many atheist arguments. And so, rather than jumping into the Protestant vs. Catholic debate as I did many years ago, I have to wonder if Mormonism might be able to fill a similar role in the more general religious vs. secular discussion going on in our world. It would be a stretch to say that Mormonism has a foot in each domain, but it is at least in the unique position of being able to survey both landscapes from where it stands.
This may seem like an absurd position, so I want to spend just a little time on it. Lots of faiths can adapt to secularism by simply downplaying supernatural claims and reducing everything to symbolism. Mormonism is as capable as any other denomination of taking that route. There is nothing unique to Mormonism in that strategy. There's also nothing interesting or useful in that strategy. Assimilating religion into a secular worldview does nothing good for either religion or secularism, and history shows that religions which go down that road gradually fade and die.
Instead, what Mormonism offers is the prospect of maintaining the vitality of historical religious propositions in a secular environment. To be clear: I'm talking about Mormons who believe a man named Jesus Christ walked the Earth 2,000 years ago, performed various miracles, died, and was resurrected. The Mormon difference isn't to deny that miracles can happen, it's to imagine that miracles do not violate the laws of physics but operate at a higher level. This is weird, yes, but quantum mechanics is weird. Again: the best way out of the religion vs. science conflict is through.
It is also worth noting that the idea of synthesizing religious and secular views is not a new one for Mormons. One of the greatest examples comes from Orson Scott Card's greatest work The Speaker for the Dead. The book recounts how, after exterminating humanity's rivals in the events of Ender's Game, Ender created a new, secular religion. The religion is secular in the sense of not making any supernatural claims or even discussing God, and it is clearly modeled on the cultural place Mormonism actually occupies in American society. Mormonism is at once scoffed at by traditional religions for being irreligious in its conceptions of deity and by secular society for being overly religious in its belief in angels in the age of railways. Similarly, in Card's writing, the religion of the Speakers is viewed with mistrust both by the futuristic Catholic Church and the dominant secular society. It's an uncomfortable and strange place that Mormonism occupies, but also a potentially fruitful one.
Perhaps the biggest thing holding Mormonism back from this kind of bridge-building between religious and secular society is our own reticence. One of the reasons Mormonism seems weird is that in trying to emphasize our commonality with other Christian denominations we sometimes refuse to speak up clearly and plainly about beliefs that would emphasize our distinctiveness. And, since we suddenly go silent exactly where people are most interested in what we believe, it's no surprise that the vacuum gets filled with tangential, obscure, or false versions of what we believe. Being more willing to speak explicitly about uniquely Mormon beliefs is an important part of being seen as less weird or, at least, being seen as weird for the right reasons.16
Mormonism, both because of our unusual doctrine and our far-flung missions, is truly multilingual. We can and should use this trait to better understand ourselves, better learn from our neighbors, and more productively engage in the great religious discussions of our day, which is happening not within the overtly religious community, but between secular and religious philosophies.