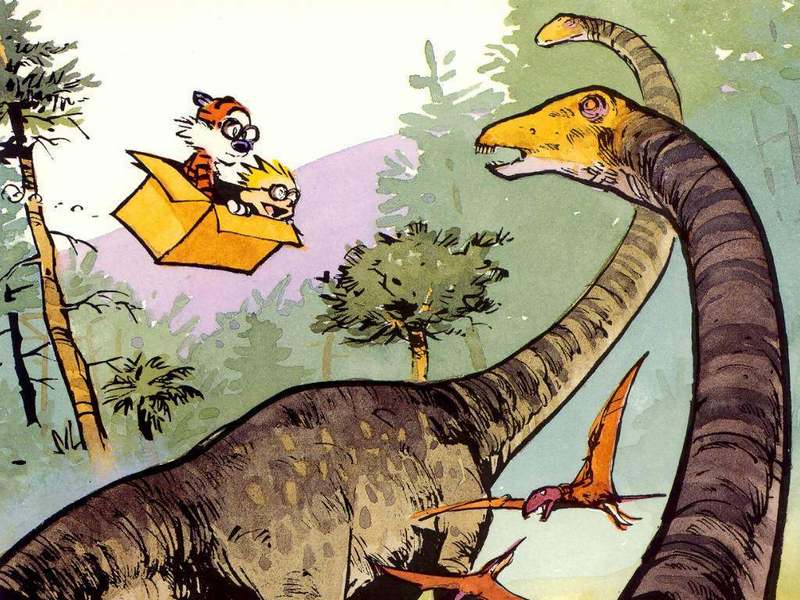 Let me start with a great blog post from G. at Junior Gaynmede: Have You Ever Heard of Plato, Aristotle, Socrates? Morons.1 Here are a couple of excerpts to whet your appetite for this excellent post:
Calvin and Hobbes is one of the great works of Western civilization. I don't know if it will still be read and loved centuries into the future, but if not so much the worse for centuries into the future. Centuries into the future ought to write "Time Machine" on the side of its cardboard box and zoom back here for some of the good stuff.
And also:
Christ made childishness one of the great questions of human existence. Following him, we now know that it is of the stuff salvation is made of. For the Christian, childhood is part of the Great Conversation and Calvin and Hobbes is a classic work. It's silliness is soulcraft.
I want to extend that last paragraph just a little bit and talk about Lazarus. I taught that story in Sunday School on Sunday, and two verses in particular stood out to me as I taught it. They have stayed with me since, as well, orbiting my mind with the insistence of gravity and physics, demanding constant attention. Here they are:
39 Jesus said, Take ye away the stone. Martha, the sister of him that was dead, saith unto him, Lord, by this time he stinketh: for he hath been dead four days.

40 Jesus saith unto her, Said I not unto thee, that, if thou wouldest believe, thou shouldest see the glory of God?
The contrast between Martha's concern about her brother's rotting corpse and Jesus' promise to see the glory of God strike me as profound. It seems to me that nothing that actually matters in life can be grasped directly. If you wish to mold your character, you must do so indirectly, by policing your thoughts and actions. If you wish to spread the Gospel and preach, you can use your words and actions, but they will never be more than a vehicle through which the Holy Spirit may–or may not–be conducted. If you wish to experience love, you cannot do so directly, but must instead look for the signs of love in a caress, a word, a sacrifice.
And so it is with the glory of God. You cannot see it directly. It is not, I think, that it is too bright and that we must look way as from the blazing sun. Although that may also be true. Nor, I think, is it that it is a kind of mathematical limit or Platonic form which exists but not in this place. Although, there may be something to that analogy as well.
I have no theory about why we must interact with the things that matter most in our life but–as a Mormon–I sense a deep connection to the question of embodiment. We believe that this physical existence is not a necessary evil but a progressive step in our grace-fueled upwards trajectory. Something about physicality, about the specificity of mortal experience, allows the abstract to be instantiated and therefore experienced.
One message of the story of Lazarus is that the glory of God is not separate from our mortal experience, but exists within it. The physical and tangible reality of Lazarus risen–shadowy presage of Christ's greater triumph–is not incidental.
What does this have to do with Calvin and his tiger? Simply this: art–with the specificity of character and plot and setting–is another way we can approach the abstract, the profound, and the divine. There is something about the specificity of Calvin as this particular boy and Hobbes as this particular tiger that bring us closer by circles to great truths than straight lines ever could.2