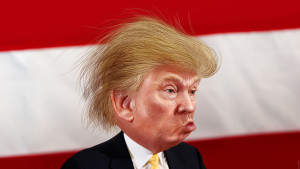 Well someone with more legitimacy (at least in the political world) has picked up my theory that DT is a plant for the Democrats.  I believe this theory because he has actually made me consider voting for Hillary, and that is a turn of events I find hard to believe.
Carlos Curbelo, a Republican congressman from Florida, has stated,
"Mr. Trump has a close friendship with Bill and Hillary Clinton. They were at his last wedding, he has contributed to the Clintons' foundation, (and) he has contributed to Mrs. Clinton's Senate campaigns. All of this is very suspicious."
Along with the fact that Trump has said he will run as an independent if he doesn't get the nomination, everything points to: plant.  Even his hair.  Or especially.
Please, spread this theory.  Make all your friends suspicious of DT, not just the sane ones.