This post is part of the General Conference Odyssey series.
I'm going to start my discussion of the talks from the Sunday Morning session of the April 1971 General Conference in a slightly different place: science fiction and fantasy. There's going to be some wind up (which I hope you'll find interesting), and then I'm going to tie it into President Gordon B. Hinckley's talk "Except the Lord Build the House…"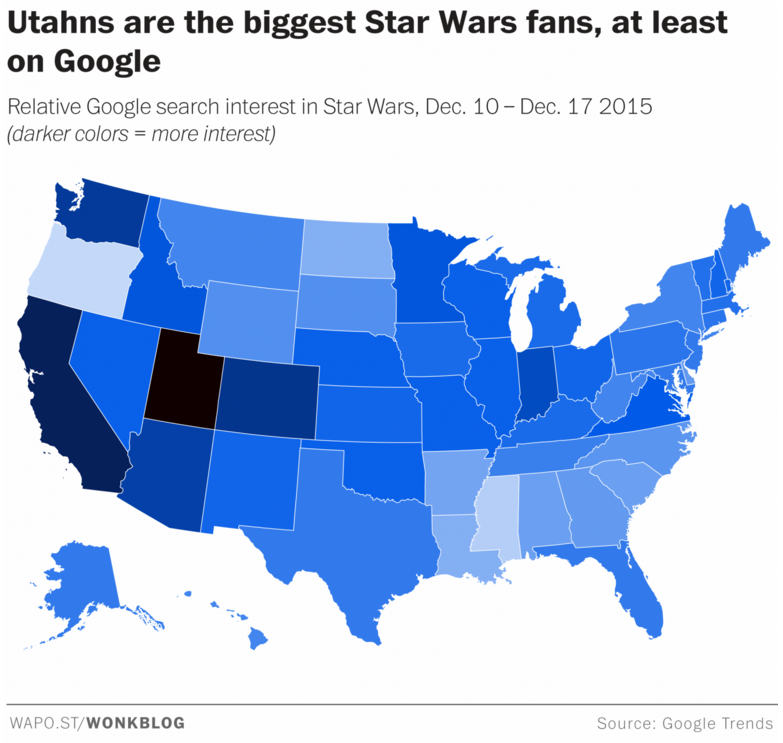 Writing for the Washington Post's Wonkblog, Christopher Ingraham noted that—based on Google search data—Utahns were "are the biggest Star Wars fans."
During the past week, Utahns have done more Star-Wars related Googling than people in any other state. People in Utah are about 25 percent more likely to Google "Star Wars" than their nearest competitors in fandom, Californians. And they are more than twice as likely to Google the topic as people in Oregon and Mississippi, the two least Star Wars-crazy states.
Ingraham doesn't have any idea why this is so. He doesn't even speculated. Instead, he concludes his article with an invitation: "If you have a pet theory for why Utah is home of the nation's #1 Star Wars Googlers, drop me a line."
I'll bite.
The connection is not between Mormons and Star Wars in particular. It's between Mormons and all forms of geeky entertainment: Star Wars, Star Trek, Dr. Who, The Lord of the Rings, etc. The connection between Mormons and sci-fi and fantasy is so well known that the question (What's the connection between Mormonism and speculative fiction?) is a recurring topic that many in the genre have taken a crack at. (Including me, one time for Times and Seasons. And also Matt Bowman, more recently and also at the Washington Post.)
In fact, one of my hobbies is to try to suss out Mormon influences in the work of Mormon authors. Historically, you've got Orson Scott Card as the big one. There's also Stephanie Meyers as a really prominent Mormon author, but let's not go there today. A trio that I've been following with great interest, however, are Brad Torgersen, Larry Correia, and Brandon Sanderson. Torgersen's excellent short story collection Lights in the Deep has a great story called "The Chaplain's War." In it, Torgersen deals with issues of faith and the relationship of religion to secularism that–to my mind–show a distinctive Mormon perspective.
Then there's Larry Correia, whose recent Son of the Black Sword is an incredible epic fantasy tale with some really interesting Mormon influence, which I outlined in my Goodreads review.
But it's Brandon Sanderson I want to talk about for a moment.1 Like Correia, Sanderson's work frequently contains echoes of Mormon theology, culture, and scripture. The quote "it was better that one man suffer than an entire nation continue in heresy" from Elantris, for example, is an obvious echo of "It is better that one man should perish than that a nation should dwindle and perish in unbelief."2 In my favorite series, Mistborn, themes of apostasy, restoration, and religious pluralism that borrow heavily from Joseph Smith's writings are very prominent. In the conclusion of the first Mirstbon trilogy, the character Sazed's understanding of numerous different religious traditions helps him rebuild the world and he remarks, "The religions in my portfolio weren't useless after all. None of them were. They weren't all true. But they all had truth."
Compare this expansive view with quotes from Joseph Smith and Brigham Young:
"We should gather all the good and true principles in the world and treasure them up, or we shall not come out true Mormons." – Joseph Smith3

"I want to say to my friends that we believe in all good.  If you can find a truth in heaven, earth, or hell, it belongs to our doctrine.  we believe it; it is ours; we claim it." – Brigham Young4
But one of the most Mormon aspects of Sanderon's writing (especially in the Mistborn books) is his treatment of romantic relationships, and that's where we're going to finally bet back to President Hinckley's talk. Here's an excerpt from my review of The Well of Ascension (the second in the original Mistborn trilogy):
[Sanderson's] take on relationships is very Mormon… You can tell this is a guy who grew up in a culture saturated with reverence for and wisdom about making marriages work. That's an incredibly refreshing breath of fresh air in a genre fiction novel. Dynamic, fun, believable, and healthy relationships are just incredibly rare in popular entertainment, which almost always emphasize the pursuit and never spare time for the relationship itself.
So what are the hallmarks of a Mormon view of relationships? I would say there are two: prominence and practicality. Marriage matters to Mormons, and it matters a lot. That comes across in Sanderson's writing, which not only focuses on romance but does so in a way that emphasizes relationships over sex. This gives Sanderon's writing—and Mormon culture in general—a very romantic attitude. (There's a reason Jane Austen is so popular with Mormons, leading to novels like Shannon Hale's Austenland.)
But the other aspect is a very interesting contradiction with the romantic aspect of Mormon culture: practicality. Sanderson tackles this issue in the newest Mistborn novels, The Alloy of Law and Shadows of Self. These books includes the most unique and the most Mormon relationship plotline I have ever read in my life. The protagonist (Waxillium "Wax" Ladrian) returns from self-imposed exile on the frontier to take control of the struggling family business. He soon faces a dilemma. A marriage to Steris will restore the family fortune, but is a marriage of convenience for both of them. Or there is Steris' half-sister Marasi: she is younger, prettier, and completely infatuated with Wax, but has no fortune to offer.
The Disney expectation is clear:  Wax has to put his heart first and marry Marasi, which is what his friend encourages him to do. The darker, more contemporary approach would be for Wax to marry Steris, but then cheat on her. Or maybe relapse into bitterness and regret. Sanderson—taking the Mormon approach—does neither. He has Wax move forward with the engagement to Steris, remain completely honorable, and slowly—very, very slowly—the two begin to find a mutual affection for each other despite their differences.
Now this is a long digression, but I think it was worth taking, because it shows how deeply the teachings that President Hinckley discusses in his talk have permeated Mormon culture. Sanderson shows Mormonism's romantic view of the importance and possibility of love, but also the practical side of Mormonism that insists: all marriages are compromises.
Compare that with President Hinckley's talk, "Except the Lord Build the House …" The talk begins with President Hinckley expressing concern for divorce (the symptom) and marital dysfunction (the disease):
Even in those lands where divorce is difficult if not impossible to obtain, the same disease is evident—the same nagging, corrosive evils of domestic misery, of separation, of abandonment, and of immoral and illegal relationships.
But, ever the optimist, President Hinckley quickly turns from what can go wrong to a discussion of what can go right, providing these four principles for building a strong and happy marriage:
Respect for One Another
The Soft Answer
Honesty with God and with One Another
Family Prayer
Here are some specific quotes from each section:
Respect for One Another
This respect comes of recognition that each of us is a son or daughter of God, endowed with something of his divine nature, that each is an individual entitled to expression and cultivation of individual talents and deserving of forbearance, of patience, of understanding, of courtesy, of thoughtful consideration.
The most important thing to note here is that the "recognition that each of us is a son or daughter of God," is entirely generic. It applies to everyone. This is a major departure from modern views of love, which enshrine the idea of compatibility between two specific people above all else. That ides is totally absent from this view, which leads to President Hinckley's stark statement:
True love is not so much a matter of romance as it is a matter of anxious concern for the well being of one's companion.
This is pretty much exactly the opposite of what the world believes about love and marriage. Not coincidentally, it is exactly the kind of relationship that is beginning to develop between Wax and Steris in Sanderson's books.
Companionship in marriage is prone to become commonplace and even dull. I know of no more certain way to keep it on a lofty and inspiring plane than for a man occasionally to reflect upon the fact that the help-meet who stands at his side is a daughter of God, engaged with Him in the great creative process of bringing to pass His eternal purposes. I know of no more effective way for a woman to keep ever radiant the love for her husband than for her to look for and emphasize the godly qualities that are a part of every son of our Father and that can be evoked when there is respect and admiration and encouragement. The very processes of such actions will cultivate a constantly rewarding appreciation for one another.
This is another example of President Hinckley's teaching that the love within marriage doesn't depend on finding your soulmate, on being compatible, or on any particular attribute of the spouses. It's also a very realistic view of marriage, and one that emphasizes work. According to this view, it is a husband's duty to protect his own love for his wife (and vice versa).  Mormons don't believe in finding soulmates. They believe in making soulmates.
The Soft Answer
President Hinckley's second principle is very simple: "We seldom get into trouble when we speak softly."
It is also an opportunity for President Hinckley to again emphasize the importance of work within a marriage: "There is need for a vast amount of discipline in marriage, not of one's companion, but of one's self."
Honesty with God and with One Another
President Hinckley's observation here is both practical and profound:
If you will share with the Lord whom you do not see, you will deal more graciously, more honestly, and more generously with those whom you do see.
Family Prayer
President Hinckley's last principle includes a long series of beautiful promises that any husband and wife will cover for their family. It doesn't really fit the theme of this post (emphasizing the collision of practicality and romance), but it is beautiful so here it is:
Your children will know the security of a home where dwells the Spirit of the Lord. You will gather them together in that home, as the Church has counseled, and teach them in love. They will know parents who respect one another, and a spirit of respect will grow in their hearts. They will experience the security of the kind word softly spoken, and the tempests of their own lives will be stilled. They will know a father and mother who, living honestly with God, live honestly also with one another and with their fellowmen. They will grow up with a sense of appreciation, having heard their parents in prayer express gratitude for blessings great and small. They will mature with faith in the living God.

The destroying angel of domestic bitterness will pass you by and you will know peace and love throughout your lives which may be extended into all eternity. I could wish for you no greater blessing, and for this I humbly pray in your behalf, in the name of Jesus Christ. Amen.
I thought it was fun to compare Brandon Sanderson's writing with the teachings of President Hinckley to show how extensive the Mormon adoption of President Hinckley's (and other leaders') teachings on marriage and family peace and unity and harmony had become. These are clearly some of the lessons that many Mormons have taken to heart.
And now, here are just a few of quotes from other talks from this session that struck me.
In "Choose You This Day" Elder N. Eldon Tanner  writes that "there is strength in humility and weakness in pride." That is a good thing to keep in mind.
In My Brother's Keeper Elder John H. Vandenberg writes about the connection between sacrifice and love, reversing the ordinary causality:
What is the seed of mother love? Is it not sacrifice? Such love is considered to be the deepest and most tender. Is this because a mother passes through the valley of the shadow of death to give birth to her child and is continually sacrificing for that child's welfare?

Is this why Christ loves the world? Because he toiled to make it? Because he sacrificed his life for the world and its people?… We all love that for which we sacrifice.
So, instead of loving motivating sacrifice, sacrifice can engender love. Elder Vandenberg also included a poignant reminder that is work keeping in mind as we think about everyday service: "The chips are down someplace every day." There is always someone who needs our help.
—
Here are the blog posts from the other participants in the General Conference Odyssey.