Understand your conversations aren't happening in a vacuum; silent victims are listening to you.
Sometimes I want to talk to people about "rape culture." I'm putting "rape culture" in quotes because the people I most want to talk to about this often recoil at the phrase. If there was another shorthand phrase I knew to describe this situation, I'd use it, but I don't know of any.
For clarification, when I say "rape culture" I do not mean a culture that is totally chill with violently forcing people to have sex. I mean a culture that minimizes the seriousness of sexual harassment and assault in myriad ways, most of them not purposeful but still very impactful. The cumulative effect is that far too many women have not only been sexually assaulted but—and for me this is a crucial point—they feel unable to do anything about it or even tell anyone.
(Before I continue, please note that in this post I talk exclusively about male rapists and female victims because I am talking about my personal experiences. However it's important to understand that men are also assaulted and they also struggle to talk about it.)
I feel very strongly about this issue. I probably feel more strongly about this issue than any other social or political topic, by a lot. And that's because, for me, this is very personal.
When I talk about "rape culture," I'm not trying to have a political conversation or a policy debate. I'm not trying to establish whether liberals are on witch hunts or conservatives hate women or feminists hate men or whatever else. I don't care how you feel about your ideological opposition. If I'm trying to talk to you about "rape culture," this is what I'm trying to say:
I've been assaulted. It traumatized me for a long time, and it was even worse than it needed to be because I didn't think I could tell anybody. When I eventually did tell someone, someone I trusted and loved, he told me he was disappointed in me. I felt humiliated and ashamed, and I really wished I hadn't told him. I didn't tell anyone else for a very long time. And I suffered for it.

And many women I love have been assaulted. It's not my place to share their stories, but the bottom line is this: of all the women I'm closest to, more of them have been assaulted than haven't. Many of them didn't talk about it with anyone for a long time. And they've suffered for it too.
If I had just walked up to you and told you that, would your first response be "How do you know your loved ones aren't lying to you? How do I know you're not lying to me? Women lie sometimes. We should be talking about that."
The women I know who don't go public with their stories fear they won't be believed, fear they'll be blamed, or fear there will be reprisals against them. And I can't reassure them that wouldn't happen, because, from what I've seen, that is usually what happens. Even in the more obviously criminal situations, I couldn't get them to tell the police. Often they won't even tell their social circles. The men who do these things just go on with their lives, in many cases going on to assault more women who also won't say anything. My heart breaks for those future women, who I can't save. It breaks for my friends, who got no justice or relief.
Before this post, I've only told a handful of people that this has happened to me. It's not something I want to think about, and it's not something I want to be defined by. But I've decided to write about it because I'm tired of having this conversation as if we're discussing "them"—other women, not present, who have gone through this and what it may or not be like for them and how they may or may not react to the way we discuss this. We're not talking about "them," we're talking about me. We're talking about my family and friends. And, in all likelihood, we're talking about your family and friends too. For countless people, this is not an abstract discussion; this is our lives.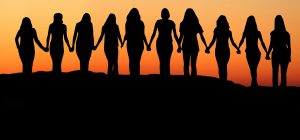 The more vocal I am about how seriously I take this, the more women end up telling me their stories. They trust me to believe them, and they also trust me not to tell anyone. Sometimes that's the hardest part, because I want to tell everyone. I want people to understand how common this is.
In one of my friend's cases, I knew the guy. I fantasized about walking up to him and punching him in the face. But she didn't want me to say anything to anyone. So when I saw the guy, I had to just act like nothing had happened. Everyone acts like nothing has happened. I wonder if he even thought about it again. She was intimidated about leaving her house, she would cry when she got home, she would make extra sure her door was locked—and he doesn't even have to think about it again.
When I think about how many women I know—personally—who have not only been preyed on, but then shamed or intimidated into silence, I feel overwhelmed.  I'm overwhelmed with sorrow and I'm overwhelmed with rage. I feel rage at men who take whatever they want with no real concern about repercussions, and I feel rage to know they're right not to worry. I feel rage at a society that's quick to find reasons not to take my friends' stories seriously, not to face how common this is. I feel rage at myself that I can't do anything besides listen and grieve.
And you know what else? If you're the person who can't have even one conversation about this without saying "what if she's lying?" – I feel rage at you.
You think because you're not physically attacking anyone, because you're "just asking questions," that you're not a part of this—that you're innocent. You are not innocent. Every time you talk about this publicly or in groups, odds are good that someone who's been through it is listening. She's hearing your suspicion and condemnation, and she's deciding she's much better off never telling anyone. If no one knows, no one can call her a liar, man-hater, idiot, or slut. No one can use one of the most painful parts of her life to hurt her all over again. But she's also a lot less likely to get the help she needs. And the guy who attacked her is free to go attack someone else.
And you. You who think we don't talk enough about false accusations, who think we don't consider how scary it is for men to hook up with women they don't know, who think a man assaults an unconscious woman hidden behind a dumpster because of a "hook-up mentality"–you're a part of this. Where do you think "culture" comes from? Each time you talk about sexual assault, you're contributing to a culture of some type. You might be contributing to a culture of support, compassion, a desire to understand. But if you're contributing to a culture of suspicion and blame, that's on you. She hears you, and she's shutting up, and that is on you. So I feel rage at you too.
When I talk about "rape culture" I'm not advocating for a political party or policy or position. I'm not calling for a ban on any ideas or any topics of conversations. Talk about false accusations, talk about drunken regret, talk about whatever you want. Just understand your conversations aren't happening in a vacuum; silent victims are listening to you.
So when I talk about "rape culture," that' s what I'm trying to make clear. I want you to recognize that none of us are observing this from the outside; we're all involved. Everyone who talks about this—and everyone who refuses to talk about it—is a part of this. We are all a part of this. And all I really want is for you to think about which part you're playing.