As an observant Mormon, I am obviously not the most qualified person to talk about beer or any other alcoholic beverage. I think I tasted alcohol once when I bought home made "ginger ale" out of the back of a pickup truck in the mountainous woods of western Virginia (that would explain the snickers as I purchased my bottle), but I didn't drink enough of the strange-tasting liquid to get a buzz or anything. And that is about the extent of my experience with alcohol.
Not that I have anything against them. My interpretation of the Mormon prohibition on alcohol is that it is:
1. Partially a mistake. (The original scripture appears to have referred only to liquor, with a specific exemption for beer)
2. An attempt to build solidarity within the community. 
Here's the relevant scripture, in case you're curious. According to the preamble, the anti-alcoholic stance was originally "sent greeting; not by commandment or constraint" and was "adapted to the capacity of the weak". At some point after the original revelation, however, it went from suggestion to commandment, and I'm OK with that. As near as I can tell, it basically boils down to the idea that some Mormons would be unable to drink alcohol without becoming alcoholics (because they are human, nothing special about Mormons in that regard) and then they wouldn't be able to drink any more. And then you'd have a divide in the community: the "weak" who couldn't drink responsibly and the strong who could. Rather than have that divide, we just decided nobody would drink. Kind of beautiful, really. (Verse 17 is the one that makes me think this was originally not about beer at all, by the way.)
The point of the previous paragraph is just this: although I don't drink alcohol I don't think there's anything intrinsically immoral about it. In fact, my wife and I purchased a couple hundred bottle of wine for our wedding reception because most of our friends and family aren't Mormon and we wanted them to feel comfortable and have a good time. (My wife's cousin certainly did! Near the end of the reception the waitstaff gave him one of the last unopened bottles, expecting him to take it home, and instead he took it around back and drank it, then came stumbling back to tell everyone bleerily "I love you for who you are." Still one of my favorite  memories from the reception!)
And there's a lot about drinking alcohol that makes sense to me. Sometimes you just want something nice to drink–with a meal or just sitting on the porch–and water and soda just don't do it. I get frustrated ordering drinks at fancy restaurants, because my choices are always the same as if I was eating at McDonald's. So, that aspect I get. What I don't get, however, is the idea that you have to drink alcohol to lower your inhibitions. This has been something I've heard people talk about all the time. Going out with grad students early on in a new program, and the party is always stiff and uncomfortable until the drinking starts, and everyone loosens up. Alcohol, right? I doubt it. I think it's almost entirely a placebo effect. The mythology around alcohol gives people permission to drop their inhibitions more than the actual chemical does.
I think that because I've never seen people as uninhibited and goofy as perfectly sober Mormons at a good party. All the same kind of goofy silliness that I see when my non-Mormon friends get a little buzzed I see my Mormon friends just as capable of doing without any liquid courage to speed along the process. And yet this is apparently not just some kind of urban legend of alcohol. A piece by Jeffrey Kahn in the New York Times argues quite seriously that using alcohol to lower inhibitions was necessary for the development of human civilization. As he put it:
To free up those [exploration, artistic expression, romance, inventiveness and experimentation], we needed something that would suppress the rigid social codes that kept our clans safe and alive. We needed something that, on occasion, would let us break free from our biological herd imperative — or at least let us suppress our angst when we did. We needed beer.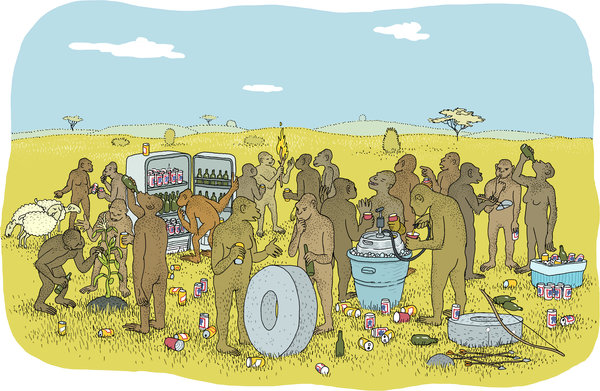 He also mentions a book he's written as well as other articles, so I'm pretty sure he's really serious. But I think it's a bit silly. Or, at least, I think that alcohol was important then primarily as it is important now. Not because it's actually necessary to the lowering of inhibition, but rather like Dumbo's feather. Once everyone knows that everyone else expects alcohol to lower inhibitions, then a new set of rules comes into play.
I don't mean for any of this to sound anti-alcohol. I've got no problem with it. I just think it's a bit silly to build the urban legend up into an academic theory. Drink or don't drink, I don't mind. As long as folks are being safe and enjoying themselves, what further explanation or excuse do you really need?