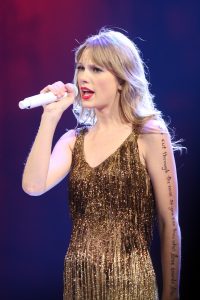 I'm pretty tired of the constant political onslaught (I mean, still #nevertrump, but remember when we used to talk about other things? no?  Homestar Runner? cat memes?), especially from random famous people.   But apparently this is blasphemous for anyone who thinks they are feminist, and Taylor Swift is the shining example.
The Washington Post has an article laying out the many "feminists" attacking T. Swift, along with some good commentary:
[Y]ou might think, given our current focus on women's rights and dignity, that "Reputation" would land with a girl-power splash. But you'd be wrong. Very wrong. In fact, Swift is already under fire from feminist critics. And their attacks reveal something very ugly about modern feminism: While today's feminists claim to champion the rights of all women, they speak only for women who agree with them – vocally, frequently and on demand…

The test of a feminist's commitment should be how she treats women who are different from her. It shouldn't matter if Swift agrees or disagrees, if she speaks or remains silent. We should applaud her ability as a person, independent, with her own heart and mind, to be who she wishes.
Taylor has been criticized (often throughout multiple articles) by Bustle, Salon, and The Daily Beast, among others.   Buzzfeed seems to be the one of sole holdouts – having articles going back up to four years about her feminism.
I'm not sure what or who these kinds of criticisms are going to help.  Nitpicking about being feminist "enough" can only make the movement look unnecessary.  So ladies, let's spend some more time attacking the patriarchy (I don't usually say that literally, but the time is ripe) and leave our fellow sisters alone, including Ms. T-Swizz.