So there's a new Star Trek trailer out, and people are mad. As far as I can tell, everyone is mad.1 And they're general reaction is: "this isn't Star Trek."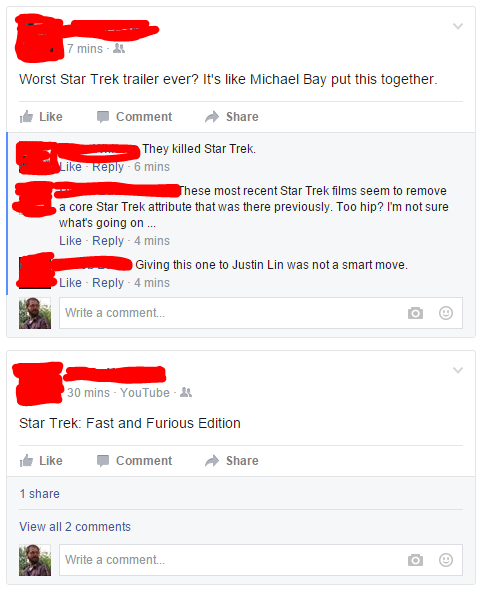 Me? I'm too busy feeling smug to be mad.
When I complained about little details like long-distance transportation in the first rebooted Star Trek and the all-around plot confusion of the second, other Star Trek fans called me a whiner. But I could see what they couldn't see (yet): the reboot isn't really Star Trek.
What do I mean by that? Well, here's what Keith Phillips had to say about the first movie back in 2009:
It is, undeniably, a reconsideration of what constitutes Star Trek, one that deemphasizes heady concepts and plainly stated humanist virtues in favor of breathless action punctuated by bursts of emotion. It might not even be immediately be recognizable to veteran fans as Star Trek. [emphasis added]
So, to every Star Trek fan who told me I was being too critical: I. Told. You. So.
Now, the second reason I'm not mad is this: the movie looks like it might be fun! See, here's the rest of Phillips' quote:
But they'll have to actively tune out Abrams' eagerness to entertain not to enjoy the ride.
For me, this comes down to how you define science fiction. The definition that means the most to me is the idea that science fiction is "the literature of ideas."2 This is often linked to science, and it was Isaac Asimov who wrote that sci-fi was "that branch of literature which is concerned with the impact of scientific advance upon human beings" 3 That's a good description of what was being written by serious sci-fi writers in the 1960s and 1970s, but it mistakes the tool with the goal. Extrapolating scientific advances to create new situations has always been primarily a method to ask philosophical "what-if" questions. It's the what-if that really matters. The extrapolated science was just a way to get there, and it ended up not being the only way.
This is why I stand by my designation of Frankenstein as the first real work of sci-fi. You can find older texts with, for example, trips to the moon in human-created craft, but in Frankenstein Mary Shelley wasn't just postulating some advanced medical technology for the sake of a good story (although there's that too), but also using those imaginary inventions to ask questions about creation and responsibility that you couldn't get to in any other way. The philosophical aspects of the work were at least as important as the scientific ones.
That, to me, is the heart of sci-fi. And it's what Star Trek has always done when it is at its best. The science in most Star Trek is ridiculous technobabble nonsense. But the world–and the individual episodes–were crafted to ask meaningful questions. That's where the romance of the world came from.4
This new Star Trek? Not only is it not recognizable Star Trek, but it's not even recognizably science fiction in the "literature of ideas" sense of the word.
But there has always been another definition of sci-fi living side-by-side with the "literature of ideas" version. The other definition is all action and adventure, and instead of Frankenstein you'd think of something like Edgar Rice Burrough's Barsoom series. This view of sci-fi is just action-adventure with lasers and rocket ships instead of handguns and airplanes. And you know what? I like that kind of sci-fi, too.
Of course in practice, these two views of sci-fi not only live side-by-side in the same bookstores, but often in the same books. Lots of people–myself included–find spaceships to be fundamentally romantic. We like them in the same way that other people really like tall ships. And so you can see a series like the Vorkosigan saga or the Honor saga as really just Patrick O'Brian's Aubrey-Maturin series or C. S. Forester's Horatio Hornblower series… but in space.
And that's OK!
In other words: I gave up on the Star Trek reboot as "literature of ideas" sci-fi back when the first one came out. I've had time to get over it. And so I'm ready to watch a new Star Trek movie as what the reboot series clearly wants to be ray gun and spaceship sci-fi. And who knows, on that basis? It could be really great.