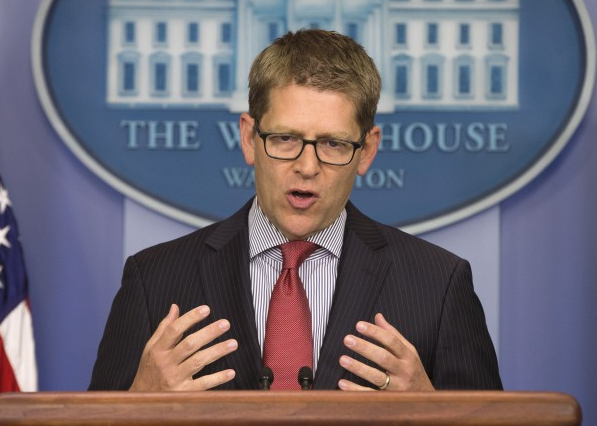 I think I might be fading into that fabled silent majority of American conservatives. Where I used to get into heated debates with folks in my cohort about their liberal beliefs, I mostly now just shake my head and try to get back to earning a living. Ain't nobody got time for that.
But I still see stories, now and then, that just irritate me to no end. Here's a collection. First, there's all the journalists who jump back and forth between journalism and working for the Obama administration. The Washington Times gives us some numbers: "The current count of press turncoats varies from a low of 15 reported by The Daily Beast to a high of 24 as reported by The Atlantic." Then there's old battlehorses like Bob Woodward or, more recently, Seymour Hersh showing up as the only guys willing to go to bad against the Obama administration (short of conservative pundits, of course). Woodward is famous for covering Watergate and Hersh is famous for covering My Lai and Abu Ghraib. Now Hersh says Obama is worse than Bush and castigates the NYT for "carrying water for Obama than I ever thought they would."
And then, to give a specific example, here's an obscenely bad story from CNN purporting to do some "mythbusting" about the impact of Obamacare. First, the article cites examples of where premiums on young men will double or even quadruple under Obamacare, but then it states "those comparisons are very misleading." Why are they misleading? Well first of all, because the policies are more expensive, but you also get more coverage. This is a stupid observation to make because more expensive policies with more coverage are already available. If you opt for the $60/month plan instead of the $240/month plan it's because you don't want the $240/month plan. It would be like if I went to buy myself a peanut butter sandwich, was told I had to buy lobster but that it was "misleading" to say I had to spend more money because lobster is worth more money than PB&J.
Secondly, the article argues that the more expensive Obamacare plans have lower deductibles. This is true, but it's also stupid because having a lower deductible doesn't mean you're going to spend less money. To have at least a pretext of being a real article and not jut outright propaganda for the administration the author should have at least mentioned some notion of expected cost. The reality is that premiums are so low for young men because they rarely access their plans. For the vast majority of people, the higher deductibles don't matter. Once again: they are being forced to pay more money for something they manifestly don't want and then CNN is trying to convince them that they aren't actually paying more money.
Yes, they are.
This is not my comprehensive argument against Obamacare. That's a huge law that neither I nor anyone else fully understands. In fact, one of the strengths of Obamacare is that it tries to force young people into the same risk pool as older, sick people and therefore spread the cost of insurance around. This is a good goal, but it is by definition a redistribution of income from the young and healthy to the old and sick. Trying to pretend otherwise is the same as trying to sell people magic beans.
No, this little rant is my explanation for why I am so scornful of arguments from my friends who support Obama and are very, very busying trying to construct a definition of reality in which the Tea Party are all lunatics and the largest expansion of government entitlements in decades is just moderate, common sense.
I'm not buying it.
I'm not buying it because the mainstream media has no credibility with me. Don't get me wrong: neither does the right wing "alternative media". I'm not basing my irritation on some theory I got from Infoworld.com or heard on AM radio. I just spent the beginning of my career analyzing health insurance plans and I know how they work. And the CNN article is total garbage. And it's coming from an establishment that has shamelessly and blatantly disregarded its sole reason for existence: which is to question those in authority and power.
I know that a lot of what the Tea Party stands for is extremist, ideological, and impractical. But I'm getting really tired of having them tarred as the only crazy people in the room. The reality is that the fundamental drive of the Tea Party is a reasonable one. It's a belief that government has gone too far, that we're significantly far from our roots as a nation, and that something significant needs to be done to reform the country. I find these arguments plausible but, more importantly, there's no way forward for us as a nation if we utterly reject the good faith concerns of a large section of the American populace. Marginalizing the Tea Party is a great short-term power play for Democrats. It's absolutely counter to the long-term interests of the American people.
The real question I see before us today is not a policy one, but a cultural one. Are we going to accept the further division of our society into warring ideological camps, one convinced that liberals are trying to scuttle the American Experiment and the other convinced that conservatives are trying to re-institute slavery repeal women's suffrage, or are we going to have the courage to treat each other with something that is at least a reasonable facsimile for respect?
'Cause here is my warning to liberals who feel like you guys are sitting on the mainstream pulse of America: you're not. Crowing about the way Mitt Romney's plan was repudiated in 2012 is short-sided and willfully blind. Yes, he lost the election. And yes, elections have consequences. But one election does not clearly dictate the inexorable future of the country. Democrats lost big in 2010 and stand to possibly lose in 2014. The fact that a large, coherent class of upper-middle class intellectuals who all read the same sources happen to think that they see things clearly does not make it so. The widespread discontent from the right  needs to be treated with authentic respect rather than arrogant disdain. (Also, if the right would please stop accusing the left of being traitors, that'd be nice.)
I hate politics with a passion, and the more I study it the less I think it matters. People matter. Culture matters. And that's where we need to make a change.