The media has exploded over Pope Francis' recent apostolic exhortation. In it, he denounced social and economic inequality, which he declared are "the result of ideologies which defend the absolute autonomy of the marketplace and financial speculation" and "trickle-down theories."1 The media hailed it as an anti-capitalist proclamation, while virtually ignoring other important factors like his attack on abortion.2 While some are seeing Francis' remarks as radical, it is virtually the same message found in, say, the exhortations of John XXIII (1961) or Leo XIII (1891). This just reinforces Nathaniel's point in his post "Meet the New Catholicism, Same as the Old Catholicism."
But I have some good news for Pope Francis and the media: things have been getting better for some time. The world isn't quite on its way to hell in a handbasket. Furthermore, it was the "autonomy of the marketplace" that achieved one of the major Millennium Development Goals of halving global poverty five years early. And as I've noted before, global inequality is actually decreasing. A brand new study supports past research by demonstrating that–though inequality is still high and increasing within countries (not just in America)–global inequality has seen an unprecedented decline.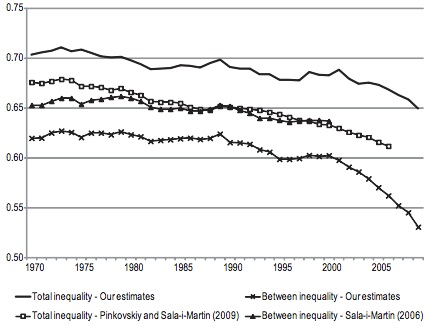 (Above graph provided by GMU's Robin Hanson)
This is not to say that all is well. There is much, much more to be done. But these are positive trends; trends that caused one journalist to declare 2012 (at the dawn of 2013) the best year ever. We have seen incredible progress over the past couple centuries. If we want to address social ills like those Pope Francis spoke of, we should look to those policies (and yes, ideologies) that have made these positive trends possible.