I'm impressed with the evidence and the citations that FightTheNewDrug.org provides in their exposé of pornography. In this section, called Porn's Dirty Little Secret, they document the connection between pornography and violence and sex trafficking. It's an uphill battle because, perversely, a large section of the feminist movement itself sees porn as empowering for women. This is another example of how feminists in America risk taking their own privilege for granted. Porn might be a choice for a woman who is in a position of power because of her race, class, and age but that's an exceptional case. Not the rule.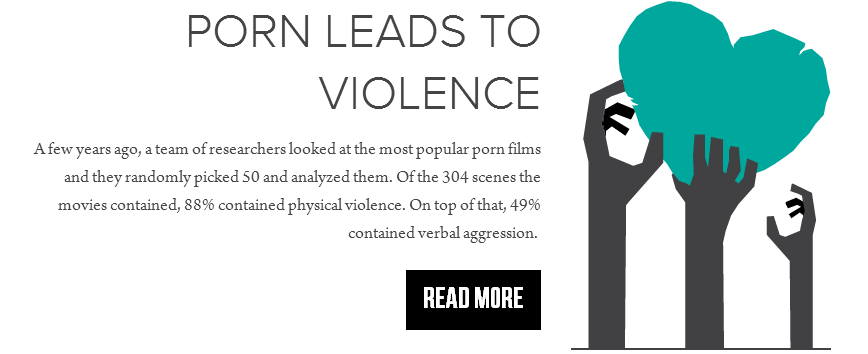 I think some of the most persuasive arguments from the site are those that explicitly try to take down the myth that there's good porn and bad porn by showing how blurry the line between violent aggression and corporate porn can be.
Part of the lie porn producers want customers to buy into is that porn is legitimate entertainment made by glamorous people who are doing it because it's what they want; it's OK for the user to enjoy it because the people they're watching seem to be enjoying it. What they don't say is that some of those people look like they're having a good time because behind the scenes they have a gun pointed at their head. And if they stop smiling, it will go off.

Obviously, human trafficking is an underground business, making firm statistics hard to come by. But the facts in cases that come to light are chilling. For example, in 2011, two Miami men were found guilty of spending five years luring women into a human trafficking trap. They would advertise modeling roles, then when women came to try out, they would drug them, kidnap them, rape them, videotape the violence, and sell it to pornography stores and businesses across the country.

That same year a couple in Missouri was charged with forcing a mentally handicapped girl to produce porn for them by beating, whipping, suffocating, electrocuting, drowning, mutilating, and choking her until she agreed. One of the photos they forced her to make ended up on the front cover of a porn publication owned by Hustler Magazine Group.
I haven't even finished reading everything, but the information is solid, the arguments are good, and even the presentation is really powerful. (You can download sections of the website as nicely formatted .pdf's, for example.)
I know it's a ridiculously uphill battle, especially in the geek culture that I'm a part of, and that's why I'm happy to see such a great new resource.