President Thomas S. Monson–the leader of the Church of Jesus Christ of Latter-day Saints–died on January 2, 2018. Here is how the NYT covered this event: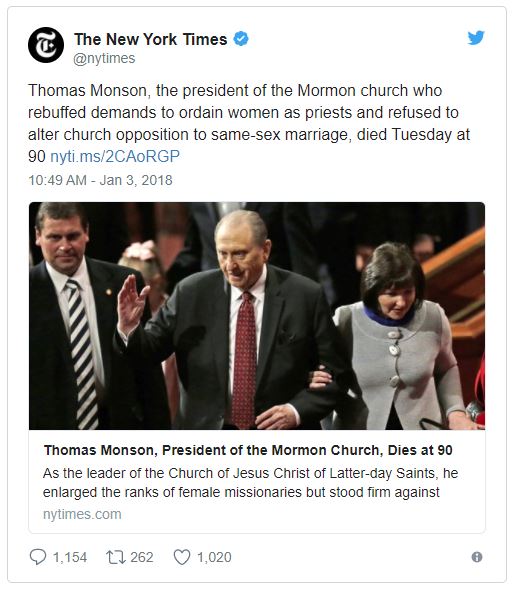 For contrast, this is what they tweeted when Fidel Castro died: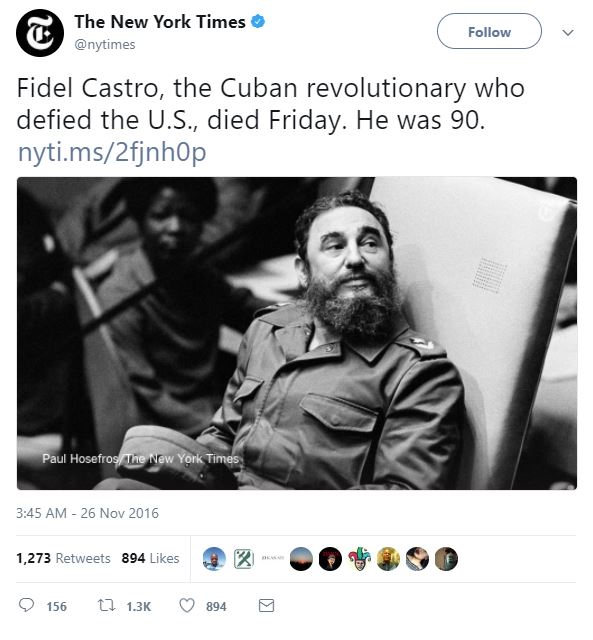 The NYT also had nice / neutral things to say about folks like Hugh Hefner and Hugo Chavez when they died. Hefner "founded Playboy magazine in 1953 and became inseparable from his brand" and Chavez "died after a long battle with cancer."
Under Fidel Castro, anti-gay discrimination was institutionalized.
After a discussion of homosexuality at the Cuban Educational and Cultural Congress in April 1971, homosexuality was declared to be a deviation incompatible with the revolution. Homosexuality was considered sufficient grounds for discriminatory measures to be adopted against the gay community, and homophobia was institutionalised. Gay and lesbian artists, teachers, and actors lost their jobs. Gays and lesbians were expelled from the Communist Party. Students were expelled from university. Gays were prohibited from having contact with children and young people. Gays were not allowed to represent their country.
It is worth noting that by the end of his life, Fidel Castro had done a 180 on gay rights. By 2010, he was calling their treatment under his own regime in the 1970s "a great injustice, great injustice!" and accepting responsibility for that treatment.
Even so, the contrast between the NYT's treatment of President Monson and Hefner, Chavez, Castro, etc. is illuminating. As Ben Shapiro wrote, commenting on Hefner and Chavez,
…it's much worse, from the Times' perspective, to be a religious person who abides by religious dictates on female ordination and same-sex marriage than to be a sexual profligate who trafficked in pornography, or to be a socialist dictator who destroyed an entire country. Monson was obviously a monster.
Pretty much.