(Note: I published a follow-up to this post on March 6, 2014.)
The March 2014 edition of the Ensign (which is the official monthly magazine of the Church of Jesus Christ of Latter-day Saints) is already available online. The cover article, called "What is the Lord's Standard for Morality" is stirring up headlines like Controversial LDS Article Raises Concern Of 'Rape Culture' and attracting vociferous rebuttals like Morality? We can do much better than this.
The article is by and large a tame restatement of the basic moral principles of the Church of Jesus Christ of Latter-day Saints as they relate to sex. These standards are pretty much identical to the basic moral principles of all traditional faiths. Quoting from the article:
The Lord's standard of morality is not so much a list of do's and don'ts as it is a principle, which can be expressed as follows: The procreative power is to be exercised in the marriage relationship for two key reasons: (1) to bind and strengthen ties between spouses and (2) to bring souls into the world. These uses have the blessing and endorsement of the Lord.
Despite the fact that the principle is more than "a list of do's and don't's," the article goes on to clearly stake out the practical implications of this principle in plain English: Don't have sex outside of marriage, including homosexual sex at any time. Don't try to get around the "no sex before marriage" on a technicality, i.e. don't even fool around. Don't masturbate. Don't look at porn. Dress modestly. The ongoing controversy illustrates the necessity of these clarifications.
It's no surprise that these standards would be ridiculed and dismissed by pop culture. If the world at large doesn't hate you, then you're doing something wrong.1 There's nothing new or noteworthy about the idea that religious fuddy-duddies and goody-goodies are silly in the eyes of the world. What's surprising to me, however, is the amount of push-back coming from within the Church. The most problematic paragraph comes from the section about modesty, and reads as follows:
The dress of a woman has a powerful impact upon the minds and passions of men. If it is too low or too high or too tight, it may prompt improper thoughts, even in the mind of a young man who is striving to be pure.
The outrage comes from thinking that goes something like this: if you say that the way women dress controls how men think and feel, you are making women responsible for men's actions. In fact, this is the very logic used to defend rape culture: women who dress immodestly are "asking for it". Therefore, the Ensign is now perpetuating rape culture.
Let's deconstruct this reasoning.
First, to say that "the dress of a woman has a powerful impact upon the minds and passions of men" is not the same as saying "women control men's thoughts." In every other human interaction, we're perfectly capable of understanding that a person can influence you without controlling you.2 If someone cuts you off in traffic, they are going to have a "powerful impact" on your mood. That's a fact. But your reaction to that provocation is still your decision and therefore your responsibility. That's another fact. These two facts, (1) that someone can influence you and (2) that ultimately your behavior is still your own responsibility are two facts that people seem to have no problem accepting simultaneously until the discussion turns to modesty. Then suddenly we get this bizarre notion that we can't say "women have an influence on men" without saying "everything men do as a result is a woman's fault." That bizarre notion makes no sense, and doesn't appear (explicitly or implicitly) in the article.

This article doesn't claim that women are responsible for men's thoughts. That's the accusation, and it is false. Men are still responsible for their own thoughts, but it would be nice if women would dress modestly to help them out. Just as people are responsible for keeping their tempers in control, but it's generally considered common courtesy not to provoke people unnecessarily. Let me reiterate: if I say "Be nice, because it will help other people not lose their temper," it doesn't mean that I'm saying it's your responsibility whether or not some random stranger loses his or her temper. Even though we interact with each other, we are ultimately responsible for our own behavior, and that's it. The Ensign shouldn't need to specifically call this out, because it's right there in the 2nd Article of Faith: "We believe that men will be punished for their own sins."3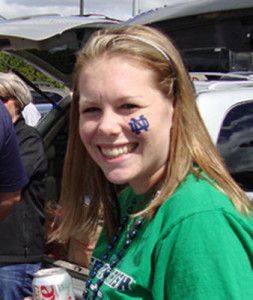 Allow me to observe, at this point, that not only does the article not blame women for men's mental purity, but it never even gets remotely close to discussing rape. That's… not even in the ballpark. Let's be really, really, really clear. An Ensign article making the entirely obvious observation that men respond to the way women dress is not "rape culture". A young girl being brutally raped by football players and then being harassed when she appeals for justice until her family is driven out of town and their house is burned down, that is rape culture. CNN reporters who talk about what a tragedy it is for rapists to be found guilty of rape and deprived of their promising futures, that is rape culture. Everyone talking about the fictitious death of Manti Te'o's non-existent girlfriend while totally ignoring the actual suicide of "Lizzy Seeberg…  not long after being intimidated by Notre Dame football players for reporting a sexual assault by one of their teammates," that is rape culture.  Chris Brown being accepted back into polite society (with a few notable exceptions), that is rape culture. Roman Polanski being embraced by his peers after his crimes? That is rape culture. Woody Allen being defended after the very credible allegations of his crimes? That is rape culture. Ray Rice having a fine and dandy career after video emerges of him dragging his unconscious fiancee out of an elevator (because he knocked her unconscious) that will be rape culture if that's how the story ends. Even if you think the Ensign article is wrong and misguided, putting it in the same category as these (horrifically numerous) examples of rape culture is like comparing every bad thing that happens to the Holocaust. It trivializes real evil and makes you look like a fool.4
I understand that there are more moderate criticisms as well, such as the fact that modesty standards often seem to be unequally applied to women vs. men. They appear to be unequally applied because they are unequally applied. They are unequally applied because of the fundamental reality that females are on the supply side and men on the demand side of the sex equation. That is common sense which everyone who is not motivated by politics can see, but it is also (in case you're skeptical) scientific fact. Men and women approach sex differently5 but it is men who are primarily motivated by visual cues and also who want to have sex more frequently and more casually. (Once again, these aren't just random assertions. There is data.) A gender-blind approach to sexuality would be no more reasonable than a gender-blind approach to professional sports. If the WNBA did not exist, how many women would make the cut to play pro basketball against men? Zero. Pretending gender differences do not exist when they do in fact exist may be politically expedient, but it does not actually serve the interests of equality.6 If you're looking for symmetry, this is where you will find it: women are encouraged to dress modestly (partially for their sake, partially for the sake of men) and men are encouraged7 to stop watching porn (partially for their sake, partially for the sake of women). There is equality, but not sameness, in the Lord's standards for sexual morality. Make no mistake: that is the core outrage which this article perpetuates in the minds of its critics. Mormonism espouses a view of humanity in which gender matters, and therefore believes that men and women owe certain obligations to each other in a complementary relationship. The modern world espouses a denialist political ideology in which gender has no deep or lasting significance that we do not create for ourselves.
It is also no great surprise to me that so much of the outrage at the article is coming from professional therapists. The article invites that response when it leads off with a bold statement that God, and therefore the Church, is the ultimate arbiter of sexual morality.
Some years ago my father, an attorney, was trying a lawsuit. For his authority, he cited only one case—a California Supreme Court case issued many years before. His opponent cited a number of lower­court decisions of more recent vintage. The judge said to my father, "Mr. Callister, don't you have a more recent case than this?" My father looked at the judge and replied, "Your Honor, may I remind you that when the supreme court speaks on a matter, it only needs to speak once." The judge nodded with approval. He was reminded that the supreme court trumps all lower­court decisions, how­ ever numerous or recent they may be.

So it is with God our Father—He needs to speak only once on the issue of morality, and that one declaration trumps all the opinions of the lower courts, whether uttered by psycholo­gists, counselors, politicians, friends, par­ents, or would ­be moralists of the day. [emphasis added]
In fact, the reaffirmation that the Church has the final word on these matters may be the only truly novel claim made in the article. Everything else is a restatement of traditional beliefs. This one is hardly surprising, but it is fairly novel. So it's natural that psychologists and counselors would lash out in response. It's a turf war: who gets to define moral standards for sexuality? The Church? Or the APA?8
Let's take a look at the claims made by one counselor in particular, as a representative of the apparent conflict between General Authorities and counselors.  Natasha Helfer Parker, in her article Morality? We can do much better than this… has a bullet-list of issues with the Ensign article. She starts by claiming that the article leaves no room for personal revelation. This is obviously not true, as personal revelation is always necessary in addition to official pronouncements and even scripture. That is a fundamental and constant principle of Mormonism. It does not need to be restated in every article. However, in this particular case, I'm wondering precisely what revelation she has in mind. Is she suggesting that if you pray and ask, God might just tell you to go ahead and have sex outside of marriage? There are often shades of gray and complications with applying moral principles, but the "no sex outside of marriage" one is about as universal and clear as it gets.9
She next takes the article to task for calling masturbation "self-abuse" because "this is not an appropriate clinical term." She may not have noticed, however, the Ensign is not a clinical journal. The inability of experts to understand that specialized terminology must give way to common vernacular in non-specialized contexts is faintly amusing. It reminds me of the time that an outraged medical doctor told my father (a professor of English) that it was unfair for PhDs to be referred to as "doctor" because medical doctors had to study harder and did so much more good. My dad smiled, and reminded him that hundreds of years ago when college professors were already using the term "doctor," the medical professionals of that day were known as "leeches". Perhaps if he wanted a unique title, he could try and resuscitate that one?10
Most of the rest of the bullet points rely on the same tired strawman approach of insisting on seeing a viewpoint you don't like in its most crude and absolutist form. But the most sinister criticism she levels is the one that comes at the end of the bullet list, although it's a sentiment that pervades the entire piece, and that is this: "The way that sexual standards are presented in this type of talk is unrealistic and sets people up for failure."
Well now, we wouldn't want to set people up for failure, now would we? Contrast this sentiment with Paul's simple statement that: " all have sinned, and come short of the glory of God."11
If not all have sinned, than the Atonement is not necessary. If the Atonement is not necessary, then Christ is superfluous. If Christ is superfluous, then the Gospel is a joke. What good news? We have no need of a savior. We just lower moral standards to the lowest common denominator (or maybe pray for an exemption) and then everyone gets to heaven on their own merits. This well-intentioned call for lowered-standards is sadly anti-Christian. The entire message of Christianity–not just Mormonism, but all Christianity–is that none of us can live up to God's impossible standards. She faults this Ensign article, but it was Jesus himself who said "Be ye therefore perfect, even as your Father which is in heaven is perfect."12 Maybe we ought to just hand Parker a copy of the New Testament and a red pen and let her tell us what Jesus should have said.
I will say at least this much for Parker: the fact that she couldn't even get to the end of one article without cutting out the beating heart of Christian faith provides a very clear example of just how important it is that the business of articulating eternal standards stay in the hands of the General Authorities.