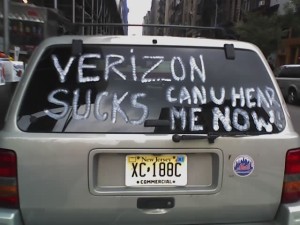 Imagine our roads are owned by a few large private corporations. Next, imagine that they can dictate who gets to use them and how, and they hand out preferential access to certain people and companies to curry favor, or who do them favors, or who pay them money. Your purchases from Amazon still arrive on time but now cost more. Deliveries from your favorite Etsy shop? Same cost, but now they take twice as long to arrive. Sound like a fun time? What about when access to information becomes a life-and-death issue?
That is, essentially, what may happen to internet access in the US after a DC Court of Appeals ruling threw out FCC rules preventing internet service providers from discriminating against traffic on their infrastructure.
I'm not a populist. I'm also not a corporatist. This issue is usually framed as a lack of enough or effective government regulation over the giant, powerful telecom industry. It could also be said that the entire mess could have been avoided if over the past 25 years or so federal and local governments hadn't habitually handed out special privileges to a select few industry players, giving them inroads and allowing them to entrench themselves, making true competition nearly impossible.
For the moment, let's put aside the fact that we, the taxpayers, are the ones that paid for much of the internet infrastructure we're using. Let's put aside the fact that telecoms promised high availability, high speeds, were given incentives by government in the form of tax breaks and cash and then failed to deliver, but kept the money anyway. Let's put aside the complaints from Verizon, AT&T, et al that the strain put on "their" infrastructure (that, remember, we paid for) due to the way the modern internet is used is the reason they're being "forced" to sue for preferential treatment of traffic on their lines.
Let's put all that aside and focus on the issue at hand: ISPs do not have your interests at heart and they will abuse the lack of net neutrality. It's in their nature. Getting mad about it is like getting mad at a lion for hunting and killing a gazelle. But that doesn't mean we should just let it happen. As I see it, there are three solutions given the situation we're in:
1. Enforceable, unimpeachable net neutrality legislation. Since both the FCC and Congress have much to gain pleasing their corporate interests and risking a bit of unpopularity in the home constituency, it will take a fairly sizeable grassroots movement to overturn that kind of momentum. This is difficult, but possible, given the demographics of internet enthusiasts in the US.
2. More competition. What better way to say "screw you" to Verizon, AT&T or Comcast and their anti-consumerism than switching ISPs? Well, first you need an ISP to switch to. I believe the market-based solution is the strongest, the most unassailable long-term, but may be much harder to effect than getting more rules and laws on the books: Local and federal government need to stop discouraging if not preventing new entrants in the market. They need to stop playing favorites. They need to incentivize new players to enter the market but recoup the outlays when projects fail.
3. Government takes over provision of broadband internet. No, thank you.
Unless the FCC, with its own questionable motives, manages to pull out a Hail Mary victory from this seemingly-sure defeat, this isn't something we can ignore and expect it to go away. Just like SOPA and PIPA, this matters. Let's hope it's not too late before we realize it.