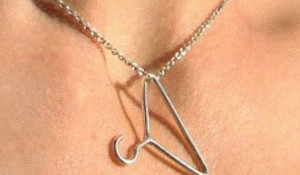 Kevin Williamson at National Review has an article on the "coat hanger" mythology surrounding the abortion debate. Quoting the DC Abortion Fund, Williamson writes,
"The coat hanger is a symbol of the reproductive justice movement because lack of access to abortion causes women to go to desperate lengths to terminate a pregnancy, similar to those undertaken in the pre–Roe vs. Wade era. At that time, consuming Lysol and household poisons was not uncommon to instigate abortion. Nor was inserting knitting needles, Coke bottles, and — yes — wire coat hangers into their cervices."
As Williamson explains, "That is untrue. It has long been known to be untrue. The wire hanger is indeed a powerful symbol — the symbol of a lie engineered with malice aforethought."
See why in the full article.