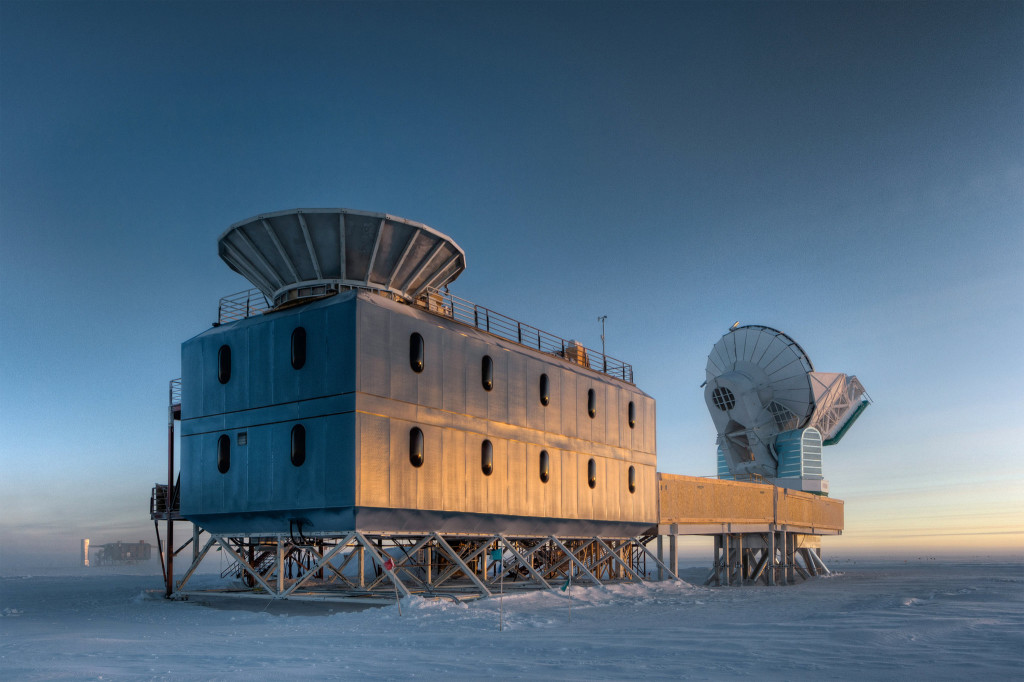 Just over a week ago reports with headlines like Big Bang's Smoking Gun started to appear all across the Internet. Just yesterday the New York Times weighed in on the significance of the discovery, ranking it alongside the Higgs-Boson:
These gravitational waves are the long-sought markers for a theory called inflation, the force that put the bang in the Big Bang: an antigravitational swelling that began a trillionth of a trillionth of a trillionth of a second after the cosmic clock started ticking. Scientists have long incorporated inflation into their standard model of the cosmos, but as with the existence of the Higgs, proving it had long been just a pipe dream.
There are already skeptics1, but I want to focus on an odd, impromptu interview with Andrei Dmitriyevich Linde and what it says about the relationship between science and faith. Linde is one of the physicists who first proposed the theory of inflation decades ago, and in the video Professor Chao-Lin Kuo surprises him at his home with initial results confirming that Linde has been right all along. Something Linde said really struck me:
If this is true, this is a moment of understanding of nature of such a magnitude that it just overwhelms and… let's see. Let's just hope that it is not a trick. I always live with this feeling "What if I am tricked? What if I believe into this just because it is beautiful? What if…?" Yes, so this is really helpful, to have evidence like that. It's really, really helpful.2
Professor Linde's question really struck me the first time I heard it. "What if I believe it just because it's beautiful?" What that expresses to me is a much more nuanced and comprehensive understanding of human belief and faith than we are usually allowed to glimpse when the guardians of right and proper rationalism are busy trying to drive their wedges between religious faith and scientific evidence. Just so we're clear: I'm not equivocating the two, nor am I in any way suggesting that this new discovery itself validates theism.
What I'm doing is just pointing out that belief is about more than just rationality and objective evidence. It's about intuition and symmetry and beauty and value. I think it would be a terrible misrepresentation of Linde's faith in his unverified theories to call it "wishful thinking," or "blind belief," although there are aspects of both wishing and blindness in it. Similarly, ugly dismissals of religious conviction using the same labels strike me as a fundamentally impoverished view of what it means to be a human being in a world of mystery and contradiction where questions always outnumber answers on any truly meaningful issue.
From where I'm standing, the kind of tentative, pioneering scientific faith that precedes (but dos not obviate) experimental validation is a close cousin of the kinds of thoughtful, humble religious conviction that have animated so many believers in so many traditions for thousands of years. Obviously we should never merely accept this kind of faith where there is the prospect of evidence at hand. But isn't it just as clear that this kind of faith is intrinsically noble and important? Clearly there are important differences between religious and science inquiry, but this is one commonality: faith is the beginning and not the end of inquiry.