Solemn oaths today seem to strike people as some combination of quaint, naive, and constricting. They're the kind of thing for a person long on overactive imagination and short on worldly experience. But personally, I like them very much. I find them to be an excellent vehicle for holding myself accountable. I also like them because I think there's something inherently weaselly about human nature. If we don't swear to something, we're more likely later to revise our personal narrative to fit what we ended up doing. True, one can always re-interpret the oath, but that act should be, to a a person at very least trying to be honest, a sign he or she has gone astray.
Most importantly, I like that a good oath has specific points you can either uphold or fail to uphold, and again to anyone at least trying to uphold their word, success or failure will be apparent. For example, I'm very fond of the oath of the Knights of the Round Table from Le Morte D'Arthur (updated from Middle English to modern English):
This is the oath of a Knight of King Arth[u]r's Round Table and should be for all of us to take to heart. I will develop my life for the greater good. I will place character above riches, and concern for others above personal wealth, I will never boast, but cherish humility instead, I will speak the truth at all times, and forever keep my word, I will defend those who cannot defend themselves, I will honor and respect women, and refute sexism in all its guises, I will uphold justice by being fair to all, I will be faithful in love and loyal in friendship, I will abhor scandals and gossip-neither partake nor delight in them, I will be generous to the poor and to those who need help, I will forgive when asked, that my own mistakes will be forgiven, I will live my life with courtesy and honor from this day forward.
So I can ask myself: Have I developed my life for the greater good, or have I spent my time playing video games and drinking beer? Have I placed character and charity above riches, or have I sought wealth before character and concern for others?  Do I say or think unfair things about women? Do I boast? Do I gossip? Do I forgive?
That's a really hard list. Beer and distraction are way more fun than personal improvement. Money buys me beer and makes me feel comfortable. Sexist thoughts and comments about women are tempting. And it feels like a week let alone a day doesn't go by without some temptation to boasting or gossiping. But I really, really like trying to hold myself to this standard because it makes me aware of the things I do that might not be right or just and would go unnoticed by myself if I didn't actively pay attention.
The Beatitudes aren't really an oath, but they're similarly structured in a way that you can evaluate yourself:
"Blessed are the poor in spirit,
    for theirs is the kingdom of heaven.
4 Blessed are they who mourn,
    for they will be comforted.
5 Blessed are the meek,
    for they will inherit the land.
6 Blessed are they who hunger and thirst for righteousness,
    for they will be satisfied.
7 Blessed are the merciful,
    for they will be shown mercy.
8 Blessed are the clean of heart,
    for they will see God.
9 Blessed are the peacemakers,
    for they will be called children of God.
10 Blessed are they who are persecuted for the sake of righteousness,
    for theirs is the kingdom of heaven.
11 Blessed are you when they insult you and persecute you and utter every kind of evil against you [falsely] because of me. 12 Rejoice and be glad, for your reward will be great in heaven. Thus they persecuted the prophets who were before you.
The wording isn't entirely concrete, but I think it's clear enough. Have I been poor in spirit? Meek? Merciful? Clean of heart? Have I sought peace and reconciliation wherever possible? These are prime metrics by which I may judge whether I have walked rightly or not if I have the integrity to evaluate myself impartially, and again, they ask a great amount. Being meek and clean of heart is a continuous struggle. Peace and reconciliation are often far from our thoughts.
Lastly, I like oaths because they are a commitment to faithfulness and call to action. I took an oath upon my confirmation in the Catholic Church at 23:
For "by the sacrament of Confirmation, [the baptized] are more perfectly bound to the Church and are enriched with a special strength of the Holy Spirit. Hence they are, as true witnesses of Christ, more strictly obliged to spread and defend the faith by word and deed."
I have given God my word that I will uphold and defend the faith by word and deed. If I go back on that word, I will know that I am a liar and traitor for all of my life.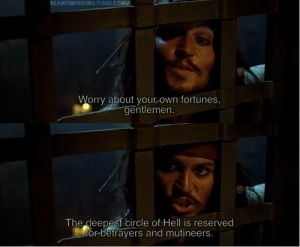 And that fact applies to everything I do. When I fail to live as Christ taught, in the Beatitudes and elsewhere, I fail to live by my oath. I bring disrepute upon the Church and the greater Christian communion. The only answer then, if I am to be faithful to my word, is to continually bring my life closer to the life of Him whom I have sworn to serve.