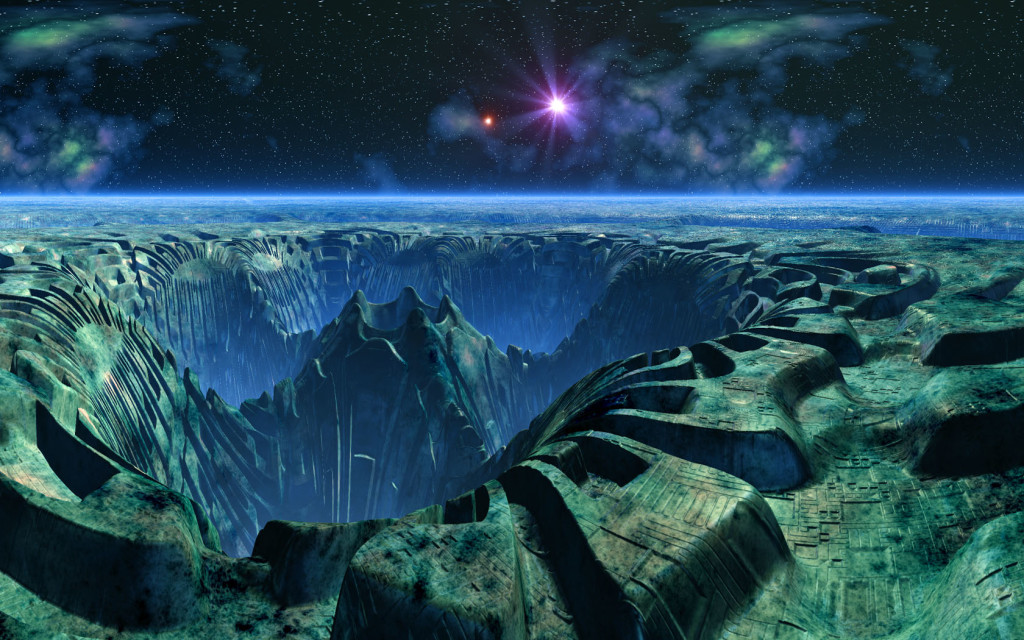 I have spent an inordinate amount of time following the Hugos this year, including over a dozen interviews with writers and editors in the sci-fi community1, and so I was up until 3am on Sunday morning looking through the results. I've read a lot of reactions since then–from both pro-Puppy and anti-Puppy sources–and my main take away is that there are an awful lot of losers this year and very few winners.
One of the winners is Liu Cixin, the author of this year's Best Novel: The Three-Body Problem
. There's no doubt in my mind, as someone who read all the best novel nominees and voted in the awards, that Liu's novel deserved to win. But how it won is probably the most important take away for me from this whole fiasco.
First, of course, a brief recap. A group of conservative / libertarian authors–originally led by Larry Correia and this year by Brad Torgersen–led an initiative called Sad Puppies 32. Their goal was, according to Torgersen, to strike back against a small social-political clique of social justice warriors who had dominated the Hugos in recent years. The Sad Puppy strategy was to nominate authors who (1) were good, (2) were ideologically diverse, and (3) wouldn't have otherwise made the ballot. Another group–the Rabid Puppies–mirrored the Sad Puppies slate almost exactly but had a much harder edge to their rhetoric. Their leader, Theodore Beale aka "Vox Day"is a very controversial figure. His real beliefs and actions are often distorted by an unfriendly media, but the reality is that even without distortion he's not an appealing character.3
Things exploded in April when the nominations were announced and it turned out that the Sad Puppies / Rabid Puppies slate had basically swept the ballot, pushing almost all other works by all other authors off the slate. This was not intentional, in the sense that nobody–not Torgersen or Correia or Day–believed that their slate would be so successful. This meant, among other things, that The Three Body Problem was initially not on the ballot thanks to the Sad Pupppies / Rabid Puppies campaign.
At this point, the reasonable thing would have been for the Sad Puppies to state publicly that sweeping the ballot was not the intended goal of the Sad Puppies and that they would take steps (Sad Puppies 4 had already been announced) to avoid slate-sweeping next year. They did not.
At this point, the reasonable thing would have been for prominent critics of the Sad Puppies to concede that the Sad Puppies were reacting to a legitimate grievance. The insular sci-fi community is highly susceptible to favor-trading (aka "log rolling") and the high percentage of social justice warriors in the community made an unwelcome atmosphere for conservatives or libertarians and could certainly have had an effect on the composition of the awards in recent years. They did not.
Instead, the critics of the Sad Puppies launched a truly breathtaking campaign of slander and intimidation that focused on calling the Sad Puppies campaign misogynist, racist, and homophobic. The best example of this is the Entertainment Weekly article that had to be "fixed" almost beyond recognition when Torgersen threatened a lawsuit over the obvious lies. (Original version. Current version.) As a result of these tactics, Torgersen and other Sad Puppies supporters were in absolutely no mood to concede their mistake and make concilliatory gestures. So nobody from Sad Puppies suggested that their tactic had been a mistake or made promises to alter the tactics for next year. In addition, several Sad Puppies nominees backed out of their awards when they saw how angry many in the sci-fi community were, including Marko Kloos. He pulled his novel Lines of Departure
(which was really, really good and deserved to be on the slate) and as a result The Three-Body Problem was placed on the ballot instead.
And yet the Sad Puppy / Rabid Puppy tactics obviously were a mistake. First, as I said, there's the immense problem with The Three-Body Problem not even making the ballot. Sure, taste is subjective, but this book was really, really good. More importantly, however, it's a book that was originally published in China in 2008. You want real intellectual diversity? Well there you go: a book that is literally off the American socio-political map. Additionally, the Sad Puppies again and again defended many of their choices (like Kevin J. Anderson's The Dark Between the Stars) by referring to the author rather than the work. Best novel is an award for best novel. It's not some kind of lifetime achievement award. So the repeated references to Anderson's contribution to the genre (he's written over 100 books) were not only irrelevant, but a real give-away that the Sad Puppies 3 slate had basically no serious thought behind it. It was just a haphazard collection of books a few of the Sad Puppies folks had happened to read last year, without sufficient regard for quality of the individual works.
As a result, the anti-puppies movement was able to easily cast the Sad and Rabid Puppies as invaders who had come to ruin the Hugos. Their hysterical accusations that the Puppies were Nazi's were silly, but their accusation that the Puppies were ruining the awards had real validity. Sad Puppy opponents insisted that the only solution was for fandom to rise up in righteous wrath and repudiate the incursion by voting "No Award" above any and all Sad / Rabid Puppy nominations.4 This surge was quite strong. Nobody knew how strong until the votes were announced this past weekend, but–according to some preliminary analysis at Chaos Horizon–the breakdown of the record-breaking 6,000 voters went as follows:
Core Rabid Puppies: 550-525
Core Sad Puppies: 500-400
Absolute No Awarders: 2500
Primarily No Awarders But Considered a Puppy Pick: 1000
That sums up to 4600 hundred voters. We had 5950, so I thin the remaining 1400 or so were the true "Neutrals" or the "voted some Puppies but not all."
My take away, thus far, is pretty simple. The Puppies absolutely have a legitimate grievance, and the vile slander that came out vindicates them. Furthermore, the "No Award" campaign clearly crossed a line from a legitimate attempt to punish the bad tactics of the Puppies to a witch hunt when, for example, it No Awarded the Editor categories. Chaos Horizon again:
I'm stunned at the 2500 No Awarders in the Editor categories; there were some mainstream, decent editors on that list. If 2500 people were voting No Award on that, that's out of principle.
A lot of those editors had no affiliation with Sad Puppies and may not have given permission to be on the Sad Puppy slate (or even been aware of it). Punishing them is going too far.
On the other hand, the Sad Puppy tactic was a terrible tactic and their refusal to acknowledge this and/or pledge not to repeat it justified a lot of the negative counter-reaction. They also, in my own opinion, picked some really terrible works that didn't deserve to be nominated on strictly apolitical, aesthetic grounds. (I will include my votes at the end of this post.)
But there was one more thing in the Chaos Horizon data that really, really stuck out to me:
What the Best Novel category would have looked like with No Puppy votes:
Ancillary Sword, Ann Leckie
The Goblin Emperor, Katherine Addison
The Three Body Problem, Cixin Liu
Lock In, John Scalzi
City of Stairs, Robert Jackson Bennett

Other initial Best Novel analysis: Goblin Emperor lost the Best Novel to Three-Body Problem by 200 votes. Since there seem to have been at least 500 Rabid Puppy voters who followed VD's suggestion to vote Liu first, this means Liu won because of the Rabid Puppies. Take that as you will. [emphasis added]
So, as I said at the outset, the fate of the eventual winner speaks volumes about this entire sordid fiasco. First, the Sad Puppies and Rabid Puppies kept Liu off the ballot. But in the end, it was their votes that put him over the top. That lineup also speaks volumes, I think, about the Sad Puppy's original accusation. There's really no way that Ancillary Sword should have won this year. I don't think it even should have been nominated. It's mediocre. But it's also far and away the most politically palatable book and its presence at the top is a strong indication to me of exactly what the Puppies are complaining: politics ahead of quality.
In short, we've got two fairly extreme factions (the Sad / Rabid Puppies and the SJWs) who are basically wrecking the Hugos for everyone at this point.5 If either of these groups had had it their way, The Three-Body Problem would not have come out on top. I am very pleased with the best novel winner this year, but neither of the factions gets credit for this happy outcome.
Next Year: Sad Puppies 4
I support the stated goals of Sad Puppies, and I hope they run the campaign again next year, but only on the following conditions:
Pick better books. Some of the picks were great. Others were… really not.
Pick the books for the right reasons: because the work is good, not because the author is important / wrote a lot / etc.
Make the pre-nomination process more transparent.
Do not ask for or notify any authors that their works will be included. This puts the authors in a terrible position and is not a standard practice.
In every category, nominate either 1-2 works or 8+ works. Doing this prevents the accusation of slate-voting and will also make it very unlikely that the Puppies will sweep any categories.
Tell people that this is the plan, and do so earlier.
If they don't do this–and it looks like they won't–then I'm going back to my default position: A pox on both your houses. Damn the SJWs for making this award about politics or identity instead of quality and also for their intolerant witch hunt tactics when confronting anyone who disagrees with them. And damn the Puppies for their disregard for the traditions of the Hugo award and their stubborn refusal to be good neighbors.
My Votes
I'm including my votes for the literary categories: Novel, Novelette, and Short Story. I ran out of time and couldn't finish all the novellas, so I didn't vote in that category. My approach was to vote based strictly on quality. I couldn't always remember who was or was not a Puppy nominee, and I didn't care. Based on my approach and voting pattern, I would fit as a "neutral" in the Chaos Horizon analysis.
Also: I'm kind of a strict voter. I used "No Award" more than once when I felt that the work just didn't deserve a Hugo. This is my first year voting, but I've read a lot of past Hugo winners (novel and shorter length) and there have definitely been several that I feel are blemishes on the award. So I had an attitude going in that if the book wasn't one I could be proud of as a sci-fi fan, I would no award it, but only for that reason. Politics had nothing to do with it for me.
I noted which stories were nominated by the Sad or Rabid Puppies (had to look that up), and I also bolded the actual winner.
Best Novel
1. Skin Game (Sad Puppy, Rabid Puppy)
2. Three-Body Problem
3. No Award
4. Goblin Emperor
5. Ancilliary Sword
6. The Dark Between the Stars (Sad Puppy, Rabid Puppy)
After reading The Three Body-Problem, I was sure it would get my #1 vote. But then I reread Skin Game
(to have them all read at more or less the same time), and it really is one of Jim Butcher's finest. I would have been really happy either way.
I think Goblin Emperor is very, very close to being Hugo-worthy, but it wasn't quite there. I wouldn't have been upset by that one winning. Ancilliary Sword was just mediocre in my mind. And I really, really didn't like The Dark Between the Stars at all.
The Sad and Rabid Puppies both nominated Marko Kloos' Lines of Departure and–since it made the ballot before he withdrew it–I read it. I thought it was great, and would have put it right after The Three-Body Problem.
Best Novelette
1. The Day the World Turned Upside Down 
2. The Journeyman: In the Stone House (Sad Puppy, Rabid Puppy)
3. Ashes to Ashes, Dust to Dust, Earth to Alluvium (Sad Puppy, Rabid Puppy)
4. The Triple Sun: A Golden Age Tale (Sad Puppy, Rabid Puppy)
5. No Award
6. Championship B'tok (Sad Puppy, Rabid Puppy)
I can't overstate how much I loved "The Day the World Turned Upside Down." I'm quite happy that it won. The rest were pretty good to OK. Except "Championship B'tok." I am very confused as to how that got nominated. It felt like it could have been part of a decent novel, but it didn't seem to function as a stand-alone story at all.  It was as though someone literally just grabbed a few random chapters out of the middle of a book and packaged them as a stand-alone story.
Best Short Story
1. Totaled (Sad Puppy, Rabid Puppy)
2. Turncoat (Rabid Puppy)
3. The Parliament of Beasts and Birds (Rabid Puppy)
4. A Single Samurai (Sad Puppy)
5. On A Spiritual Plain (Sad Puppy, Rabid Puppy)
6. No Award
"Totaled" had a lot of hype going into the Hugos, and it lived up to the hype. The author is also not remotely politically conservative and is, oh yeah, a woman. The fact that the No Award crew took her story out is an example of their defense of the Hugos turning into a witch hunt. It's really quite indefensible that they No Awarded her story.
Additional Reading and Final Thoughts
I'm kind of running out of steam on this topic, to be honest. When you don't really feel like there are any good guys to root for, you just want to walk away. But–if you would like to know more!–here are some current articles / blog posts. I'm sure there will be a lot more coming, but I think this gives you a sense of the spectrum:
The Breitbart piece is pretty hard to read because of how one-sided and kind of delusional it is. It's rather hard to claim victory when your group nominates a bunch of works to win an award and you win 0 awards, but Yiannopoulos sure gives it the ole college try.6 I've seen a lot of this kind of thing from the Puppies, and–as a sympathetic outsider–nobody's buying it. The Wired piece is, by mainstream standards, relatively fair. It definitely has a bias, however, and frequently passes along as gospel truth fairly tenuous allegations against the Sad Puppies or, in this instance, flat out omits relevant facts to spin a particular narrative:
Consider: A woman named Adria Richards Twitter-shames two white dudes for cracking off-color jokes at PyCon, a tech developer conference (and then is fired and fields murder threats).
What Wired doesn't tell you is that the two white dudes were fired first. Wired also gives you the impression that only liberal women faced death / rape threats from social conservatives. That is false: conservative women often face identical harassment from liberals. The sad reality is that threatening to kill or rape women over the Internet is a politically neutral activity engaged in by both the left and right. During the Hugo controversy, for example, relatively moderate social justice warriors had to call on their own supporters to stop issuing death threats at the Sad Puppies (men and women) more than once.
And the last piece is from John Scalzi, one of the most prominent SJWs in the sci-fi community. Some of what he says is dead on accurate "They [the Sad Puppies] gloated about the slates getting on the ballot, and the upset that this caused other people. That's a jerk maneuver." Yup. I talked to some very prominent writers7 who didn't care about politics but hated the Sad Puppies for their tactics and attitude. But then a lot is spin, including his denial that there is any legitimacy to the Sad Puppy complaints about socio-political collusion within the sci-fi community that is quite plain for any unbiased observer. So, as a not-quite-as-sympathetic observer, no one is buying that either.
Well. I hope this is the last thing I write about this for quite some time.