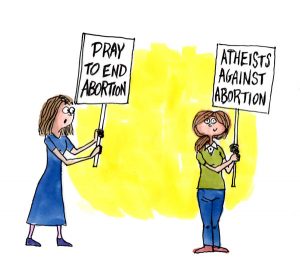 Life Matters Journal has a new piece by an atheist who attended Reason Rally 2016.  It includes her reflections on attending an event where it is assumed everyone is pro-choice because, well, logic, science, and reason.  Her main takeaways  are that many people don't know the science, those that do know the science are willing to discriminate, and there is a religious nature to pro-choice adherents.  It's an interesting piece that you can read here.  She writes,
For some reason though many of the same people who claim to trust only hard scientific evidence are willing to deny these basic biological truths in order to continue supporting the violence of abortion.
There is no reason for the secular community to be as pro-choice as they are; in fact as lovers of logic and reason it would only make sense for more atheists to be pro-life. I fear that the reason the pro-choice side is so successful with nonreligious people is partially that pro-lifers have marketed ourselves as a fundamentally religious/Christian movement.
I've written about pro-life atheists before.  I think, in general, the pro-life movement hasn't found a way to balance the fact that many pro-lifers are religious, but a  lot of the hearts and minds they need to change are not.  Thankfully atheist and agnostic voices have been getting stronger in the community, like at Secular Pro-Life.  I say thankfully because, even though I am Mormon, I've always been more swayed by, or felt more comfortable sharing, logical and scientific arguments.  In policy decisions  I think those arguments can reach more people.  Any movement that has science and ethics on its side should not be afraid to use those benefits.