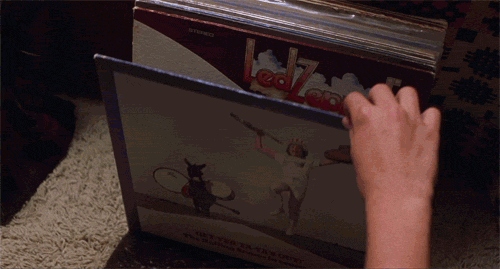 There's a new Internet/Facebook list going around: "10 albums that made a lasting impression on you as a teenager." I thought it'd be fun to give you a glimpse into the musical tastes of my teenage self, which largely continue today. Attempting to think of whole albums was a little difficult because this was the age of mix CDs. I had a ton of mix CDs with various artists. I also had a lot of "Greatest Hits" and "The Best of…" albums (I wore out The Cream of Clapton as well as The Best of Bond…James Bond), which I've decided not to count. I've also limited the list to one album per artist. Otherwise, my list would likely be made up of two bands. It should also be noted that my musical tastes were largely seen through the eyes of a budding guitar player. Virtually everything was interpreted through the filter of, "How can this affect my guitar playing?" So, without further ado, here are my top ten teen albums (in no particular order):
Blink 182 – Enema of the State: I went through a huge Blink 182 phase through middle school and into my freshman year of high school. Aside from some radio play ("Dammit" was actually the first song I ever heard by them), my first proper introduction to them was at scout camp one summer. One of my best friends at the time had Enema of the State with him (I want to say on cassette) and he let me listen to some of the songs as we made our way to different merit badge sessions. This led to mixtapes featuring songs from Enema, Dude Ranch, and even Buddha. My parents weren't particularly thrilled when they finally heard some of the crude themes and coarse language on these tapes, but that didn't stop me from getting my secret stash of Blink CDs. It was this album that made me want to play an instrument. I decided I wanted to play bass because (1) everyone and their mother plays guitar and (2) Mark–the Blink bassist–was in my eyes the coolest member of the band1 (though now I know it's definitely the drummer Travis Barker). My parents opted for a guitar instead and I've never once regretted it. Even though I prefer their 2001 album Take Off Your Pants and Jacket (see what they did there?), Enema is the one that started my musical journey. Below is the highly immature video for the single "What's My Age Again?"
Incubus – Make Yourself: During one of our family vacations, my older sister Tori let me listen to her copy of Make Yourself by Incubus. I'd heard some of their hits on the radio, but this was the first time going through the entire album. I fell in love with it to the point that my sister just gave it to me. Brandon Boyd's vocals and the somewhat unique twist on 90s alternative rock stood out to me as did its ability to capture my various teenage emotions, from angst to puppy love to a desire for self-direction. Their follow-up albums during my high school years–Morning View and A Crow Left of the Murder–received even more constant rotation than Make Yourself, but it was this album that began my still ongoing love affair with Incubus and their talent for both capturing my emotional states and transporting me to new ones. Below is the video for their song "Stellar."
Metallica – Ride the Lightning: I had heard Metallica growing up. Who hasn't heard "Enter Sandman" or "Nothing Else Matters"? But I only started paying attention to them after hearing their live album S&M in the weight room at my high school freshman year. It was my first year of guitar playing and my initial thought was, "If they are this good live, what are they like on their records?" As I started downloading Metallica songs, I saw them perform one I hadn't heard before on VH1 (trivia: it was bassist Jason Newsted's last performance before he left the band). The song was "Fade to Black" and it was found on Ride the Lightning. I bought that album soon after and brought it with me on a family vacation to Washington, D.C. I listened to it non-stop and decided that I wanted to be able to play like guitarists James Hetfield and Kirk Hammett. This was my pathway to metal. I ended up with all of the Metallica albums, as well as a large chunk of Megadeth, Pantera, Ozzy Osbourne, and Dream Theater albums. I probably spent far more time listening to these metal bands than anything else, but it was Ride the Lightning that started it all. My guitar chops improved as did my musical taste because of it. You can see the VH1 performance of "Fade to Black" that ignited the flame below.
Pink Floyd – Dark Side of the Moon: My brother-in-law JC has been a guitar player since he was a teenager (at least). Whenever we would visit my sister, he would always go through his ginormous digital collection of music in hopes of educating me out of my Blink 182 phase and moving me beyond Metallica. He first used David Gilmour's ending solo in "Comfortably Numb" to peak my interest in Pink Floyd. I ended up getting Echoes: The Best of Pink Floyd (on my own or as a gift, I can't remember), but Dark Side of the Moon was the first actual album that listened to heavily (followed by The Wall). The musical style was so different from what I was used to; a kind of progressive, psychedelic rock. Gilmour's less-is-more melodic playing was such a contrast to the shredding I was accustomed to from metal bands. Plus, the idea of a concept album was pretty new to me. Composing songs that bled into each other as they told a coherent story or relayed similar themes was a new level of creativity for me. Dark Side taught me to slow my playing down and told me that emotion and melody were key to a good lead. You can see what in my estimate is the best version of "Money" from the concert Delicate Sound of Thunder below, which I watched over and over again as a teenager.
Led Zeppelin – Led Zeppelin II: I originally bought Led Zeppelin II for my dad for his birthday(?) one year at the suggestion of my mom. I wasn't very familiar with Led Zeppelin at the time and even though I thought "Whole Lotta Love" was pretty cool, it didn't peak my interest all that much. However, after picking up the guitar and shifting away from pop punk bands, I started "borrowing" (i.e., making a permanent part of my personal collection) Led Zeppelin II from my dad. While I acquired The Best of Led Zeppelin: Early & Latter Days, Vol. 1 & 2, it was this album that made me really appreciate the bluesy elements of rock. It felt like a bridge between the old and the new, between traditional blues and modern rock. And everyone was amazing: Plant's vocals, Page's guitar, Jones' bass, and Bonham's drums. Hard to find a band in which every member is of the highest caliber. And yes: I still prefer it to Led Zeppelin IV. You can see them performing "Whole Lotta Love" live from the Led Zeppelin DVD I watched consistently in my later years of high school.
Pearl Jam – Ten: I used to hate Pearl Jam.  I remember revealing my dislike of them to a bass player friend my freshman/sophomore year and he was flabbergasted that a guitar player would not like them. "But they're such good musicians!" he protested. I don't know what it was about them. Maybe it was Eddie Vedder's voice (a co-worker of mine once described him as sounding like a man singing in a freezer). Maybe it was the flannel. My suspicion is that I just had not been properly exposed to them beyond "Jeremy" (which is an awesome song, mind you). I started downloading a number of Pearl Jam songs in my later years of high school and found myself appreciating them more and more. I finally caved and bought Ten.2 The album was (and is) phenomenal. There isn't a song on it that isn't top-notch. You can see them on full display with "Alive" below.
Rush – Moving Pictures: My first introduction to Rush was their video for "Time Stand Still" early one weekday morning on VH1. The video was ridiculous, but there was something about the band that I really liked. I stumbled on them again when "Test For Echo" came on one of those satellite music channels that I had playing in the background one day. I recognized the vocals and the band name and once again found myself being drawn to their style. On another fateful weekday morning, I saw their video for "Limelight" on VH1. The video was incredibly dated, but the song blew me away. Their mastery of the instruments was incredible and I was sold on Alex Lifeson's wammy-heavy solo. I had to have that song. I ended up buying Moving Pictures soon after. I couldn't believe that a trio could create that kind of sound. Typically, I focused solely on the guitar playing, but Rush made it impossible to ignore Lee's bass playing or Peart's drumming. This opened the flood gates: virtually every album and a couple concerts (one of which was as recent as 2015) later, I still consider them one of my favorites. You can see the video for "Limelight" below.
Alice in Chains – Dirt: Lucky for me, my YM/Scout leader for the longest time was also one of my best friend's dad. While I was listening to Blink 182, my friend (due to his dad's influence) was listening to the likes of Led Zeppelin, Pink Floyd, and even the chainsaw-wielding Jackal. One Wednesday night, as I caught a ride with my friend, his dad popped in one of his many CDs. Suddenly, a chugging, metal chord progression filled the car, along a with a jolting scream and eerie harmonies. I was caught off guard, but thoroughly entranced. About halfway through, the guitarist ripped into a headbanging solo. My ears perked up. The song, unfortunately, came to an end after only a couple minutes. When I asked what this was, my friend's dad answered (with a smile), "Alice in Chains." The album was Dirt and the song was "Them Bones." I borrowed the album, ripped it, and became an AIC fan from then on. Jerry Cantrell, the guitarist and co-vocalist, provided a blues-based, melodic metal I could rock out to.3 More importantly, he provided a type of playing that seemed achievable: not because his playing was sub-par, but because it evidenced a moderate partaking of the best rock music had to offer. Cantrell was not a shredder, a blues master, or a progressive rock composer (he still isn't). But he was and is a fine guitar player, lyricist, and all-around musician. He instilled me with confidence and inspiration in my first few years of playing and remains influential even today. You can see the video for "Them Bones" below.
Fleetwood Mac – Rumours: For Christmas one year I received a year-long subscription to Guitar World magazine. In one of the issues, it featured a kind of boxing bracket for guitarists, rating them on a 0-5 scale on things like chops, influence, creativity, etc. Unfortunately, my mother trashed all of my Guitar World issues while I was on my mission (I'm still not sure why), so I'm unable to reference it properly. But at the time, I used the bracket to learn about guitarists I had never heard of before. At one point, I came across the name Lindsey Buckingham with something like a 3.7 in chops. When I discovered that he was the guitarist/co-vocalist of Fleetwood Mac, I remembered that my mom had Rumours in her van. I promptly borrowed the album and began soaking in Buckingham's fingerpicked style. The album remained in constant rotation along with their (then) new album Say You Will. The mix of male and female vocals gave it a more diverse sound than I was used to and my enjoyment of Rumour's more pop-oriented style helped expand my musical palate. You can see their performance of "The Chain" from their live album The Dance (which I also spent of fair amount of time listening to) below.4
Steve Ray Vaughan and Double Trouble – Texas Flood: In my first year of guitar playing (and therefore still in my pop punk phase), I had a Sunday School teacher who recognized that my fellow Blinkophile friend and I were "big into music." One day, she held us after class and gave each of us a copy of SRV's Texas Flood. Because we were guitar players, she knew we would appreciate SRV's skills. In actuality, we both had a bit of an aversion to the album: it was straight blues and that just wasn't us. We were "punk rockers" and SRV was definitely not that. Fast-forward a year or so. I was going through my CD collection and pulled our Texas Flood to give it another listen. I was floored: the tone, the bends, the precision. It was beautiful. While other artists (see Zeppelin and Floyd above) opened the door to a bluesier style, it was this album that solidified the blues in my book. It paved the way for my embrace of other blues guitarists like B.B. King, Albert King, Buddy Guy, Joe Bonamassa, Robben Ford, and others. Texas Flood is the reason that I earned the name "Blues Man" from a co-worker due to my Pandora picks. You can see SRV & Double Trouble performing my favorite track off the album–"Lenny"–below.
Here are a few honorable mentions with a brief explanation:
Megadeth – Rust in Peace: After Metallica, Megadeth was the next biggest metal band I listened to (Dave Mustaine was a former member of Metallica before they kicked him out). Rust in Peace was the first album of theirs I bought and it is still my favorite.
Tool – Lateralus: A friend of mine had a select few bands that he insisted were required listening. One of them was Tool and he made me promise to listen Lateralus all the way through without stopping. If I loved it, he would burn me the rest of their albums. I did and he did.
Prince – Purple Rain: I probably listened to "The Very Best of…" more, but Purple Rain put Prince's skills on full display. The talent of the man was almost sickening.
Les Miserables: Original Broadway Cast: My older sister Nicole was a big theatre geek, so Les Miserables became a staple of my growing up. I still listen to it fairly often and I wept like a baby at the end of the 2012 film.
Phantom of the Opera: Original London Cast: Ditto. I dragged my high school girlfriend to the 2004 film. She kept trying to get friendly in the theater and I kept telling her to leave me alone so I could watch the movie. Priorities.
There you have it: my top ten teen albums.