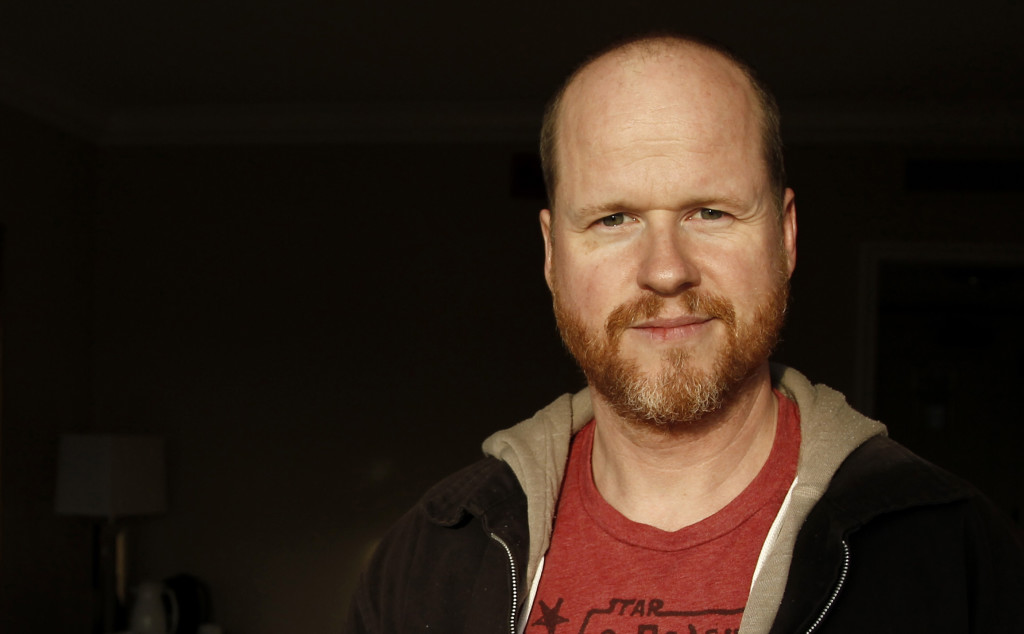 I have something in common with Joss Whedon. He doesn't like the term "feminist," and neither do I. We both think that feminism has an image problem. Whedon, who defines feminism as "believing men and women to be equal; believing all people to be people" doesn't like the term because he thinks the "-ist" at the end fails to convey it's universal appeal.
Let's be real, Mr. Whedon. The last syllable of the word is the least of feminism's problems.
I like Joss Whedon's ostensible definition just fine. The problem is that he, like most self-declared feminists, doesn't actually stick to it. Feminism is always introduced as something universal and apolitical like "concern for women's issues," but then in practice it always ends up being equated with left wing social politics. Do you care about women? Then you must be a Democrat. The Republicans have declared a War on Women, don't you know?
Because the term "feminism" has become hopelessly entangled in partisan politics, it's time to step back and differentiate between being concerned for women and feminism. We can find some common ground if we do that, and I can't think of a better place to start then this famous clip from Patrick Stewart about the importance of opposing violence against women.
It's a beautiful and moving speech. There's nothing political about it, and there shouldn't be. Violence against women is not a political issue. Opposition to violence against women runs deep on both the right and the left. Consider a song like Yellow Belly from Thrice.
You were built for blessing but you only make them bleed, but you don't care, you don't care.
And bruises are but shadows of the blackness that you breathe but you don't care, you don't care.
The light that's left inside their eyes is darkened day by day but you don't care, you don't care.
The presence pulls the color from the world til all is grey
but you don't care, you don't, you don't, you don't.
The lyrics are forceful and emotional, ending with the final lines "What mercy have they known from you / to ask that it be shown to you?" They were written by lead singer Dustin Kensrue who, shortly after Thrice disbanded, went on to become a worship leader for the controversial and arch-conservative Mars Hill Church.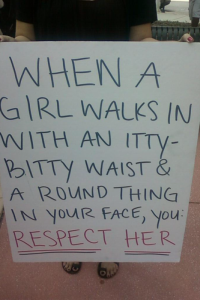 He's just one example of the fact that social conservatives can and do care about women's issues passionately. What's more: this care and compassion doesn't happen in spite of their conservative beliefs, but because of them. Mars Hill Church advocates traditional gender roles and the idea of "sacrificial leadership" of men over their families, and Yellow Belly explicitly talks about the idea of men "built for blessing." Fighting against domestic violence is a natural extension of their socially conservative world-view, just as it can also be a natural extension of social liberalism. Sometimes you can start from very different places and still find room for agreement and cooperation.
Not all the time, of course. The abortion issue is one where conservative and social liberals have very little to agree on. Even in this case, however, any fair-minded and neutral assessment has to concede that pro-life opposition to abortion can also be an expression of pro-women sentiment. Groups like Feminists for Life view abortion as a form of exploitation that perpetuates sexual objectification and infantilization of women, and they cite as precedent early 19th century feminists like Elizabeth Cady Stanton who said "When we consider that women are treated as property it is degrading to women that we should treat our children as property to be disposed of as we see fit."
The point here isn't that Feminists for Life are correct (although I do agree with them). The point is that–right or wrong–they are sincerely fighting for women as they understand it. They don't oppose abortion because they are part of the War on Women. They oppose abortion because they believe that abortion is.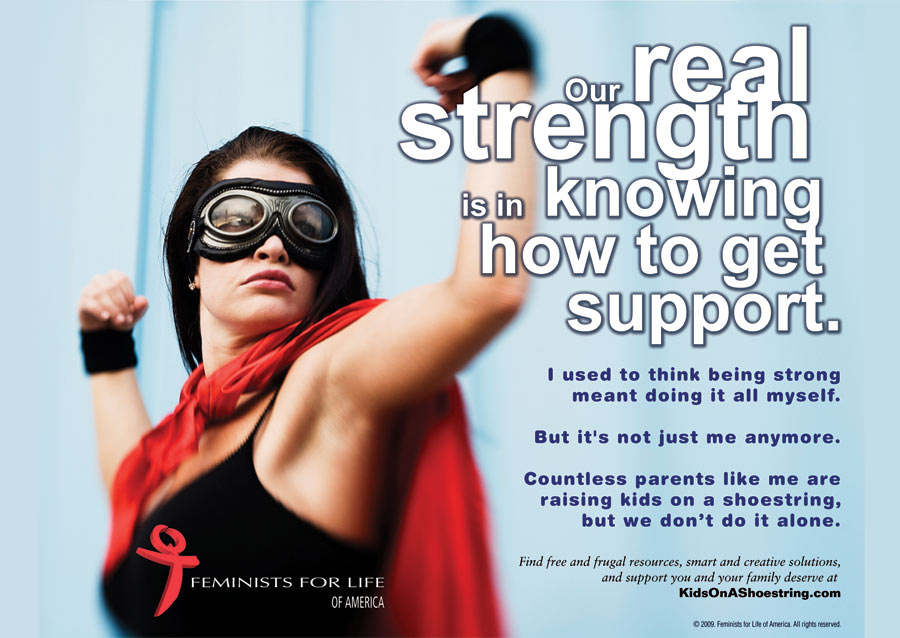 Concern for women is a vibrant part of both the liberal and conservative ends of the American political spectrum. Sometimes it leads to agreement on issues (like domestic violence) and sometimes it leads to disagreement on issues (like abortion), but it is definitively not a partisan issue.
On the other hand feminism, as a political movement, sometimes doesn't care very much for women at all. For example, the extent to which Kermit Gosnell was protected from investigation by self-identified feminists allowed him to continue victimizing women and murdering newborns. This isn't political speculation, the grand jury report concluded that it was political pressure from the pro-choice side that protected him for decades. In that case, the political principle of abortion came ahead of the actual welfare of real-life women. Pro-life investigative journalists have also uncovered similar abuses in Planned Parenthood facilities, where workers collude to help conceal statutory rape which is a violation of ethics, common decency, and the law. (Source)
In another vein, many have criticized modern feminist concerns for being myopically focused on the problems of upper-class white women. (Sample search results.)Think of all the articles written about the pressures of women trying to have it all or the Mommy Wars. But, in contrast to all the debates about whether women should opt to either continue on in their high-profile career as executives or opt to sacrifice career advancement to spend more time at home there are an awful lot of women for whom work/family decisions are driving by cold, hard necessity rather than nebulous questions about personal fulfillment.
The same criticism can be applied to the reluctance of self-declared feminists to speak up for women around the globe. The rates for rape and violence against women in sub-Saharan Africa or the Middle East or India are truly horrifying, but the American liberal feminist movement often ignores these issues. I'm not saying they completely ignore them, but it's obviously not top priority. Celebrities would rather have another round of conversations about who passes the Bechdel test than bring up gang-rape in India. Don't get me wrong, I love the Bechdel test, but  there's an issue of priorities here…
So maybe now you can start to see why I have such a problem with the Joss Whedon brand of feminism.  If Whedon could separate the principle of caring about women from his politics, it would be great. But he can't. For example, he got so concerned about women's rights (something we can all agree on) that he decided his most famous female protagonist needed to have an elective abortion (which is something we don't all agree on). As he told EW:
A woman's right to choose is under attack as much as it's ever been, and that's a terrible and dangerous thing for this country. I don't usually get soap box-y with this, but the thing about Buffy is all she's going through is what women go through, and what nobody making a speech, holding up a placard, or making a movie is willing to say.
But have no fear, Joss Whedon is courageous enough to say it. Guess what, Hollywood: he's pro-choice. And he put it in a comic book spin-off of a TV show. You know, instead of any one of its 9 seasons (EDIT: Whoops, 7 seasons. And yes, I've watched every single episode.) 

And look, can I just take a quick side note to mention how creepy I find the whole idea of a rich, wealthy, privileged man who gets paid to tell women what to do (both as writer and as director) using that power in the name of feminism? I mean, at a minimum you have to concede that there's something disturbingly ironic about the apparent savior complex Whedon and others (like John Scalzi) seem to have in relation to women and feminism. Have no fear, feminists, men who profit from the statistically sexist entertainment industry are here to save the day! (I like to call it "White Knight Chauvinism".)
Am I crazy, or does it not make sense to shut up and listen every now and then when it comes to women's concerns? It's not like there's a shortage of voices out there: C. J. Cherryh, Lois McMaster Bujold, Ursula K. Leguin, and Margaret Atwood are some of my favorites. I get that men like Whedon and Scalzi want to help, but making one of your imaginary female creations spout palatable politics is a lot easier than busting myths about sexual discrimination in his own industry.
Sure, I understand that some might respond: "Aren't you doing the same thing?" Not really, no. My goal is to illustrate how self-declared feminists are swapping partisan politics for universal concern for women. The primary target of this post is the partisan politics that masquerade as feminism, not feminism. At least, not feminism as in "concern for women".
And just to be clear, even though I am pro-life I would not begrudge Joss the benefit of the doubt that his pro-choice politics stem from earnest concern for women's welfare. It's possible to be apolitical about feminism. It's possible to see both viewpoints. But feminists like Whedon not only can't see an alternative viewpoint, they are heavily invested in assaulting anyone who deviates from their political proscriptions. 
Consider the incredibly popular feminist site Jezebel's take on feminism and abortion (edited for language):
Despite the mission statements of pro-life, conservative political action groups like Feminists for Life and the Susan B. Anthony List and Sarah Palin's repeated use of the F-word, there is actually no such thing as a "pro-life feminist." Sure, you can be a feminist and make a personal decision to never get an abortion. But who the f— are you to actively work at taking away other women's right to make their own personal decisions about their uteruses?

You are not a feminist, that's for sure.
Glad we cleared that up.
At the end of the day, it's a bait-and-switch. The bait: feminism just means believing we're all people. The switch: it also means being pro-choice, and if you don't accept that you don't accept feminism. Which, you know, means that you don't believe women are people.
What this tactic really does is to treat women as the ideological equivalent of a human shield. If you question liberal social politics, you're attacking women. It's a short-sighted strategy that trades rhetorical firepower today for the long-term erosion of the feminist movement. It's a little sad that Joss Whedon says he can't figure out why Katy Perry would wan to distance herself from the term. After all: he's part of the reason.
I admire folks like Feminists for Life who are fighting back and trying to reclaim the term. It would unquestionably be better for our country if we defused the rhetoric a little bit and cleared the way for compromise and cooperation on women's issues where compromise and cooperation are possible.
Most days, however, I don't know if it's really possible. And I just find the idea of running face first into the Jezebel mentality exhausting. Guess what, folks: I care about women. I care about my wife as she makes incredible headway in a male-dominated realm (she's getting her PhD in computer science). I care about the opportunities for my mom, my sisters, and my friends. I care about the opportunities for my daughter, and I want a world where she is free from the burdens of sexism, chauvinism, and the plague of sexual assault. I can't make Joss Whedon or the Jezebel crowd or anyone else believe me, but their cynicism doesn't trump my will to stand by the women I know and, if possible, to even help those I don't.
But am I a feminist? I don't know. Mostly, I just don't give a damn anymore.
You can call me whatever you want. It doesn't change what I think or how I act.